Review: Review: In Encino, Sushi Bar serves up 17 courses with a side of showmanship
Restaurant Critic
Sushi Bar is hard to find by design.
The speak-easy-inspired sushi counter is tucked into the soaring, open-air Encino Place mall, a beigy fortress of high-end boutiques and half-empty cafes. You ride the escalator to the second story, where you'll find a cluster of nondescript storefronts that make up the bulk of chef Phillip Frankland Lee and pastry chef Margarita Kallas-Lee's San Fernando Valley restaurant headquarters. There's Scratch Bar & Kitchen, Lee's flagship tasting menu restaurant, and Magic Bar, where magic tricks and cocktails are on the menu.
Sushi Bar has eight seats and one menu — $125 for 17 courses of unapologetically nontraditional bites the restaurant calls "new wave nigiri."
To get into Sushi Bar, look for the unmarked door next to the former Woodley Proper. A gold-plated sign instructs you to ring the bell. Somebody leads you inside to a lounge, where a bartender pours the complimentary house cocktail: a ceramic bowl brimming with a homemade sake tea.
At dinnertime, a host leads you through a zigzagging back-of-house route through a working kitchen, pantry closets and a steamy dishwashing area. You arrive at an oversize oak door; a secret knock is proffered. Return visitors will note how it's all as choreographed and schticky — or charming, depending on your point of view — as that uncle who insists on pulling a quarter out of your ear at every family reunion.
Everything about Sushi Bar is theatrical: the old-timey Japanese ragtime music playing softly in the background through dinner; the bar's mood lighting, carefully calibrated to showcase the chefs' knifework. The staff, including the cooks, are dressed in matching vests and bow ties. They wield flashy kitchen tools: blow torches, sharkskin wasabi graters, oversize sashimi knives. Dinner at Sushi Bar blurs the line between a modern omakase dinner and a cabaret performance.
Review: Carnitas El Momo in Boyle Heights serves pork in its most perfect form »
I suspect some of the bites, topped with things like sourdough breadcrumbs or yellow corn pudding sauce, will infuriate a certain kind of customer, sushi purists in particular. Everyone else, though, will find it fresh and uncomplicated, in the sense that it all tastes pretty good.
A raw kusshi oyster flecked with Italian sturgeon caviar and puffed rice, wrapped in a bubbly nigori sake foam, starts the meal. Japanese yellowtail is scored and slicked with a surprisingly delicious yellow-corn sweet pudding. One of the best bites on a recent visit was the shima aji, striped jack, splashed with a yuzu kosho infused with the smoky, savory notes of Anaheim chile peppers.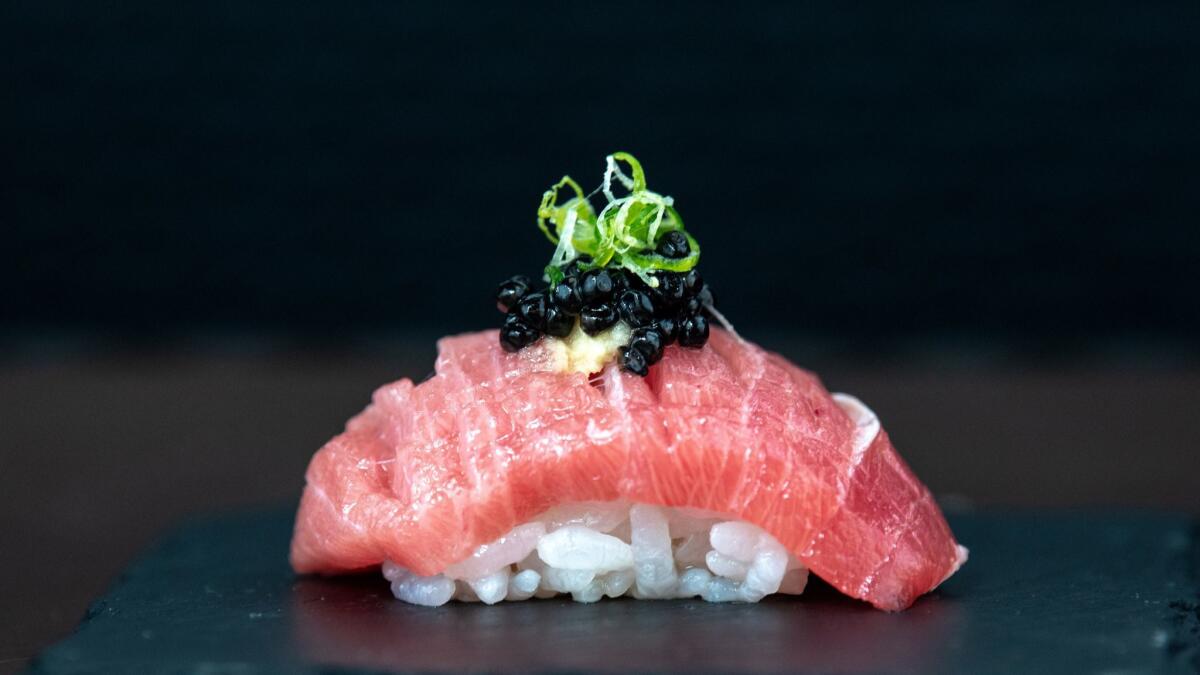 Sometimes, the food is meted out so quickly it's hard to tell one course from the next: A fatty sliver of tuna glazed in house soy and fresh grated wasabi is topped with a ringlet of finely diced scallions. New Zealand king salmon, slightly seared, follows, familiarly dressed with house soy and pickled wasabi.
By the time the seventh or eighth course rolls around, the kitchen's formulaic one-two punch is clear: a swab of the subtly sweet house-made soy sauce, some fresh grated wasabi, a sprinkling of Bali salt. It's a highly predictable sequence, but also effective and good.
Review: At Otoño in Highland Park, modern Spanish cooking with an L.A. twist »
There are more exotic outliers: the "Ode to the Valley," smoked albacore wrapped in sake-soaked seaweed, topped with crispy onions, is a cheeky tribute to Ventura Boulevard's famed sushi row. A slip of giant clam, sprinkled with green tea matcha salt, is pleasantly chewy. A purple Peruvian scallop, bathed in leche de tigre, is bracingly tart and refreshing.
Dessert is a sweet frozen lozenge of lime ice cream and black sesame shortbread encased in a green tea chocolate shell. The treat, made by Kallas-Lee, who also designs the desserts for other Scratch restaurants, is marvelous.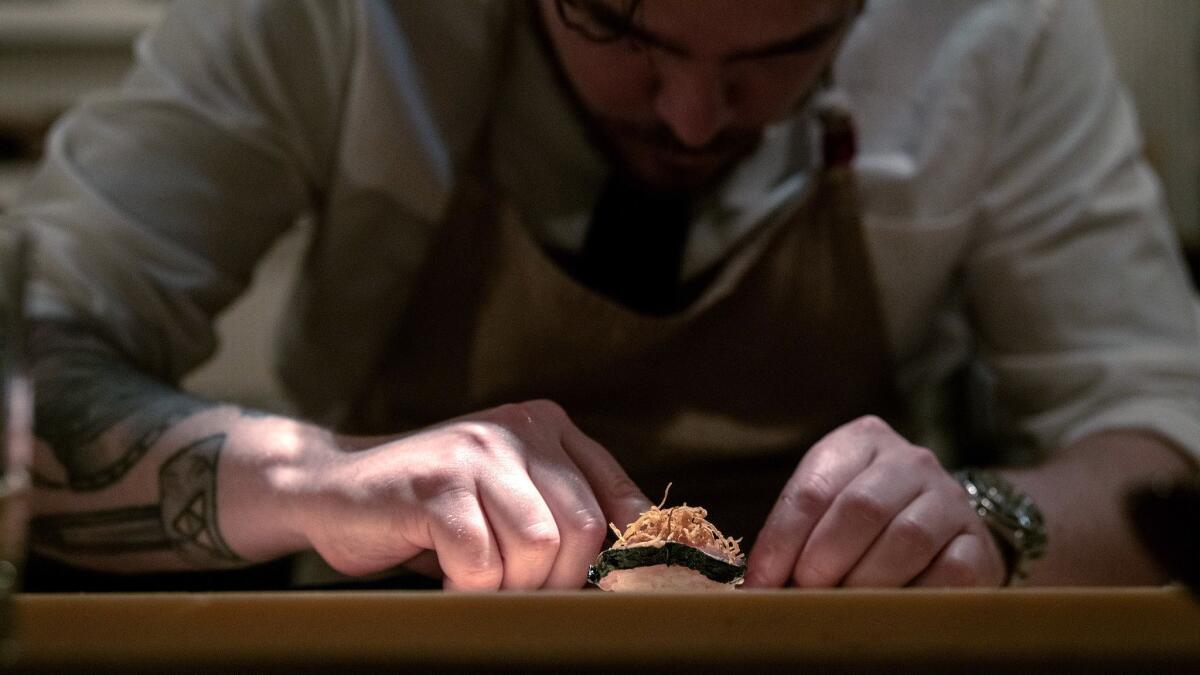 The couple is partial to tasting menus served in intimate surroundings; Scratch Restaurants, their burgeoning restaurant group, recently opened the eight-seat Silver Bough, with a $550 18-course tasting menu, inside the Montecito Inn in Santa Barbara. (It also opened a second location of Sushi Bar inside the same hotel last month.)
After dessert, the bartender takes out his bamboo matcha tea whisk and mixes up a murky blend of green tea powder and a warm, honey-infused sake. He pours the fragrant hot toddy into a ceramic bowl and makes a final, dramatic announcement: "Whenever you are ready to return to reality, I'll be here to receive you and send you back out to the world."
Before you know it, the house lights are turned up. Showtime is over.
Sushi Bar
A 17-course omakase-inspired nigiri tasting menu in a San Fernando Valley speak-easy.
LOCATION
16101 Ventura Blvd., Suite 242, Encino, (818) 789-3992, exploretock.com/sushibar
PRICES
$125 per person
DETAILS
Credit cards accepted. Full bar. Garage parking. Dining room and restroom are wheelchair-accessible.
RECOMMENDED DISHES
17-course omakase dinner
patricia.escarcega@latimes.com
Twitter: @piescarcega
Get our L.A. Goes Out newsletter, with the week's best events, to help you explore and experience our city.
You may occasionally receive promotional content from the Los Angeles Times.