'Next Iron Chef' recap: Culinary giant Elizabeth Falkner goes home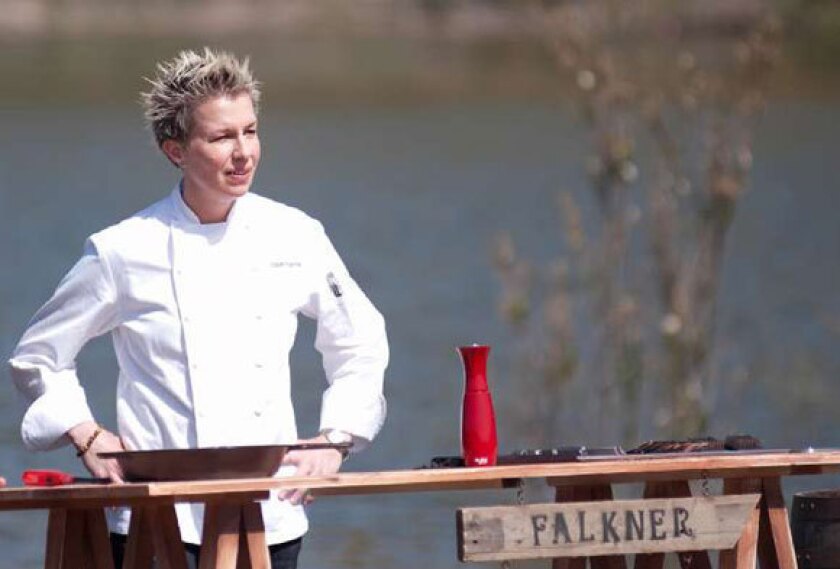 All the fun and games came to an abrupt stop on Sunday night's episode of "Next Iron Chef." Host Alton Brown's comical garb and the show's dependable, cheese-ball sound effects weren't enough to cut the tension when Elizabeth Falkner -- arguably the show's fiercest competitor -- was sent home.
It all started with the Chairman's Challenge. The chefs participated in an auction in which they bid on ingredients using cooking time as currency. Falkner, being last week's winner, was given the advantage of sending a competitor straight to the secret-ingredient showdown. She chose crazy-eyes Nate Appleman, a decision that would come back to bite her frosty tips.
Highlights were Amanda Freitag's take on a cheese course, with basil souffle, Parmesan ice cream and a Parmesan almond shortbread, all cooked in 40 minutes, and Marcel Vigneron's pressure-cooked beef tongue and cheek with white corn polenta, cooked in 50 minutes. It should be noted that Vigneron seriously stepped it up this week, getting judge Simon Majumdar to admit that he was now a serious contender and name him the winner.
Falkner failed to impress the judges with her ceviche and pan-seared paiche with fish scale chips, and her earlier decision to put Appleman in the showdown backfired when she was put into the showdown with him. I would have put money on these two being in the finale!
The chefs were given anchovies as the secret ingredient. Appleman beat Falkner with a Spanish tortilla with anchovy, an anchovy Romesco sauce, pan con tomate and anchovy aioli, while Falkner made an anchovy fry with lemon, Caesar dressing and pasta alla sarde.
It was sad to see her blond spikes go, but she was no match for crazy eyes.
Best, worst moments:
Brown hovering over Freitag, fueling her anxiety when she couldn't crack into her wheel of cheese. "You knew this could happen when you bid," said Brown, standing way too close. Back off, four eyes!
Alex Guarnaschelli's look of complete shock at seeing Appleman walk through the doors as the secret-ingredient showdown victor and Appleman's smug response: "Don't look so shocked, Alex."
Falkner's tearful goodbye. She looked as if she got the wind knocked out of her, and viewers got to see tough-guy Majumdar show something other than arrogance when he actually teared up!
ALSO:
Hanukkah recipe: Quick orange lentil soup
Holiday cookie recipe: Dulce de leche cookies
Holiday panic? We've got two e-books that can help
---
Get our weekly Tasting Notes newsletter for reviews, news and more from critics Bill Addison and Patricia Escárcega.
You may occasionally receive promotional content from the Los Angeles Times.