Dinner tonight! Chinese chicken salad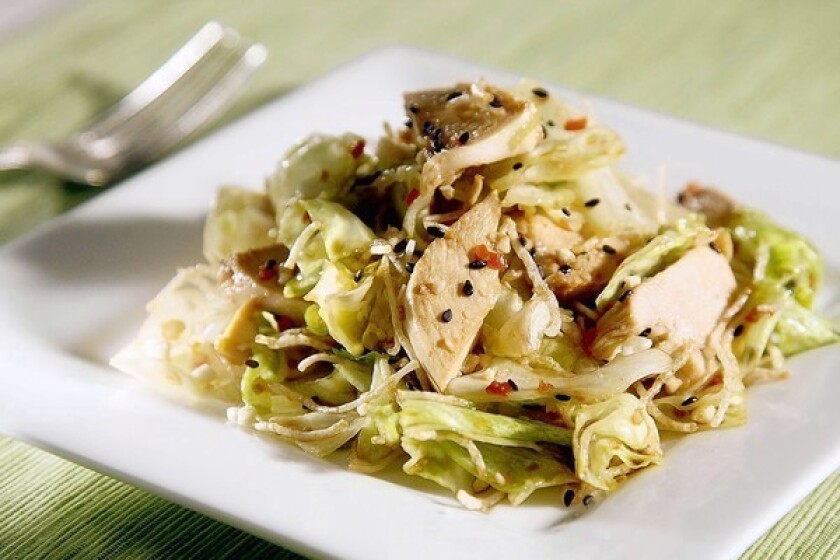 Tonight's dinner idea comes courtesy of a Culinary SOS request from John in Oak Park, who writes:
"My wife and I had Chi Dynasty in Studio City recommended to us. We went there last Saturday and had three appetizers, one of which was the Chinese chicken salad. Its menu professed that it was "voted best in town." I'm not sure who did the voting, but I can certainly say it was one great salad! Can you get the recipe?"
Fresh and bright, with no shortage of crunch, Chi Dynasty's salad comes together in less than an hour. The recipe even includes a homemade dressing with only five ingredients that you can tweak as desired to suit your own tastes.
For more quick-fix dinner ideas, check out our video recipe gallery here. Food Editor Russ Parsons and Test Kitchen manager Noelle Carter show you how to fix a dozen dishes in an hour or less.
ALSO:
Mac 'n' cheese recipes galore!
Go behind the scenes at the Test Kitchen
Browse hundreds of recipes from the L.A. Times Test Kitchen
You can find Noelle Carter on Facebook, Google+, Twitter and Pinterest. Email Noelle at noelle.carter@latimes.com.
Chi Dynasty's Chinese chicken salad
Total time: 40 minutes
Servings: 4 to 6
Note: Adapted from Chi Dynasty in Studio City. To make crispy rice noodles, fry the noodles in oil heated to 350 degrees until they're crisp, 1 to 2 minutes; drain on paper towels.
Dressing
5 tablespoons plus 1 teaspoon soy sauce
2 tablespoons plus 1 teaspoon rice vinegar
2 tablespoons sugar
1 tablespoon plus 1½ teaspoons sesame oil
2 teaspoons grated fresh ginger
In a medium bowl, whisk together the soy sauce, rice vinegar, sugar, sesame oil and ginger. Taste and adjust seasoning and flavoring as desired. This makes a generous one-half cup of dressing.
Salad assembly
8 cups chopped iceberg lettuce
3 cups crispy rice noodles
1 pound boiled chicken breast, cut into strips
1/3 cup finely chopped peanuts, more to taste
2 tablespoons minced preserved ginger, more to taste
1 tablespoon roasted black sesame seeds, more to taste
1/4 cup chopped green onions, more to taste
1/4 cup cilantro leaves, more to taste
Dressing
In a large bowl, toss together the lettuce, noodles, chicken, peanuts, ginger, sesame seeds, green onions and cilantro leaves. Add half the dressing, tossing to lightly coat. Taste, and toss in additional dressing as desired. Serve immediately.
Each of 6 servings: 196 calories; 21 grams protein; 11 grams carbohydrates; 2 grams fiber; 8 grams fat; 1 gram saturated fat; 48 mg cholesterol; 4 grams sugar; 420 mg sodium.

---
Get our weekly Tasting Notes newsletter for reviews, news and more.
You may occasionally receive promotional content from the Los Angeles Times.