Dollar Menu fails to lift McDonald's sales: What now? $2 menu?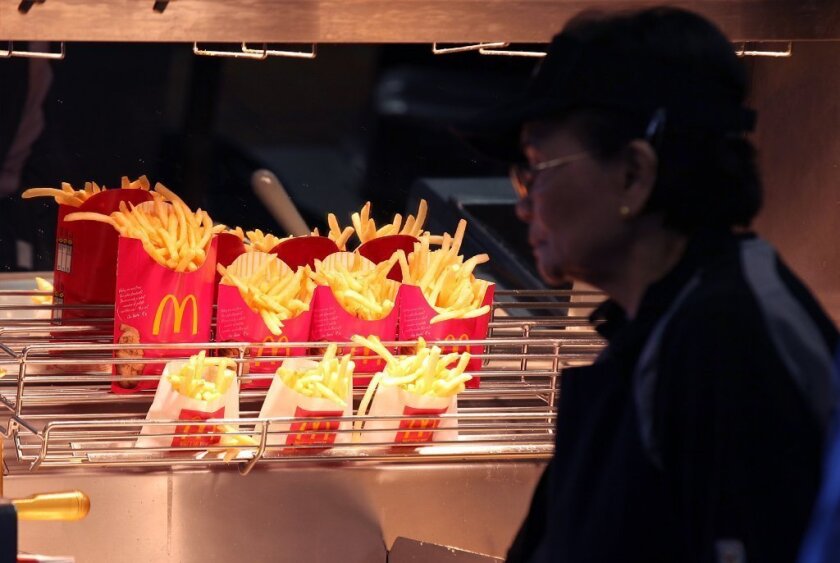 McDonald's Dollar Menu has failed to perk up the fast food giant's sales, but executives are determined to push its value deals -- even in the face of a public that increasingly is lining up over at Chipotle and Panera.
"Your stomach is empty -- and so is your wallet." It's not a particularly mouthwatering appeal, but McDonald's makes its point. For a buck each, you can get a McDouble burger, a McChicken sandwich, a side salad, a Fruit 'N Yogurt Parfait and other McDonald's staples.
Burger King tests delivery service
Still, as the Associated Press reports, the Dollar Menu failed to lift sales in the first quarter. The company said Friday an important sales measurement fell 1% and warned that it would probably fall again in April.
Execs said Friday, however, they'd stick with the cheaper-prices strategy amid stagnant growth in the restaurant industry. They still hope to lure customers away from rivals. The company's emphasis on its Dollar Menu has had an effect on competitors -- Burger King has come up with a $1.29 Junior Whopper, and Wendy's last year made tweaks to its value menu.
Yet customers' tastes have been evolving. As the Los Angeles Times reported last fall, fast food diners have begun to demand more healthful options and calorie counts.
In response, over the last couple of years, McDonald's began adding a serving of fruit or vegetables to Happy Meals, shrinking the amount of French fries. Then they came up with "Favorites under 400 calories" and began planning all-vegetarian outposts in India.
Next week, according to the AP, the chain will debut Egg McMuffins made with egg whites.
But after these first-quarter earnings, the jury's out on whether McDonald's can be both healthful and cheaper than competitors -- while also turning a profit.
If your stomach is empty and your wallet is too -- is McDonald's your go-to restaurant?
MORE:
QUIZ: Whopper? Frosty? A calorie-count test
New at Grand Central Market: Valerie Confections to open coffee shop
Putting heat-proof gloves to the test with stove on high: Yep, they work
---
Get our weekly Tasting Notes newsletter for reviews, news and more.
You may occasionally receive promotional content from the Los Angeles Times.