Fast Food Virgin: reviewing the Premium McWrap at McDonald's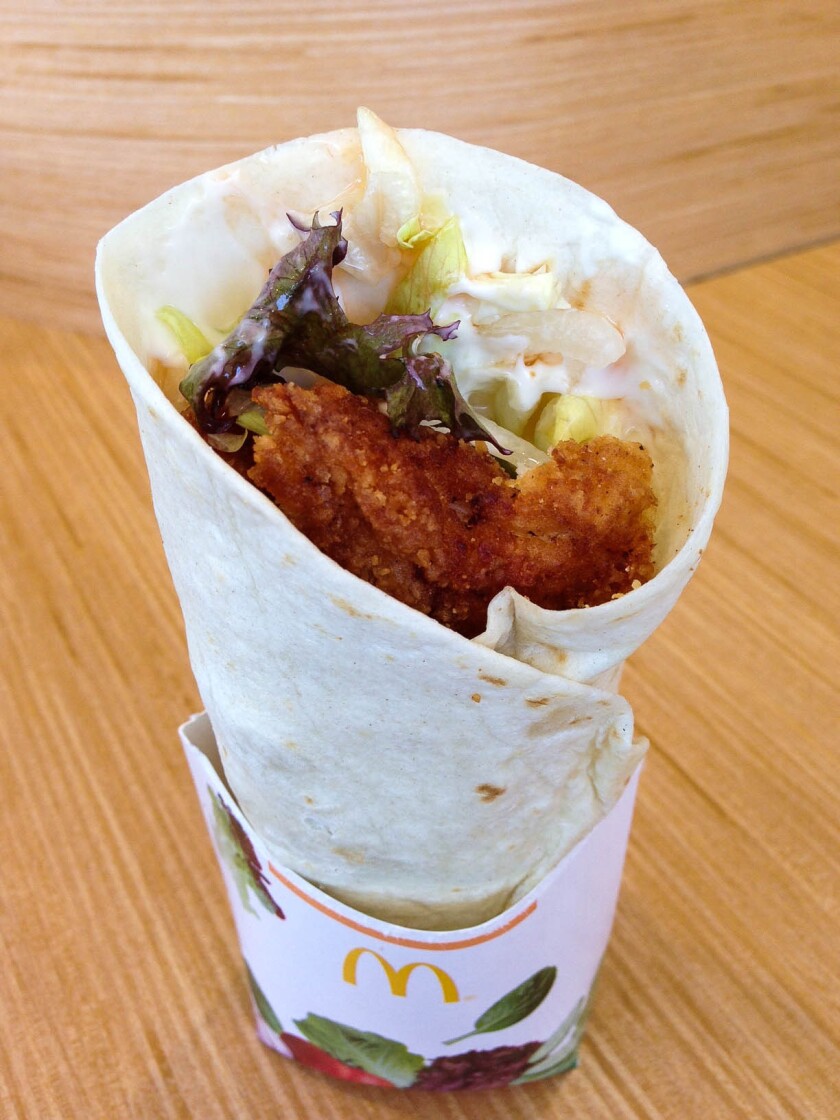 S. Irene Virbila has been a restaurant critic at the L.A. Times for almost 20 years; she's been writing about food for even longer. Her reviews have won awards from the James Beard Foundation and the American Food Journalists, and she's known, of course, for her excellent taste. But just for grins, we've asked her to expand her horizons and sample fast food on a regular basis. Here's her first foray (she's a fast food virgin) into the world of salt, grease and sugar:
Walking fast toward my gate (which airport escapes me), a four-foot-tall cardboard cutout of McDonald's latest fling with "healthy" fast food caught my eye. The idea seemed so funny I wanted a photo of myself standing next to the behemoth wrap sandwich, but no time. They were already calling my flight.
Fast forward to the next week. I'm intent on trying the Premium McWrap. I step in line. "Big Mac. Big Mac. Fries. Big Mac," the orders go in front of me. Nobody seems to be ordering the wrap, though the Premium McWrap menu is taped to the counter.
All three are chicken, which you can order crispy or grilled. I order the Chicken & Bacon (grilled) — how can you go wrong with bacon? And Sweet Chili Chicken (crispy). The idea of Chicken & Ranch held zero appeal.
Waiting, I can't help but notice that only one other guy in the entire restaurant is trying the new item, but I can't get a reading. He's utterly expressionless while consuming it. No groans of pleasure. No snorts of disgust. Nothing.
My number is called. I pick up the tray, noting the clever packaging. Wraps come in their own aerodynamic box with a pull tab that zips open at the center, to "release the flavor" — and to make it easier to eat on the run. Side tabs flip out to indicate which variety is inside. Cute.
Unzipped, the thing practically lunges at me. It is 1) huge and 2) ungainly. But there's a flutter of red leaf lettuce showing like a petticoat somewhere in there. Signaling "fresh" and "healthy," it is surely its first appearance at the fast food burger joint.
I take a bite. My desire to be photographed with the cardboard cutout disappears. The wrap, it turns out, is a plain flour tortilla, cold and leathery. Chicken breast? It is, I guess, if they say so. There are some vegetables — lettuce, pale tomatoes, cucumbers, even a shred of radicchio(!) — but even more sauce. And because this is McDonald's, it's sweet, which is about the only thing giving this bomb some flavor. There's the bacon, of course, in the Chicken & Bacon version, and also some grated yellow cheese substance called Cheddar that tastes ever so faintly of cheese and a big dollop of creamy garlic sauce that mimics watered down mayonnaise.
What about the Sweet Chili variation? Less fun than the Chicken & Bacon. The clear orange, chili-flaked sauce swoons into the creamy garlic sauce, coating the tongue. The suggested accompaniment? "Icy Cherry Berry Chiller." Thanks anyway.
How, I'm wondering, did McDonald's ever come up with this wrap idea? Actually, it turns out, according to a news release, "the Premium Wrap made its way to the U.S. from McDonald's Europe where in 2004 it launched in Poland as one of their most successful menu items." Personally, I'd rather eat a McPierogi than this sorry mess.
So how healthy is it? The Sweet Chili Chicken grilled version is 360 calories; add on 160 more for the crispy variation. The grilled Chicken & Bacon accounts for 460 calories; the crispy version is 620 calories, and includes, get this, 62% of your daily salt intake. First rule of fast food: Hit the palate hard with salt and sugar.
The shame is that it doesn't take a genius to make a tasty wrap. Visit any Middle Eastern deli to pick up one that would easily trump the McWrap.
McWrap, $3.99 (from 360 to 620 calories) at a McDonald's near you.
ALSO:
Want to inhale alcohol? This is how
Carl's Jr. strawberry Pop-Tart ice cream sandwiches
Burger King employee allegedly hides pot pipe in kids meal
---
Get our weekly Tasting Notes newsletter for reviews, news and more.
You may occasionally receive promotional content from the Los Angeles Times.