Victor Delgado and Jorge Alvarez-Tostado, the guys behind Tacos 1986, took Lucas Kwan Peterson on a taco crawl in their hometown of Tijuana for an episode of "Off Menu."
Alvarez-Tostado, 33, says customers and taqueros share a special dynamic in Tijuana. For many regulars, the taquero assumes the role of therapist: listening to problems, offering advice and recalling orders on instinct.
"As soon as your taquero and your eyes meet, they already know what you want," he said, "Boom! In 10 seconds, your taco is ready."
Taconazo
Taconazo is always busy but the quick service makes up for it, Alvarez-Tostado says. The restaurant serves traditional Tijuana-style tacos, each finished with a dollop of guacamole. The magnum opus of this joint is the giant rotating spindle of dripping adobada meat, which is typical in most Tijuana taquerias. You can get an adobada taco for 25 Mexican pesos or about $1.31. The patio-style dining area is the perfect place to enjoy lunch on a sunny day, and you can gamble off the calories at the Casino Hipódromo Caliente across the street afterward.
Location: Av. Hipódromo 126, 9 Section, Zona Urbana Rio Tijuana, 22000 Tijuana, Mexico
Hours: 8 a.m. to 12:59 a.m. Monday through Thursday, 8:30 a.m. to 5:30 a.m. Friday through Sunday
Price: $1.50 to $6
What to order: Adobada taco
Hipódromo Tacos
A locals' favorite, Hipódromo Tacos is one of the oldest taquerias in town. Hipódromo serves chilaquiles and hearty bowls of caldo de res, but its specialty is carne asada tacos, garnished with cilantro and thinly sliced red onion. Unlike many other Tijuana taquerias, the house-made salsas here are relatively mild. Alvarez-Tostado said the long-standing history of the restaurant fills locals with nostalgia and connects tourists with Tijuana.
Location: Av. Hipódromo 14, Hipódromo, 22020 Tijuana, Mexico
Hours: 8 a.m. to 12:30 a.m. Sunday through Thursday, 8 a.m. to 1 a.m. Friday and Saturday
Price: $2
What to order: Carne asada taco
El Tío Pepe
If you're in the market for generously filled tacos, then El Tío Pepe just south of the border is the place to go; Alvarez-Tostado notes its carnitas tacos are a good first step toward shedding hangovers. Carnitas and birria tacos are must orders — you can ask them to crisp up the tortillas in the carnitas fat by ordering tacos dorados, and it's wise to order a torta ahogada — the Guadalajaran salsa-soaked pork sandwich that is a specialty of the house.
Location: García No. 9925, Gabilondo, 22045 Tijuana, Mexico
Hours: 8 a.m. to 8 p.m.
Price: $1.50 to $20
What to order: Torta ahogada, taco dorado
Tacos el Jockey
As is the local style, tacos at Tacos el Jockey come wrapped in paper and are finished with house-made guacamole, but Alvarez-Tostado says Jockey's is thicker and more flavorful than its competitors' versions. Jockey is mostly known for its smoky carne asada taco, but you can also opt for a campechano and pick a couple complementary meats to go together in a taco (carne asada and chorizo is Alvarez-Tostado's favorite).
Location: Av. Hipódromo 15, Hipódromo, 22480 Tijuana, Mexico
Hours: 8 a.m. to 1 a.m.
Price: $1 to $6
What to order: Carne asada taco, campechano taco
Tortas Wash Mobile
Tortas Wash Mobile has been serving its tortas since 1964. The unassuming stand started in front of a car wash, which explains its name. The sandwiches are filled with chopped juicy, smoky brisket, which is marinated and cooked over mesquite chips and charcoal for 12 hours. The restaurant uses telera rolls for its tortas, and in Alvarez-Tostado's estimation, the bread — baked specifically for Wash Mobile — makes for "the best torta in the world."
Location: Trincheras 16-A, Hipódromo, 22020 Tijuana, Mexico
Hours: 8:30 a.m. to 12:30 a.m. Monday through Saturday, 10 a.m. to 5 p.m. Sunday
Price: $3
What to order: Carne asada torta
Tacos el Franc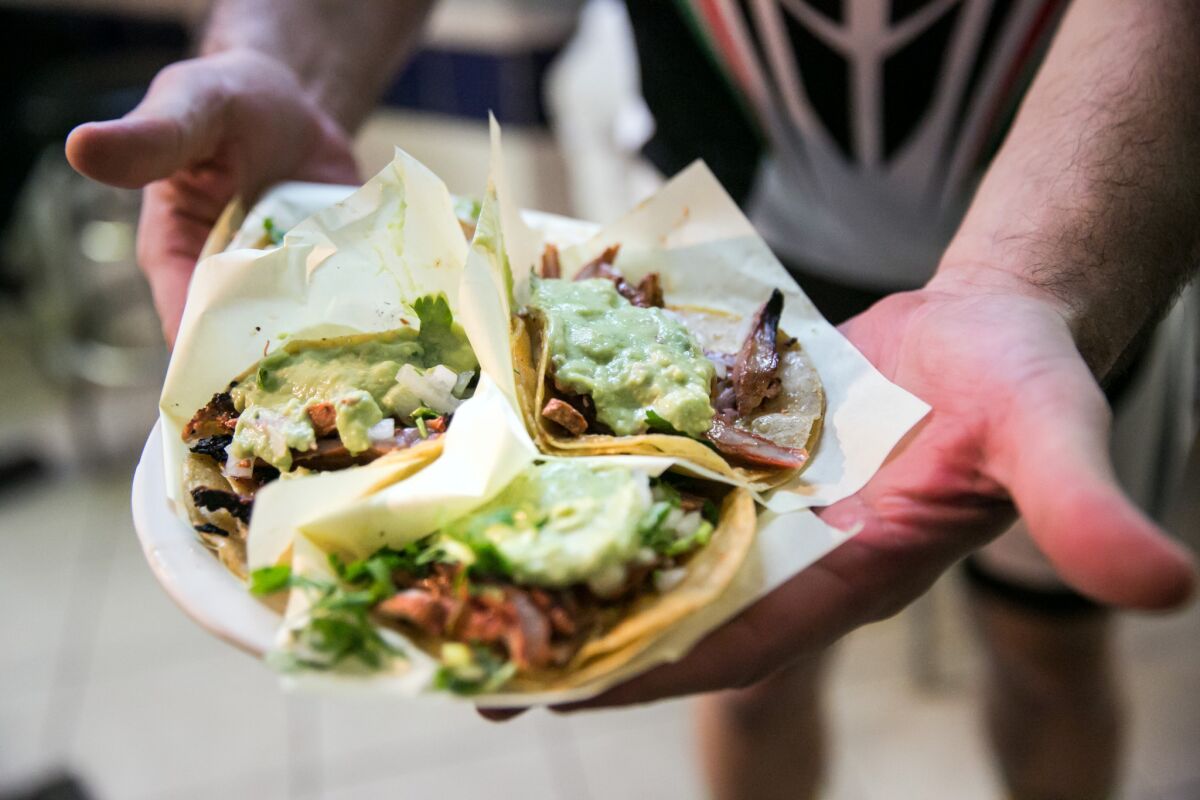 The trompo in the middle of Tacos el Franc, which has been open since 1996, is a thing of beauty: 200 pounds of marinated meat slowly spinning on a vertical spit. You'll want some tacos al pastor, cut from that mountain of meat, and you can round out your taco selection with well-seared asada and meltingly soft cabeza.
Location: Blvd. Gral Rodolfo Sánchez Taboada, Zonaeste, Tijuana, Mexico
Hours: 4 p.m. to 1 a.m. Monday through Thursday, 3 p.m. to 3 a.m. Friday and Saturday, closed Sunday
Price: $1.15 to $3
What to order: Tacos al pastor, asada, cabeza, lengua
---