Appreciation: Barbara Hansen and the 'one-shot deal' chile verde
The L.A. Times recently lost one of its most talented former staff writers, Barbara Joan Hansen.
Surrounded by friends and relatives, she died Jan. 28. Food lovers who followed Barbara's food-writing career appreciated her rich passion for international foods from India, South America and Mexico. She was an expert in these cuisines and had a flair for writing recipes that anyone could follow. She was a James Beard Award winner and a cookbook author who worked in The Times' Food department between 1968 and 2006 … nearly four decades!
Before Jonathan Gold, she introduced Los Angeles to global cooking and never stopped seeking new flavors.
My family's connection with Barbara goes back to November 1979. I was just 5 years-old.
My dad was installing a floor in the old L.A. Times Test Kitchen in downtown Los Angeles. He told me he was in his stinky work clothes lugging buckets of cement in and out of the building when he struck up a conversation with a food writer eager to learn about his mom's chile verde recipe. He called it his "One-Shot Deal" because it came together in just one pan.
Barbara jotted down the ingredients, made the dish and requested he bring in a clean shirt the following day for a photo.
My dad came home thrilled. My mom remembers he starched and ironed a fresh shirt and had it hanging, ready in his truck for days, but there was no sign of Barbara. He wondered, "Had she forgotten about the chile verde?"
No, she was just trying to wrangle a photographer and track down the floor installer in order to make this Mexican food magic happen.
My dad's 6x9 photo and recipe has hung proudly in a frame on our kitchen wall since 1979. When we entertained, guests would ask about the article and my dad would beam telling his story. He'd point out that a famous French chef was featured on the following page but that famous man's photo was only the size of a postage stamp.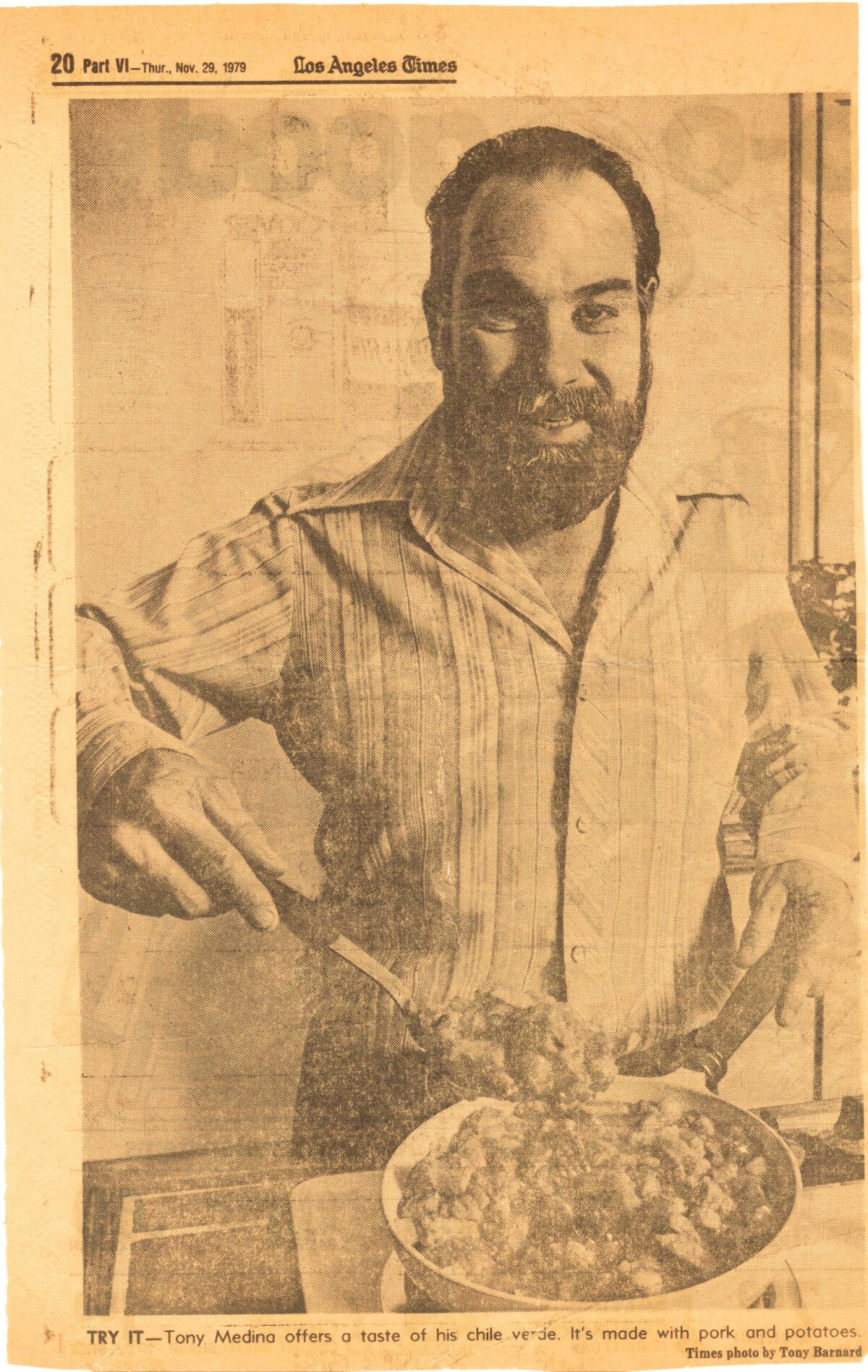 In 2010, 20 years after my dad passed away, I found Barbara online and reached out. I had to let her know that her story featuring my dad's recipe in the L.A. Times was one of the biggest highlights of his life. He was a simple guy from East L.A. who supported his family by pouring cement and showed his love to them by cooking tasty dinners every night. If the L.A. Times said his cooking was good, it was good ... and he never let anyone forget it!
After we connected, Barbara introduced me to her favorite restaurants, and we became immediate fans of each other's Instagram accounts — hers @tableconversation, mine @mylittlepasadenakitchen.
Each time we talked, I reminded her how I adored her not only for her career accomplishments but for her humanity. I thanked her for giving my dad the opportunity to feel important, seen and heard.
I hope my dad, Tony Medina, the floor installer, welcomed Barbara Hansen, the food writer, into heaven's kitchen with a delicious skillet of his "One-Shot Deal" chile verde.
Get our L.A. Goes Out newsletter, with the week's best events, to help you explore and experience our city.
You may occasionally receive promotional content from the Los Angeles Times.