That time I spent all my money at a shop called Exotics Only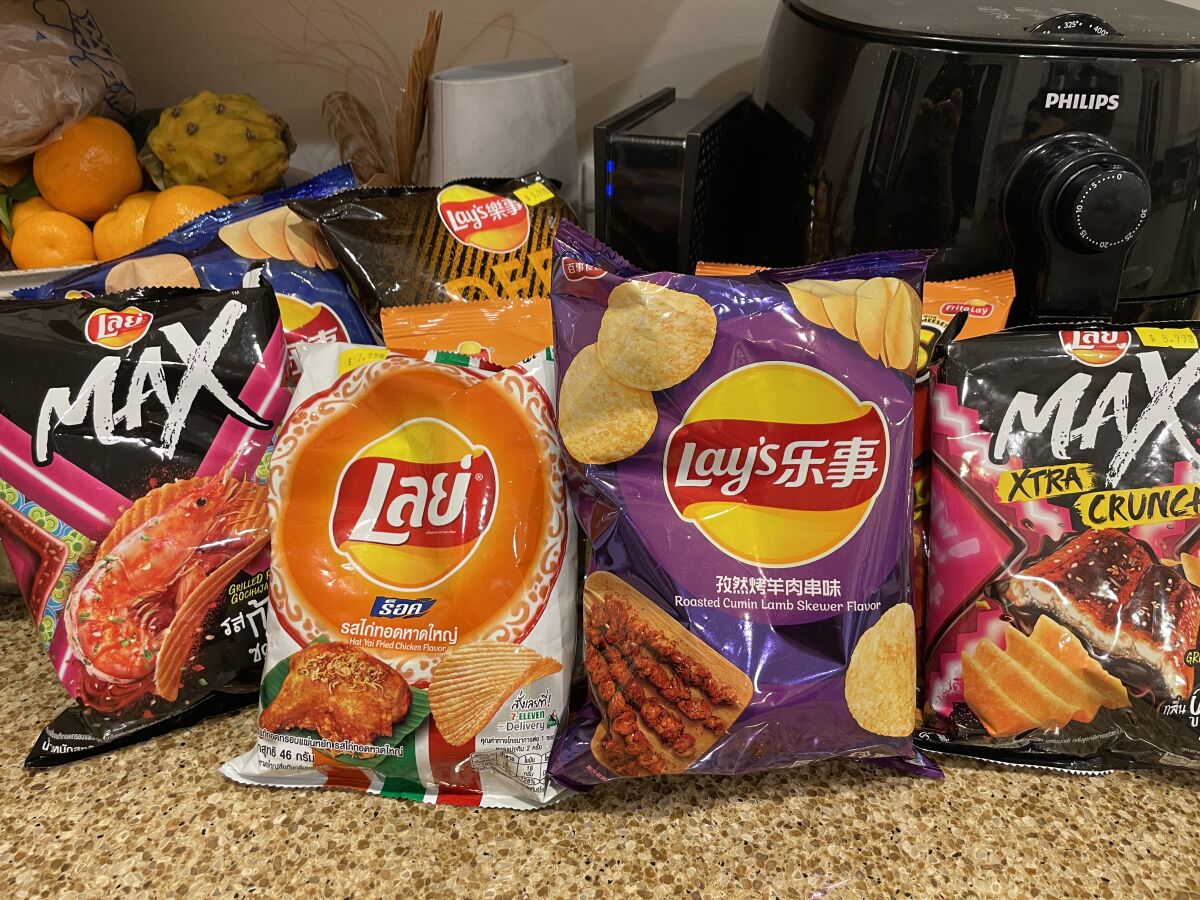 Exotics Only sounds like the sort of place that sells adult movies, handcuffs and evocative roleplay costumes. The name showed up recently as I was scrolling through my TikTok feed. It did not turn out to be an account full of NSFW content. It was a wonderland of international snacks.
There were posts touting Dragon Ball Z candy, giant Skittles, bottles of white peach Fanta, Nestle La Lechera churros cereal, Skittles squishy clouds, Pokemon cola-flavored bubble gum, esquites Cup of Noodles and chip flavors I'd only dreamed of (Lay's Spicy Korean Fried Chicken!).
Exotics Only is a specialty food shop that sells snacks, sweets and drinks from around the world, out of a small storefront in a South Gate shopping center. The brand started as an online retail operation in September 2020, during the thick of the pandemic, when most of us were itching to travel.
On a recent visit, I spent the equivalent of a nice meal out on several shiny bags of chips. I should note that whenever I travel out of the country, I bring an empty carry-on specifically for snacks. If I'm heading anywhere in Asia, I contemplate bringing two. Digging into a bag back home helps me prolong the trip for just a little while longer. It also indulges my affinity for crunchy, salty snacks with flavors that make the Frito-Lay variety pack seem like different shades of beige.
During the summer of 2021, video journalists Cody Long and Yadira Flores and I produced a two-part video series on subscription snack boxes and how to create your own. We wanted to highlight the myriad ways you could travel the world through snacks. If you missed it, you can watch part 1 and part 2 on YouTube.com/latimesfood.
There are plenty of companies that will send you boxes of snacks from different countries. At Exotics Only, you can peruse the bags in person, each one full of salt-laden promise. The store offers an impressive selection of chips from Thailand, Japan, Taiwan and China. I picked up about 10 bags. Here's a breakdown of the best ones, in no particular order:
Japanese Steak-Flavored Cheetos: Imagine pouring the seasoning pouch from a package of instant beef ramen into a bag of Cheetos and giving it a good shake. While it doesn't exactly nail the flavor of a grilled steak, there's a recognizable salty, beefy flavor that's just a tad sweet.
Hot Yai Fried Chicken Flavor Lay's: If I could concoct my own chip out of dishes I love, this would be it. There's a chicken bouillon flavor that gives you the sensation of fried chicken, boosted with sweet, toasty notes of fried alliums.
Roasted Garlic Oyster Flavor Lay's: There's a strong seafood soup flavor, though it's not specifally oysters. It could be oysters, it could be shrimp. And there's a good hit of garlic with a pleasant, lingering aftertaste, too.
Roasted Cumin Lamb Skewer Flavor Lay's: At first, the chips just taste spicy, without any distinguishable flavor. Then you start to get the subtle gaminess of lamb followed by some Sichuan peppercorn mala. I didn't detect any cumin, but I didn't miss it. I could still imagine stripping the chunks of lamb off a skewer as I finished the entire bag.
Camembert and Tomato Ajillo Cheetos: The corn snacks actually smelled like cheese, but beyond the initial aroma, there wasn't much of a Camembert flavor. What kept me reaching into the bag was an addictive tomato and paprika seasoning that reminded me of the salad-flavored Pretz cracker sticks.
Grilled Prawn with Gochujang Sauce Lay's Max: These may have been my favorite of the bunch, with a flavor so specific, you sort of have to appreciate the ingenuity, even if you're not particularly fond of grilled prawns or the spicy Korean fermented chile paste. I happen to love both. The chips capture the meaty seafood flavor of prawns seasoned with the sweet heat of gochujang. And the spice builds with every chip. By the end of the bag, I looked like I was crying. Maybe I was, just a litttle.
Get our L.A. Goes Out newsletter, with the week's best events, to help you explore and experience our city.
You may occasionally receive promotional content from the Los Angeles Times.