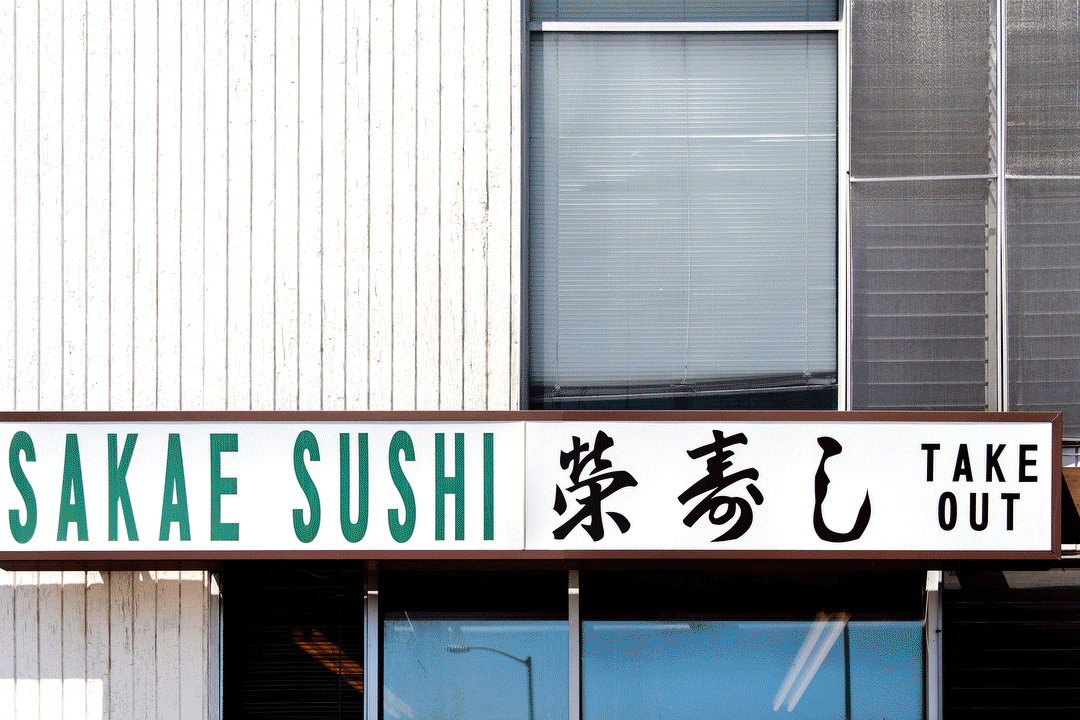 I am firmly dating myself with this anecdote, but the first time I went to a rave while growing up outside of Chicago, there was a Le Carré-like air of mystery. Furtive landline phone calls. Passwords. Heading to a record store in the city to be given an address before going to some semicondemned structure to dance our brains out.
This is your guide to what the best sushi city in America has to offer, from the ultimate California roll to spectacular omakase.
There's a similar excitement to picking up your order from the tiny, family-owned Sakae Sushi in Gardena: Call to place your order, set a pickup time and then drive to a parched, two-story building with the remains of a little Japanese garden in the courtyard. Take your cash to a window in the back, and exchange it for a small but surprisingly hefty box wrapped in thick paper and tied with green string. Once back in your car, gently unwrap the package to inspect your wares. At Sakae, you feel like you're in on a secret. And the sushi is so good you might very well fall in love.
A few things you should know, though: You cannot dine in at Sakae. There's no omakase, and there's no sashimi. There's no edamame, no deep-fried tempura or soft-shell crab rolls. Don't worry — you won't need any of these things.
The current generation of omakase chefs in Los Angeles are returning to the essence of the cuisine. A trip to Tokyo confirms what's been driving their pursuit for excellence.
The third generation of the Tani family is now making the sushi at Sakae, which opened in 1962, and they've stayed loyal to the restaurant's origins, changing almost nothing since its beginnings. Sakae has always been takeout-only, save for a year or so at the beginning when the founders, Sumizo and Aya Tani, experimented with having a couple of tables for customers. (The Tanis also originally opened the restaurant with another Japanese family but soon bought them out when differences arose over how to run the business.)
The menu consists of just six pieces: saba and ebi, which are oshizushi, or pressed sushi; inari, or fried, seasoned tofu pouches with rice; and nori, tamago and California futomaki (literally "fat roll"). The menu has remained the same over the years, save for the California roll, which was added to the menu in the early 1980s by Etsuko Tani, the elder Tanis' daughter-in-law, who now runs the restaurant with her children, Emi, Jeff and Jason.
An ode to the secretly best California roll, perfected over two decades at Yama Seafood in the San Gabriel Valley.
The recipes came from Aya, who grew up in Uragami, a village near Osaka, and emigrated to the U.S. in the late 1950s. She would bring sushi from home to the nursery where she worked and started selling it at the now-closed Motoyama Market at Western and 162nd Street. Eventually, enough people asked her: Why don't you just open a restaurant?
"It wasn't very successful in the beginning," said Emi Tani Castillo, Etsuko's daughter and Aya's granddaughter. There weren't many restaurants like it in the neighborhood. "My grandparents were pretty amazing to start something like sushi in the '60s in an area where it was not the norm. No one was really selling it," she said. But the business grew steadily over the years, despite no advertising and very little online presence, to become one of Gardena's oldest and most beloved restaurants. The Tanis attribute this success, at least in part, to their adherence to tradition.
"Rice is cooked over the stove, we've never used a rice cooker," said Tani Castillo. "None of us own a rice cooker at home. That's how we grew up, it's all we know." When asked why, she responded: "It just tastes better."
The owner of the Joint talks seafood, preservation and a sprawling new facility that will bring dry-aged fish to the masses.
In a day, Sakae can go through 10 or 15 big stock pots full of rice, which are still cooled by electric fan. Age for the inari sushi is still carefully shaped by hand. Bones are tweezed out of mackerel one by one. All members of the family do a bit of everything, but each person has their specialty — Emi handles front-of-house and ordering, Jeff makes the rice, and Jason handles the fish. Etsuko presses and rolls the sushi.
At the risk of starting an international incident, I won't venture too far into the regional Japanese Kanto (Tokyo and surrounding cities) versus Kansai (Osaka and surrounding cities) rivalry, which extends to food, dialect and even which side of an escalator to stand on. The Tanis describe their sushi as Kansai style — a bit sweeter and more vinegar-based. The pieces are homey, humble: more suited to an evening in than an expensive omakase at an Edomae-style bar. "It's more like a comfort food," said Tani Castillo. "You make it at home, eat it at home."
Sakae's sushi is anchored, as all good sushi is, by its rice. Grains are plump and slightly sweet, with a gentle, vinegary topspin that provides an unshakable foundation for each of the restaurant's six items. Pieces don't demand to be eaten immediately, as is often encountered at sushi places where chefs gently admonish diners to eat quickly. The rice at Sakae tastes slightly firmer than that which underpins a typical piece of nigiri. It's fresh, of course, but the fermentation allows it to settle in — maybe even improve — over the course of a 30-minute drive home.
The two pressed sushi choices, saba and ebi, may benefit the most from this. The saba, in particular, is gorgeous: On each piece, a rectangular block of rice supports a thin flap of mackerel, equal parts cream-colored flesh and silvery, mottled skin. The melody of the sharp, strongly briny fish plays flawlessly off of the counterpoint of the tangy rice. If saba is an amplifier that goes to 11, the ebi goes to maybe a five: less assertive, gently sweet and meaty, almost chewy. It's a neutral place from which to explore the other pieces.
Where to find the best supermarket sushi in Los Angeles — seared salmon nigiri, the freshest sashimi platters, hand rolls filled with negitoro and more.
Inari, with superbly textured age that is neither too dry nor exceedingly moist (we've all had the unpleasant experience of a too-wet piece of inari), is the sweetest of the lot, but not overpoweringly so. Every spongy bite of this piece — a small, football-shaped pocket of fried tofu — has a mellow soy flavor. Speaking of which, soy sauce is available at Sakae, but I recommend against using it with the sushi; it doesn't need it. Thin, hot-pink slivers of pickled ginger that come with every order are enough to whet the appetite.
The futomaki are exactly that — so overstuffed with rice they can barely be contained, like sushi rolls that are wearing clothes two sizes too small. The nori roll is the star here, with chewy shiitake, kanpyo, spinach, a small cube of tamago and a gentle dusting of sweet, bubblegum-colored oboro fish powder. The tamago roll is nearly identical but is wrapped in a long, dimpled strip of smooth, mellow beaten egg instead of seaweed. Sakae's version of the California roll — the crab- or krab-stuffed creation with a disputed origin story — is maybe the best, simplest version I've tasted. No cucumber, no crab salad. Just chopped shrimp, a generous amount of avocado and toasted sesame.
From 20-course omakase tasting menus to snug sushi bars, here's where to find the best and freshest sushi in Los Angeles.
Everything is reasonably priced — no piece is more than $2. Six or seven pieces are enough for a small meal.
Etsuko can't say for sure whether the restaurant will last another six decades — she's still at the restaurant every day despite turning 80 this year, and has no immediate plans to stop. When I ask her if she likes the work, she responds incredulously, "Oh yeah — that's why I'm here! You think I'd be here if I didn't like it?"
For now, enjoy being in on the secret. Even on the good chance your family isn't from the Osaka area, this sushi will still, somehow, manage to remind you of home.
Sakae Sushi
1601 W. Redondo Beach Blvd., Suite 112, Gardena, (310) 532-4550, sakaesushigardena.com
Prices: Sushi $1.60-$1.75 per piece
Details: 9 a.m. to 4 p.m. Wednesday through Sunday. Phone in orders before arriving. Cash only
Recommended dishes: Everything on the six-item menu
Get our L.A. Goes Out newsletter, with the week's best events, to help you explore and experience our city.
You may occasionally receive promotional content from the Los Angeles Times.