Nobu Malibu faces lawsuit alleging sexual harassment and discrimination against hostesses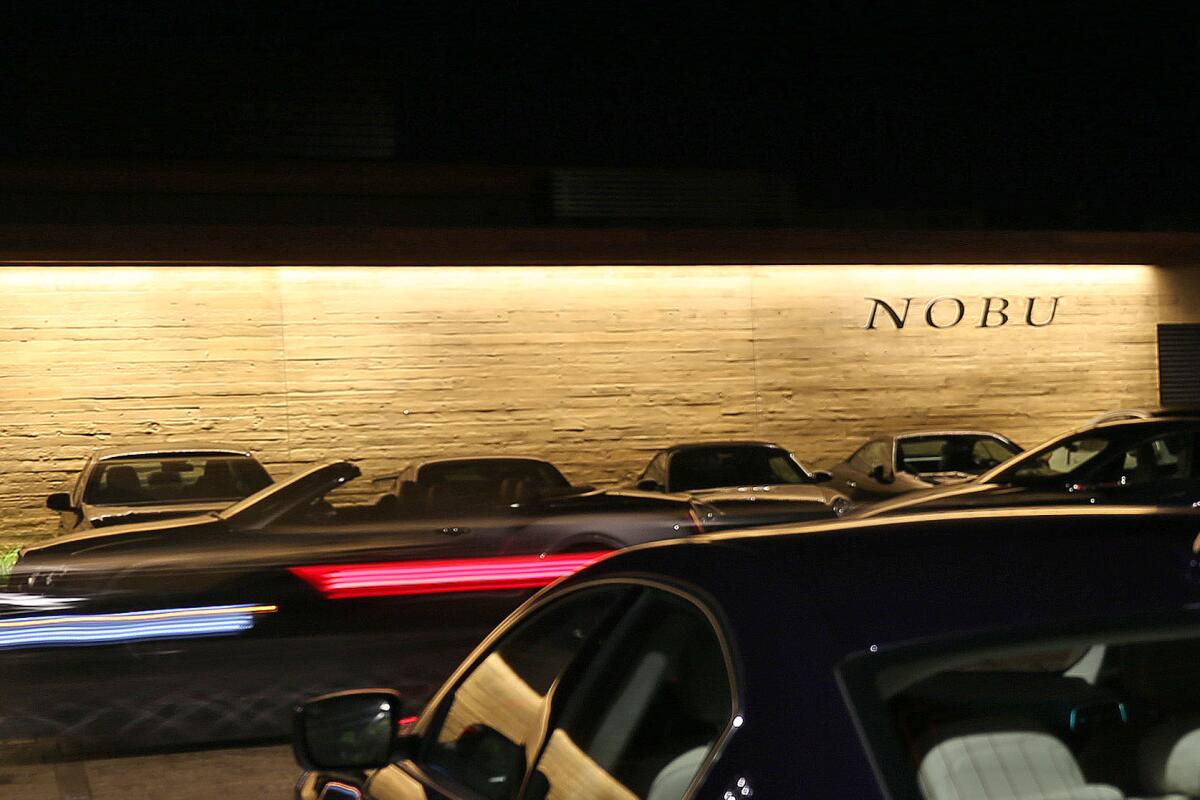 A hostess at celebrity hot spot Nobu in Malibu filed a lawsuit Wednesday against the restaurant and a former supervisor, alleging sexual assault, battery, gender discrimination and retaliation.
The unnamed 23-year-old plaintiff, referred to as Jane Doe, is seeking at least $500,000 in damages.
The lawsuit filed in Los Angeles County Superior Court alleges systemic sexual harassment that "runs rampant inside the NOBU restaurant workplace," failure to protect its employees and assault by a former supervisor named Marcus, whose surname is listed as unknown.
A woman who answered the phone Thursday morning at Nobu in Malibu said "no comment" and hung up when asked for her name. As of 1 p.m., an email and social media messages to the restaurant group went unanswered. A voicemail left for Nobu's attorney also went unanswered.
The upscale Japanese restaurant was founded by chef Nobu Matsuhisa, actor Robert De Niro and film producer Meir Teper. The global brand includes not only restaurants but a hotel chain. The Malibu location, where the alleged assaults occurred, is an iconically star-studded locale whose famous patrons have included Rihanna, Bradley Cooper, Miley Cyrus, Selena Gomez, Leonardo DiCaprio, Justin Bieber and Cindy Crawford.
Nobu is no stranger to litigation. In the last decade, the Nobu brand has been sued multiple times in different locations over allegations including sexual harassment and hostile work environment.
The L.A. city attorney is looking into a hospitality group that runs some of the trendiest restaurants in Hollywood over healthcare service fees tacked on to diners' bills.
Marcus, who is named in the suit as a Nobu bar manager, is alleged to have repeatedly walked close behind the location's hostesses and "lightly fondle[d] their buttocks before they had the chance to avoid his advances" while he was sober. The claim states that when drinking on the premises, Marcus' advances became more aggressive.
The plaintiff alleges Marcus asked for her phone number for personal reasons, during her first week of employment in June 2020, and repeatedly texted to request a meeting in person outside of business hours. In early 2021, the plaintiff alleges, Marcus restrained her in an office to kiss her neck.
The suit also alleges that the company encourages hostesses and servers to flirt with clientele, and requires its hostesses to wear "scantily clad black uniforms," subjecting its employees to unwanted sexual advances from both customers and managers, and does not enforce or comply with its written company policies that would enforce protection of these employees.
"As the first point of contact for NOBU customers Plaintiff, and young female hostesses like her, are expected to address and deflect whoever and whatever advances are made toward them, with a smile on their face, as guests walk through the entry doors," the complaint said.
The restaurant says the 18% service fee attached to checks is part of a vision to make pay more equitable among all workers. The suit filed Tuesday in L.A. seeks damages for what servers claim are tips.
"Therefore, it is ironic that despite requiring its hostesses be scantily clad and address patrons at varying levels of sobriety, NOBU does little to protect its hostesses from the unwanted and unwelcome sexual advances which reflexively result.
"Because of its close proximity to Hollywood's brightest stars, and NOBU's 'please the customer first' mantra, Plaintiff and other young female hostesses performing the same role, endure outright sexual advances and abuse for the sake of maintaining NOBU's glamourous [sic] reputation and keeping their jobs."
Jane Doe did not want to comment beyond the allegations made in the lawsuit, her attorney said.
The suit's plaintiff and "several other hostesses" claim they reported these advances to Nobu Malibu management, and the claim states that in early 2022, Marcus was terminated as an employee.
This is a developing story. Check back for updates.
Cary Schneider contributed to this report.
Get our L.A. Goes Out newsletter, with the week's best events, to help you explore and experience our city.
You may occasionally receive promotional content from the Los Angeles Times.