When this L.A. personal trainer says 'I'm here for you,' her clients say she means it
Jill Bernheimer did it because she missed the camaraderie and shared mission of her college lacrosse team. For Carrie Carr, turning 50 inspired her to make some time for herself.
Both women turned to Lacey Stone, a personal trainer and a teacher at Flywheel spinning studios with a large and enthusiastic following.
Sometimes, joining a gym or taking a jog just are not enough for people to make the changes they seek.
Turning to private training or programs like Stone's are a pricey alternative. Her 8 Weeks to Change program -- seen on TV's "The Doctors" and "The Steve Harvey Morning Show" -- costs $1,350, plus $99 a month for unlimited spinning classes and $45 a day for meals delivered to your home.
But both Bernheimer and Carr say it was worth it.
"She can be hard and really get to whatever your physical or mental weaknesses are but in a way that motivates you to look at them rather than run away from them," Bernheimer says. "That's just not something that is common to find."
Stone, Carr says, "changed my life. She made me like myself."
Fans say she brings a combination of serious fitness demands and a generous, insightful heart to her workout programs. Screaming, punishing trainers seem to be passé. In their place are trainers who know fitness, for sure, but who also are likable humans. What makes trainers like Stone so much in demand is as much style as physique.
Don't misunderstand: No matter the effort, very few of us will ever look like the 36-year-old Stone, with those Mt. Everest-impossible arms, those abs and those legs. (She's all over social media, if you care to see what we mean.) Stone is also a vocal advocate for strong women.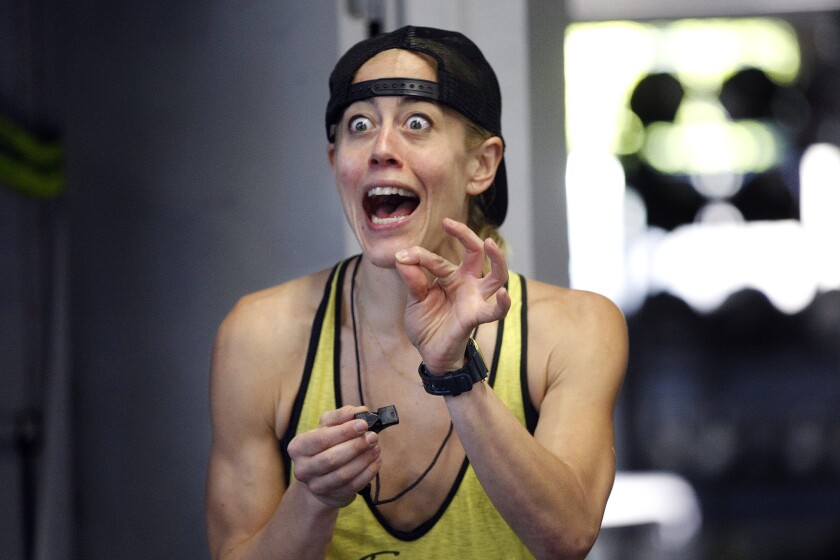 But with apologies for stereotyping, the Wisconsin-raised Stone embodies Midwest nice and backward baseball cap cool. She refers to herself as "a dork," and says things like spinning "will keep you fit as a fiddle, to quote my gramma."
In Stone, energy spent seems to be energy created.
"She has such a fun, funny personality. She's really hilarious. You feel very safe with her," says Sydney Benner, a trainer who worked with Stone on a campaign for the Athleta fitness line.
"Not one part of her is B.S.," says Meghan O'Donoghue, a trainer herself who along with Carr and Bernheimer were part of one of Stone's two-week Re-Boot camp. "She might be in your face, and she is. But it's because it works and she cares about you. And it's something you need."
At the Re-Boot camp, Stone told her 16 students that fitness "is nothing magic. It's just being consistent."
"The point of this camp is to create a habit," she says. To do that, the camp included delivery of nutritious meals from a company called Klean, a schedule of gym and spinning workouts and Stone's daily texts and emails.
One of the things Stone says all the time: "I'm here for you."
And she means it, her clients say.
"Something I really loved about Lacey was the text after boot camp: 'Hey, you killed it. How are you feeling?'" says O'Donoghue.
A sample email to the group pointed out individual successes, reading in part, "Can you believe Amie beat her time by 29 seconds.' … I'm dazzled by you today."
Carr first took 8 Weeks to Change and then did the shorter Re-Boot camp.
One day, she recalled, "I was in a bad mood." Somehow she had the instinct to put her arm around me at the end of class and say, 'You have really changed, you know.' She's in sync with human emotion."
Bernheimer, owner of the Melrose Avenue wine shop Domaine LA, found the team spirit she was looking for in Stone's classes and programs. She says she's fitter now than she was in school despite the temptations of a job that means lots of opportunities to drink good wine and eat good food .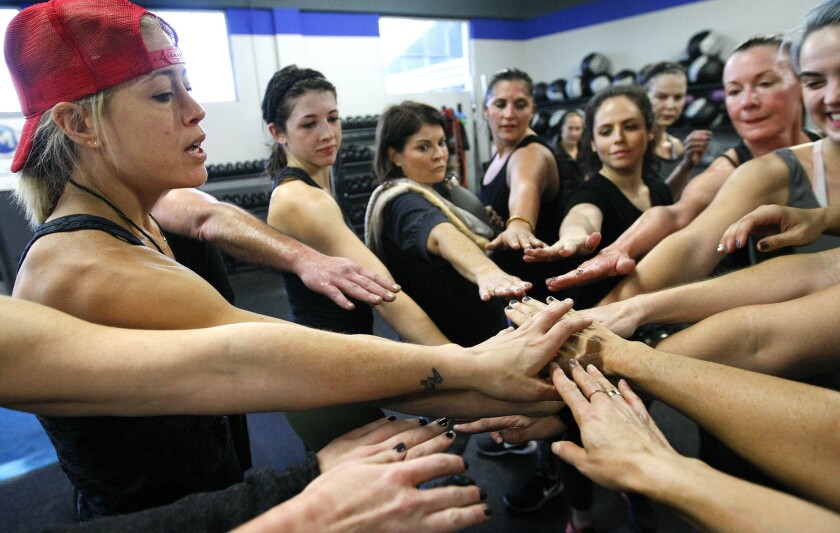 "I am better at my job for taking care of myself," she says.
And losing pounds was only part of the benefit. As Stone says, having a terrific body is no use without a fit mind and heart too.
"When I first started with her, it was all about 'I'm going to lose weight, I'm going to get really strong,'" Carr, the mother of an 8-year-old girl, says. "But I've lost more emotional baggage than anything else."
"I'm a better person, I'm a happier person," she says. "I'm not as hard on myself, and as a result I'm getting fitter."
Stone has long been an athlete; at 16, her dream was to be like Michael Jordan. She played basketball at the University of Maine, where she majored in psychology. She eventually realized she would never play pro ball. But she kept the athlete's work ethic and passion.
As much in demand as Stone is these days, she understands struggle. A heartbreaking divorce in 2012 – not long after she moved to L.A. for her wife – and losing a fitness studio job made her question her choices.
She followed her passion to create 8 Weeks to Change, and change followed.
"We are all a little damaged, but you have to keep up your life," Stone says now.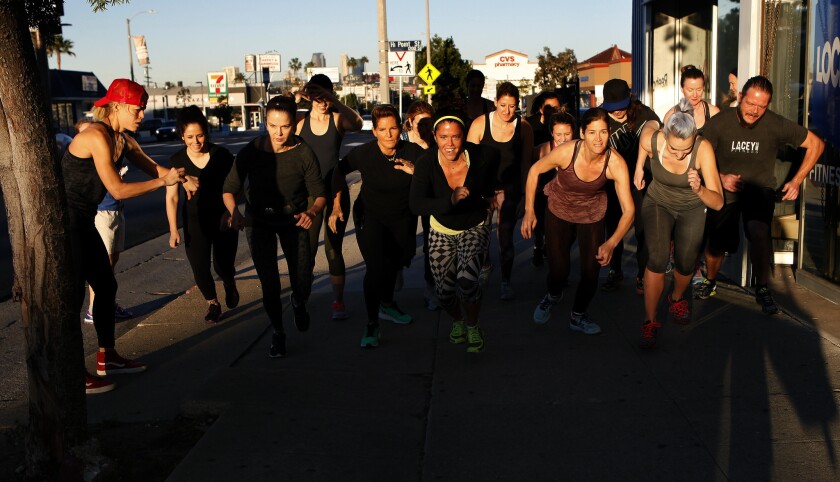 The Re-Boot camp included workouts at a Mid-City gym called Lock Box. The group – all but one were female -- gathered early in the morning. Some people are already fit, others not.
"All you have to do is show up and eat right, and we will see results," Stone tells them. "I'm training you like high-level athletes." "I rest a lot. I'm a super Grandma."
Sound easy? The resting part, maybe.
Aside from dietary rules such as like no alcohol or sugar, Stone's workouts are hard: strength training, team plank-holding competitions, a run around the block that has everyone panting.
No one gives up.
"Lacey, in my opinion, is a coach in the truest sense of the word," says interior designer Betsy Burnham designer, a member of a recent Re-Boot class. "She's got more energy than two people and her enthusiasm is infectious. She keeps us moving and laughing and somehow makes each of us want to try harder and do better each time we train. Did I mention she has the best arms you've ever seen?"
Her signature 8 Weeks to Change program has been see on TV's "The Doctors" and "The Steve Harvey Morning Show."
Sometimes, joining a gym or a taking a jog just are not enough for people to make the changes they seek. Private training or programs like Stone's are pricey (The eight-week program is $1,350, plus $99 a month for unlimited spinning classes and $45 a day for meals delivered to your home.)
ALSO
These new fitness fashion looks work at the gym -- and on Instagram
Why dieting for just one day -- or just one meal -- changes everything
How did Kevin Hart get so ripped? With workouts that are no joke
---