Dance like you're in a BTS video? The K-pop workout that doesn't feel like work
You couldn't wait to watch the K-pop group BTS perform on "Saturday Night Live." You caught the septet's sold-out concert at the Rose Bowl. And you sing along to "Boy With Luv" whenever and wherever it plays.
But no longer do you have to watch BTS music videos in the privacy of your bedroom, practicing the group's moves in the mirror and using your hairbrush as a microphone.

For the record:
2:15 p.m. July 8, 2019An earlier version of this story included the wrong phone number for Uno's Dance Fitness Center.
No, there's a class for that, and it's full of K-pop fans just like you.
A dance-fitness studio near Koreatown helps you set aside your self-consciousness and learn to strut, spin and swagger like your favorite K-pop stars.
There's no need to be intimidated; the judgment-free class is open to all ages and abilities. (Hint to Mom: This might be a way to bond with that teenager living under your roof.)
Best of all, it's an intense workout that hardly feels like work — and one you might actually stick to because it's so much fun.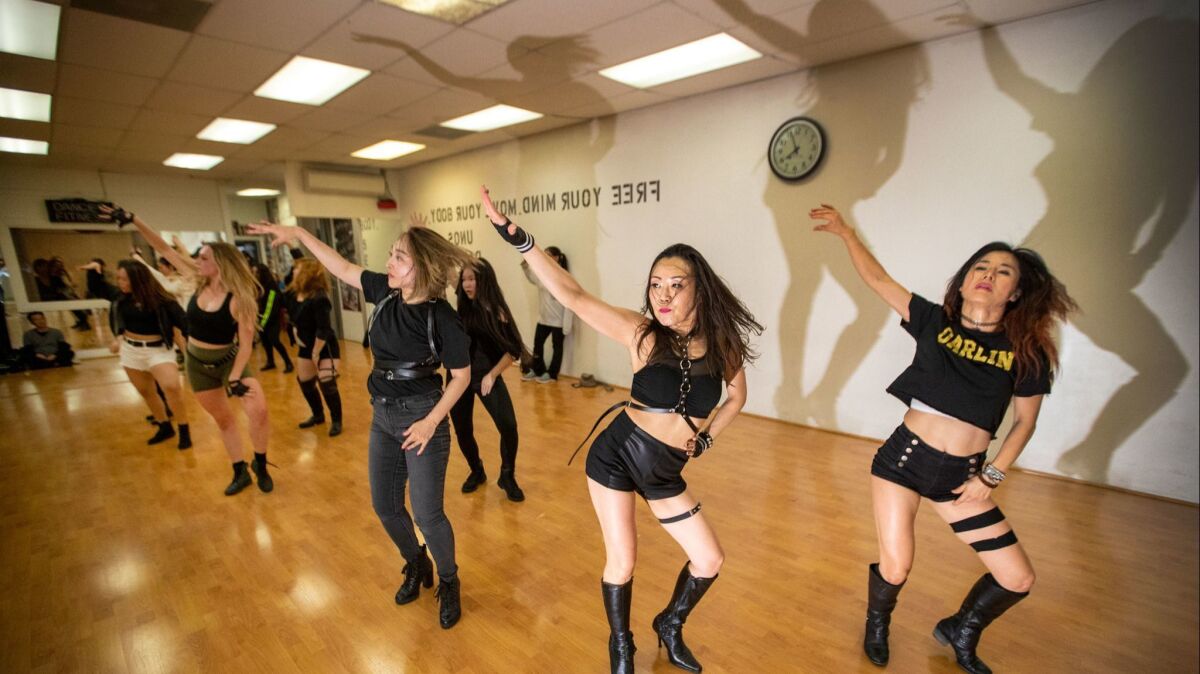 Students in the K-pop dance classes at Uno's Dance Fitness Center meet twice a week to sweat, laugh and learn the choreography to the latest K-pop music videos. (BTS is a fave.)
When students finish learning a routine — which studio owner Uno Lee says takes about four weeks — they come to class dressed up like the real stars and record a video to commemorate their work.
We tried it, we loved it, here's what happened:
Aura
Uno's blends into a cluster of buildings on Wilshire Boulevard. But you'll know you're at the right place when you hear the distant thumping of "gogobebe" by Mamamoo, "Killing Me" by iKon and other K-pop hits from the parking lot.
Lee's students range from teens to people in their 30s (and there are kids' classes on Fridays). While many of them have taken her class for years, you won't feel like an outsider if you're new. Before a recent Tuesday-night class, the high school crowd looked up from their phones to greet a newcomer, and the 20-somethings chatted while stretching.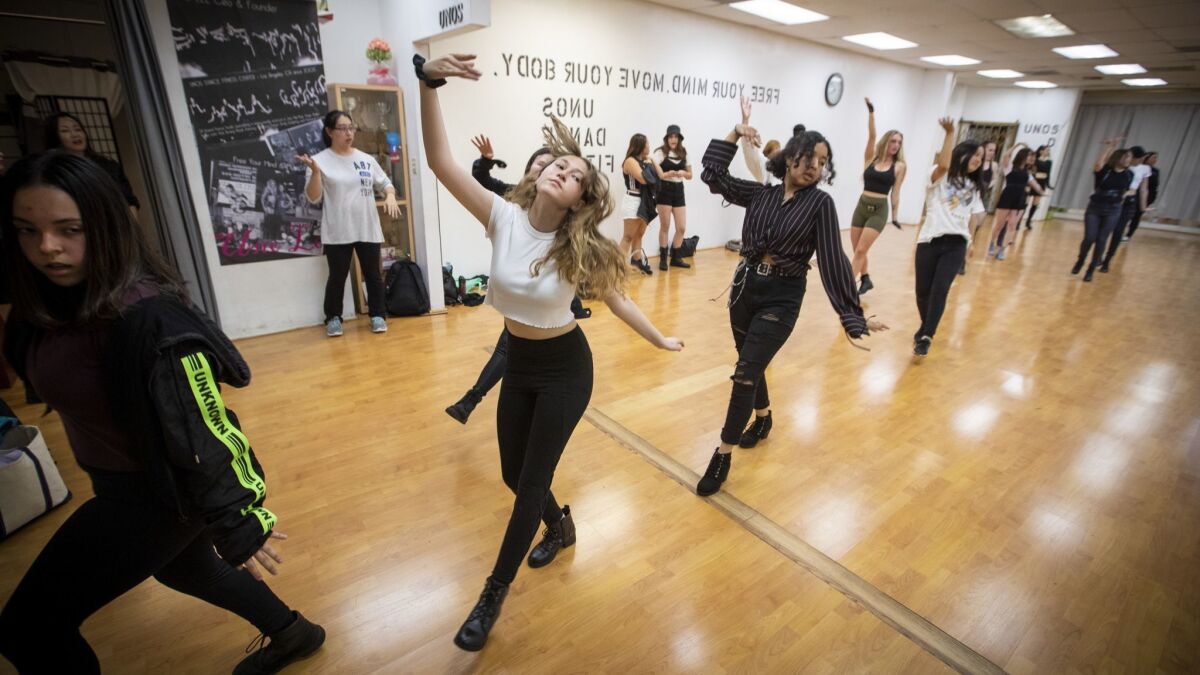 Lee keeps the vibe just as friendly, greeting people as they walk into her studio, happily answering questions about choreography and welcoming students' spontaneous bursting into song. (Listen to Blackpink's "Kill This Love," and you'll find it pretty hard not to belt out the chorus.) Students take Lee's class seriously, but at the end of the day, it's all about fun.
Effort
Fun, yes, but you don't learn a three-minute dance routine without breaking a sweat.
"I lost 30 pounds the first year I was here," said Shannon Locke, pointing to a before-and-after photo of herself pasted on Lee's client wall of fame, which includes photos of several other body transformations. Locke, a 31-year-old from Hollywood, has gone to Lee's class twice a week for the last three years. "This class is not a joke; I'm in way better shape now than I was when I was 21."
Aside from weight loss, Lee said she has noticed many of her students standing taller, looking stronger and becoming better dancers — especially after they've taken her class for a month or two.
If you're new to dancing and have trouble keeping up during your first class, don't worry; you'll get better at moving your body and remembering choreography with time. (And you can always practice at home since the music videos are on YouTube!) Just be sure to call Lee before you go so you can plan to join the class on the first day of a new routine.
Style
The cardio begins in the first few minutes of class. After a lively warm-up, Lee's students bust out three previously learned dances back to back. This gets everyone's muscles warmed and minds relaxed, since they get a good laugh when they forget a step or their spot in the formation.
For the rest of the hour-long class, you'll learn about 30 seconds of choreography. Lee often splits the group in half so everyone has a chance to practice the dance with plenty of space and a view of themselves in the mirror.
About eight classes later, you'll have mastered the routine, and it will be time to perform it in small groups in front of a camera. Lee said many students have made friends in the class by this time, and they like borrowing each other's clothes to create the perfect K-pop ensemble.
"Taking a video, I think, is a very big deal," Lee said. "Later on, students might forget the dance routine, but then they see the video [and think], 'Oh yeah, I'm kind of good!'
"And that feels good."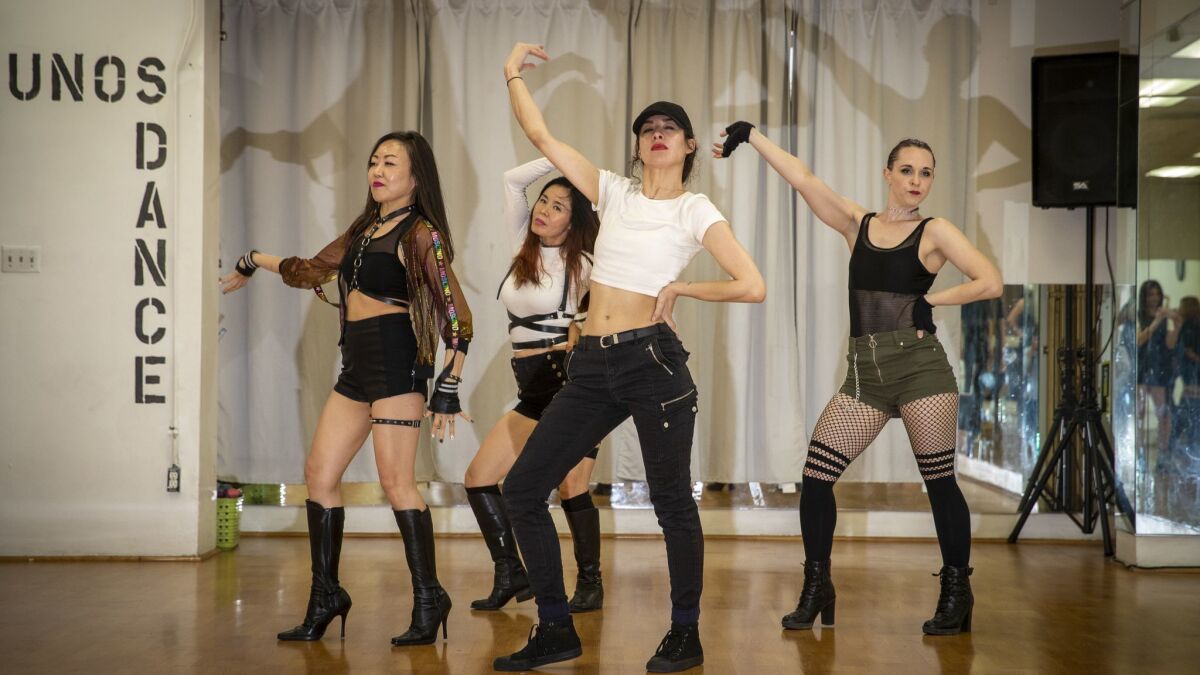 Uno's Dance Fitness Center
Where: 4049 Wilshire Blvd., Los Angeles. Free parking available in a lot behind the studio
When: Adult K-pop class meets Mondays and Wednesdays at 8 p.m. K-pop class for both teens and adults meets Tuesdays and Thursdays at 7 p.m. Kids' K-pop classes are on Fridays: 3:30 p.m. for boys ages 5 to 11, 5 p.m. for girls ages 5 to 11 and 6 p.m. for boys ages 12 to 18.
Cost: New students pay a one-time enrollment fee of $25. Teen and adult K-pop classes are $125 for four weeks. Kids' classes are $80 for four weeks.
Info: Contact Uno Lee at (310) 383-7554, unoslee@yahoo.com or on the studio's Facebook page facebook.com/UnosDance/
---