Great Read: Cross training: Christians embrace Daniel Plan's mind-body-spirit diet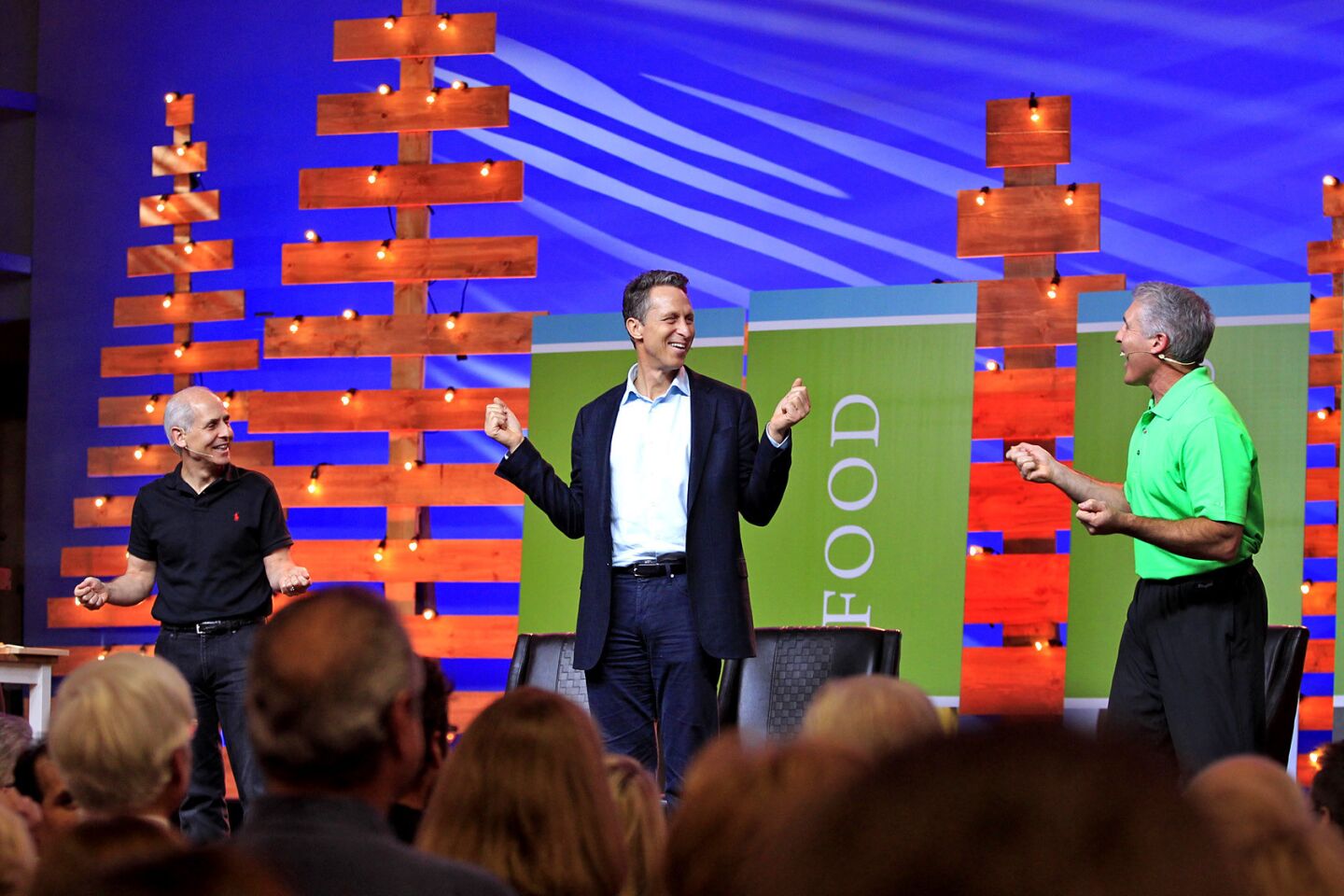 The Daniel Plan team members Dr. Daniel Amen, left, and Dr. Mark Hyman, middle, with exercise guru Sean Foy during a rally for pastor Rick Warren's Daniel Plan at Saddleback Church in Lake Forest on Jan. 5, 2014. After the rally, stations were set up outside the Worship Center to gather measurements from individuals wishing to begin the program, including height, weight, waist measurement, blood pressure and cholesterol at Saddleback Church.
(Allen J. Schaben / Los Angeles Times)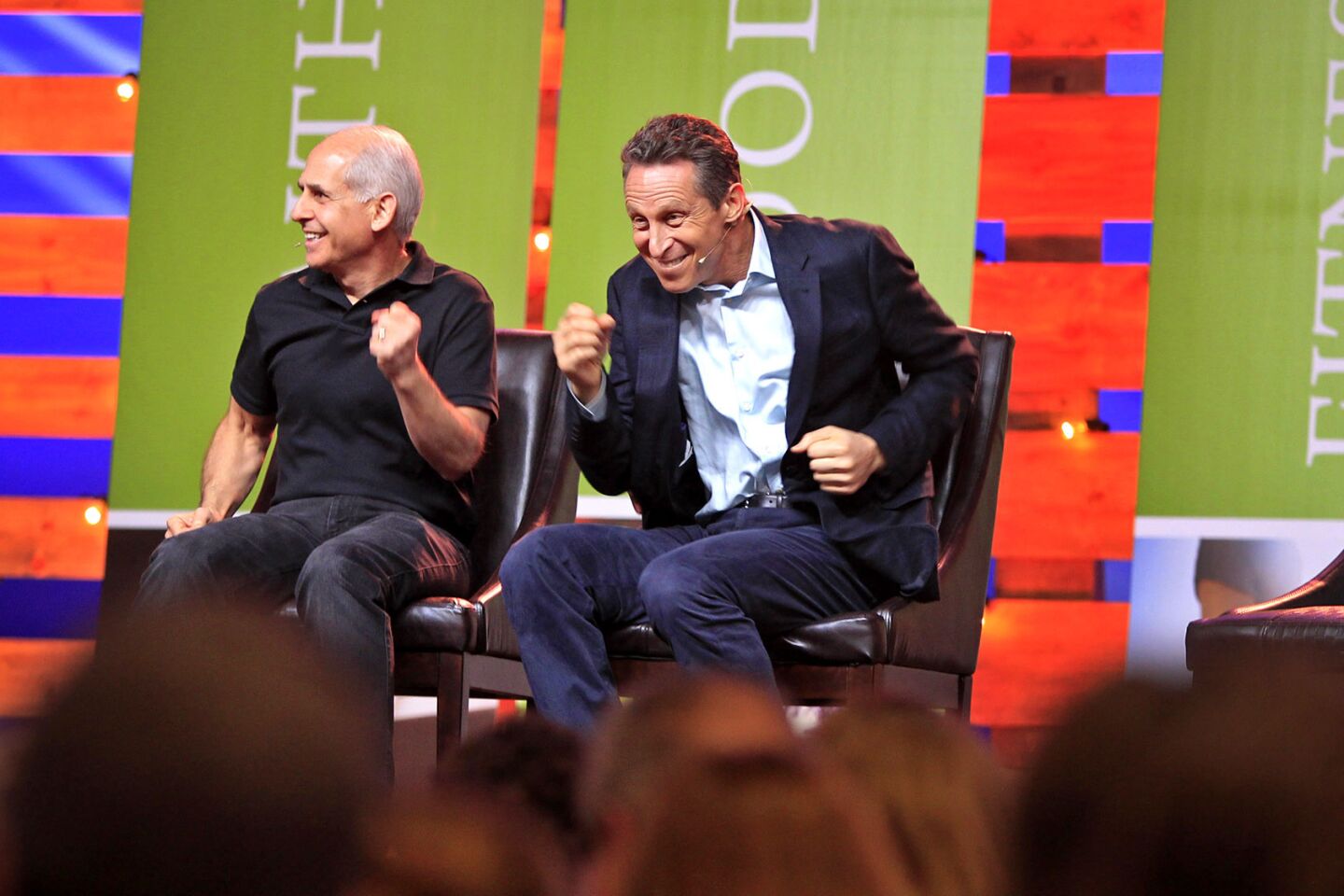 The Daniel Plan team members Dr. Daniel Amen, left, and Dr. Mark Hyman exercise in their seats during the rally.
(Allen J. Schaben / Los Angeles Times)
Sean Foy (visible on the large television screen), the Daniel Plan Health and Fitness Coach, leads the congregation to exercise in their seats during the rally.
(Allen J. Schaben / Los Angeles Times)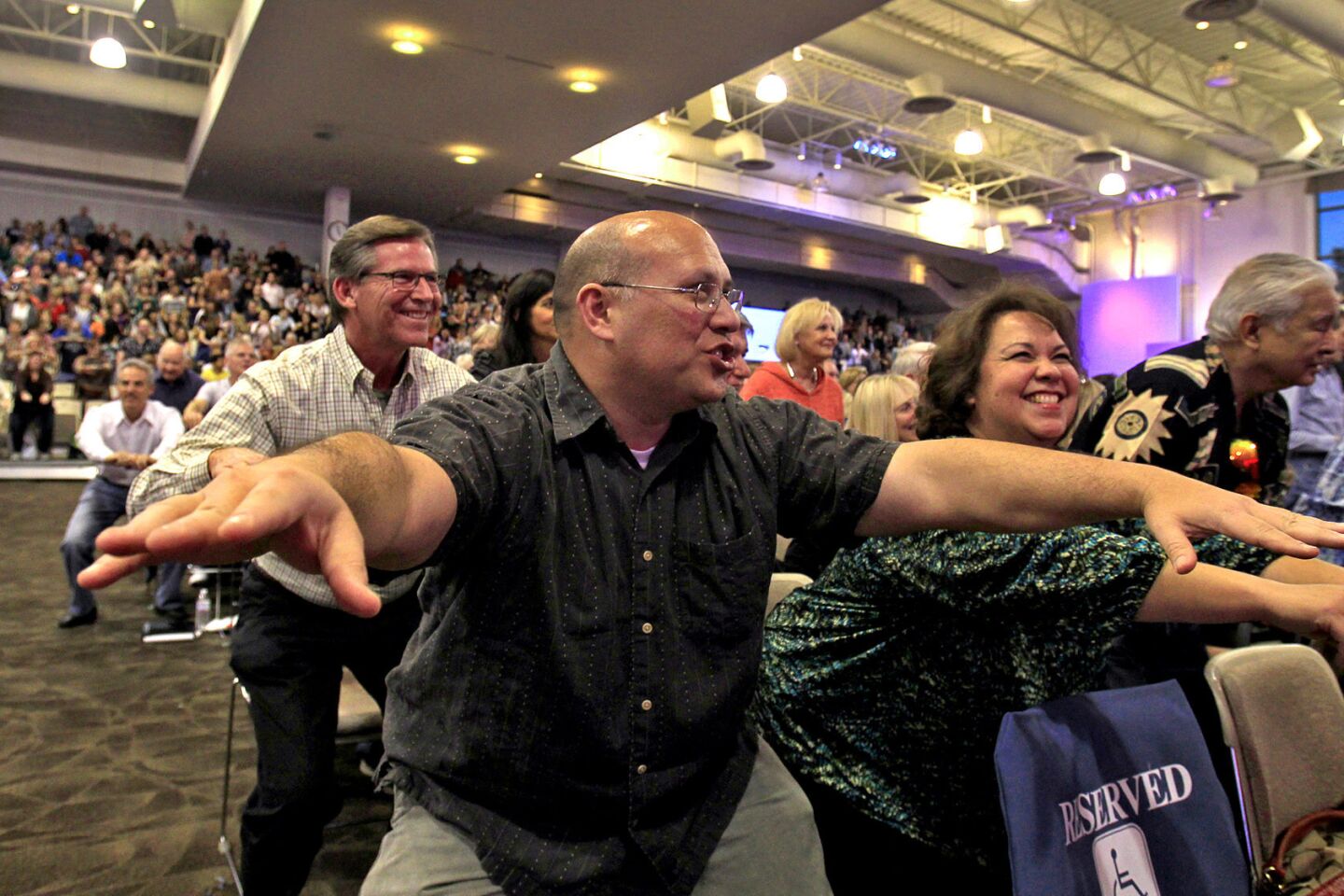 Sean Foy (not pictured), the Daniel Plan Health and Fitness Coach, leads the congregation to exercise in their seats during the rally.
(Allen J. Schaben / Los Angeles Times)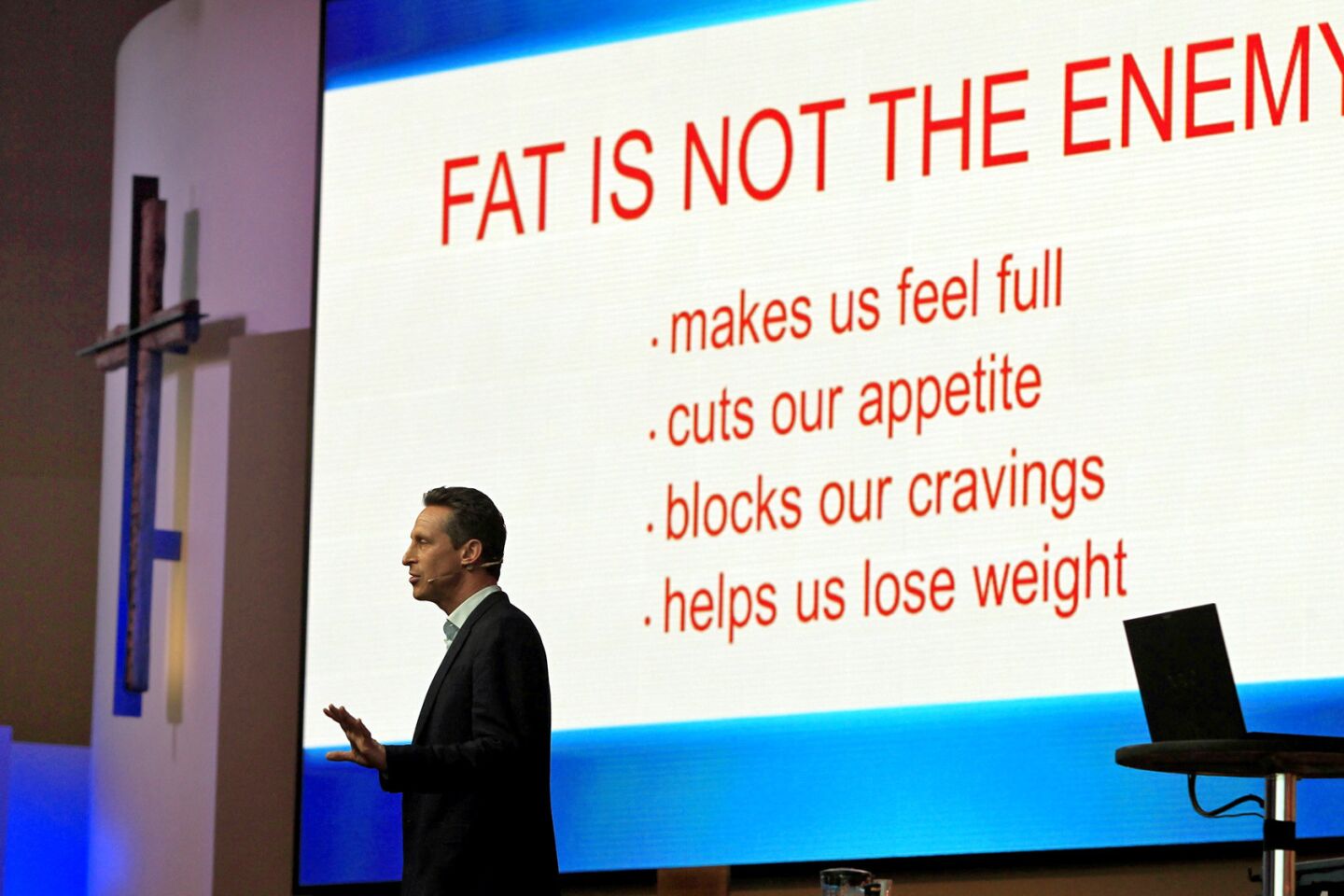 Dr. Mark Hyman gives a presentation about pastor Rick Warren's Daniel Plan book during the rally.
(Allen J. Schaben / Los Angeles Times)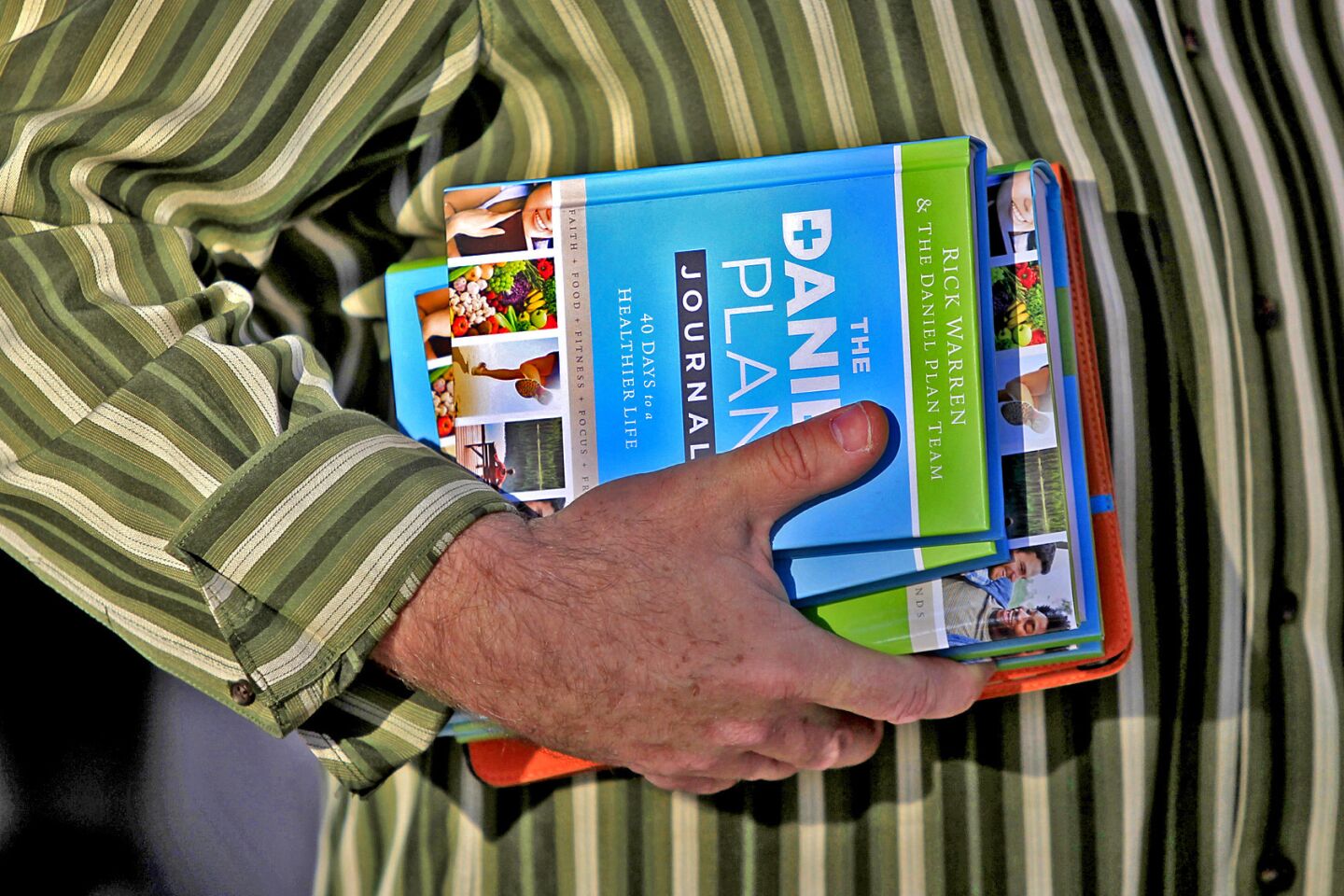 A man waits in line to purchase pastor Rick Warren's Daniel Plan book during the rally.
(Allen J. Schaben / Los Angeles Times)
When Jim Black leads people on a robust walk three times a week on the grounds of the 120-acre Saddleback Church in Lake Forest, he's got powerful company: God.
The several dozen people who join him have shown up with the same hopes that anyone brings to an exercise plan: They mean to lose weight, ditch inhalers, get stronger.
But at Saddleback, there's a lot more going on. Pastor Rick Warren is using the power of his church, one of the biggest in the country, to impress upon his followers that their bodies need the same care as their spirits.
After two months on "The Daniel Plan," Black gave up his diabetes medication. He has given up wheat, dairy and sugar. He recently bought a bicycle. In a year, he lost 90 pounds; his wife lost 40.
"It's that one scripture: My body is not my own, my body is on loan and someday I'll have to account for it," said Black, 48. "I wanted to serve God at a higher level. And I wanted to be able to fit in the seat of a roller coaster and buy one seat on the airplane instead of two."
Despite a multibillion-dollar industry of programs and books and diet meals and meetings, the secular world has done a fairly lousy job at getting people to lose weight and get fit.
So why not turn to a higher power?
One Sunday afternoon, 3,000 people came to a rally at Saddleback to hear about the Daniel Plan from Warren and others, including two of its creators, Daniel Amen, a psychiatrist who belongs to Saddleback, and Dr. Mark Hyman, who has taken care of Bill and Hillary Clinton.
"If Jesus came to dinner, what would you feed him?" Hyman asked the crowd. "Would you give him a Big Mac, fries and a Coke? Would you feed him all the junk that we feed ourselves and our guests when they come to dinner? Or would you eat real food?"
::
Places of worship may call to mind ice cream socials or groaning tables of fried chicken and potato salad more than they do workouts, but Warren is the latest in a long line of people of faith connecting mind, body and spirit. After all, gluttony is one of the seven deadly sins.
They include the 19th century health reformer Sylvester Graham and, later, the Seventh-day Adventist Dr. John Harvey Kellogg. More recently, fundamentalist C.S. Lovett's "Help Lord — the Devil Wants Me Fat!" sold close to 100,000 copies in two years after its release in 1977. Other books have included "More of Jesus, Less of Me" and "Slim for Him." And Warren is not alone in using as inspiration the story of the prophet Daniel, who rejected the rich food and wine of King Nebuchadnezzar.
"Millions of American Christians have made a religious duty out of diet," R. Marie Griffith writes in her 2004 book "Born Again Bodies."
"Fit bodies ostensibly signify fitter souls," she said by phone. But they also can be used to support a male-dominated hierarchy; the market is lucrative, and it's important to look at the underlying messages.
Warren has an opportunity to change lives, Griffith said. "Because of his name and his fame and how beloved and admired he is, his could really have a bigger impact."
Dee Eastman, director of the Daniel Plan, said she doesn't look at it as a diet plan.
"Ultimately, we try to look toward getting balance in health overall. And we think food plays a huge role in that," she said. "This is going to sound extreme, but if you can cut out the white menaces — white flour and white sugar — your palate changes and your cravings stop. You can actually start loving foods that love you back."
Warren traces his inspiration for the plan to the day in 2010 that he baptized 827 adults and calculated that he'd lifted more than 145,000 pounds. Not only were most of those believers overweight, Warren thought. "But I'm fat too! I'm as out of shape as everyone else is!"
In a pilot rollout of the Daniel Plan, more than 15,000 people lost a collective quarter-million pounds in a year, the church said. Plans are underway for a long-term tracking program for the plan, Eastman said.
Warren said he had 90 pounds to lose, and though he's still working on that goal, he's gone from Hawaiian shirts to slight more belly-hugging black T-shirts.
"Is this something new? No," Warren said. "For 2,000 years the church has been caring for the sick."
::
A few years back, Michael Minor banned fried chicken from his small Baptist congregation in the heart of what public health authorities call "the stroke belt" in Hernando, Miss.
"It's all about the idea of wholeness," a harmony of mind, body and spirit, Minor said. "If any one of those three is off, you're not healthy."
In the years since, a widespread focus of faith communities on food seems to be taking root. There's a garden across the street from the Obama Chicago home, for example, that grows food to feed the hungry.
"It's not just another diet craze — it's tapping into something deeper, this deeper hunger we have to reconnect with our food, with our community, with our land. We are eating in a food system that has disconnected us on every level. We are eating alone … we're eating on the go," says Fred Bahnson, who directs the Food-Faith Initiative at Wake Forest Divinity School in North Carolina.
"The fact that Saddleback, which is conventional — not some fringe group of hippies out in the woods — it's not just a fringe thing anymore," Bahnson said
Warren's plan has five components: food, fitness, focus, faith and friends. There's a book, journal, apps and a cookbook as well as meetings and programs at the church and online.
"It's not just what we eat, it's what eats us. There's an emotional and spiritual issue we ignore," Warren said by telephone. "The secret sauce is faith, friends and focus."
Much of the advice is straightforward: "Simple, real, fresh, delicious, nutrient-packed foods," plenty of exercise, getting help from friends. All of it built on a foundation of faith.
The Daniel Plan even quotes James Beard as it advises followers to eat unprocessed food, to learn to cook and to explore new foods like goji berries, enoki mushrooms and seaweed. There are starter detox plans of 10 or 40 days that cut out processed food, alcohol, dairy, sugar and gluten.
The friends aspect is supported with small group gatherings to study the Daniel Plan, to talk about Warren's teachings and members' progress.
Walk & Worship is just one of many "active ministries" at Saddleback, to help members get exercise and find the "friends" component of the program. Zumba is the most popular, with as many as 100 people showing up.
There's also soccer, hiking and triathlon training — all with this view of the body: "God created it. Jesus died for it. The Holy Spirit lives in it. Shouldn't you take care of it?"
::
Brian Olsen and David Jacques met one glorious Saturday morning at the beach in Dana Point, ready to share their faith and their surfing skills, as they do each week.
Norma Ramirez, who came out to surf, latched onto the Daniel Plan about a year ago. She wasn't fat, but she worried she was eating too much sugar. "I had been praying for help, and when the Daniel Plan came out, I said, 'Norma, here you go.'"
Before people and surfboards hit the water, there's a prayer — and the hope that someone "who isn't a believer yet" will be transformed, said Jacques, who has been surfing much of his life. On the water, waiting for a wave, there's the chance for more conversation.
Many of the new surfers this day don't get to their feet on the boards; a couple of them do. But that's not the point, really, Jacques said. "We reach out to the community and put out some love."
Must-read stories from the L.A. Times
Get the day's top news with our Today's Headlines newsletter, sent every weekday morning.
You may occasionally receive promotional content from the Los Angeles Times.