Ekata is a Western-fitness, Eastern-philosophy, no-TV club
Youngsters participate in savate, a French-style kickboxing class, at the Ekata fitness center in Valencia.
(Genaro Molina / Los Angeles Times)
Casey Monaghan, center, oversees a Jeet Kune Do class at the Ekata fitness center, which he co-founded, in Valencia. The Tao, background, is a Chinese symbol signifying way, path, route or principle.
(Genaro Molina / Los Angeles Times)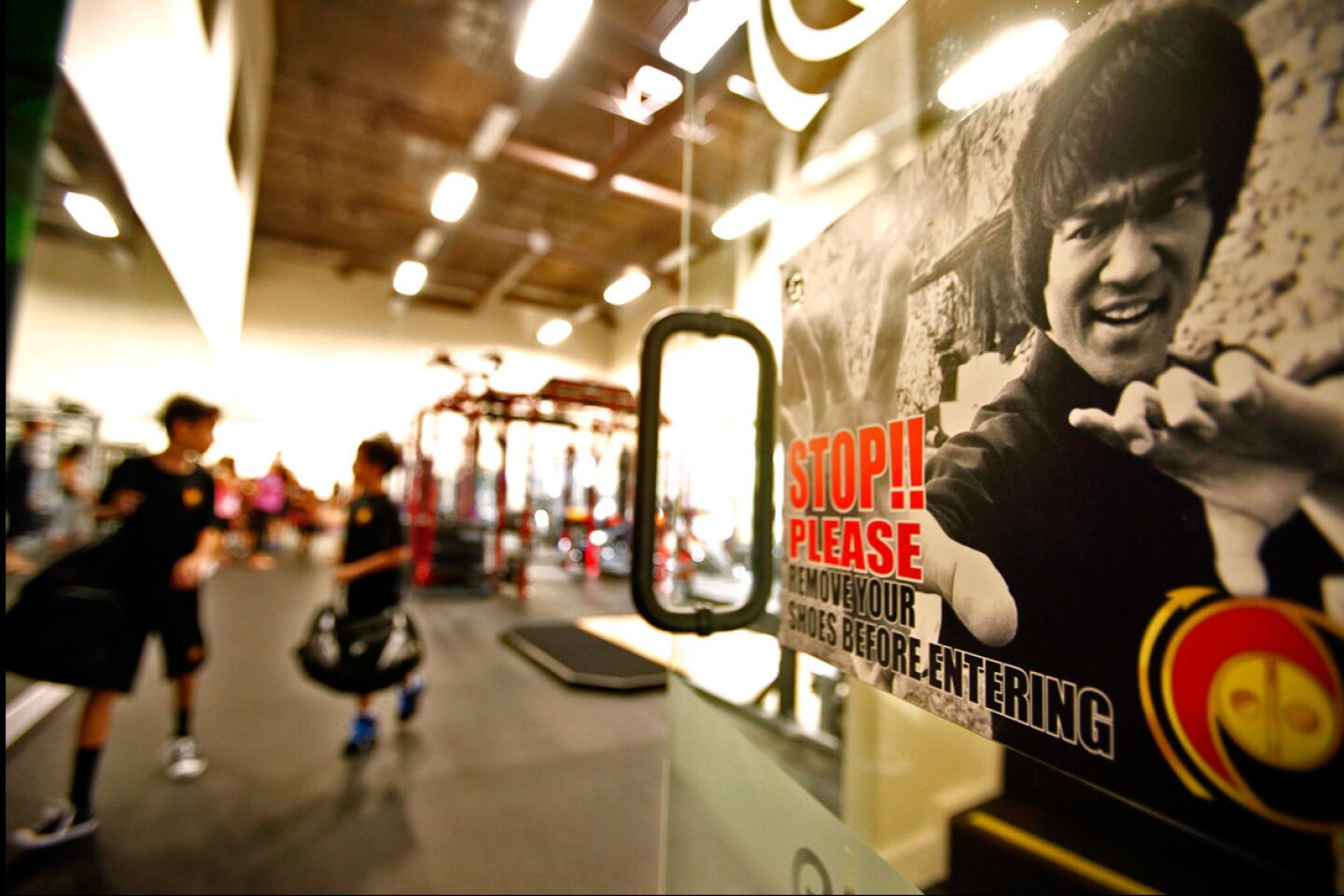 An image of Bruce Lee tells visitors to Ekata to take off their shoes before entering the gym in Valencia. The gym tries to follow Lee's martial arts philosophy.
(Genaro Molina / Los Angeles Times)
Nicholas Phuong, 8, left, spars with Aiden Lewis, 7, as Nick Malig, right, referees during a savate class at the Ekata fitness center in Valencia. Savate is a French kickboxing style.
(Genaro Molina / Los Angeles Times)
Children participate in a yoga class at the Ekata fitness center.
(Genaro Molina / Los Angeles Times)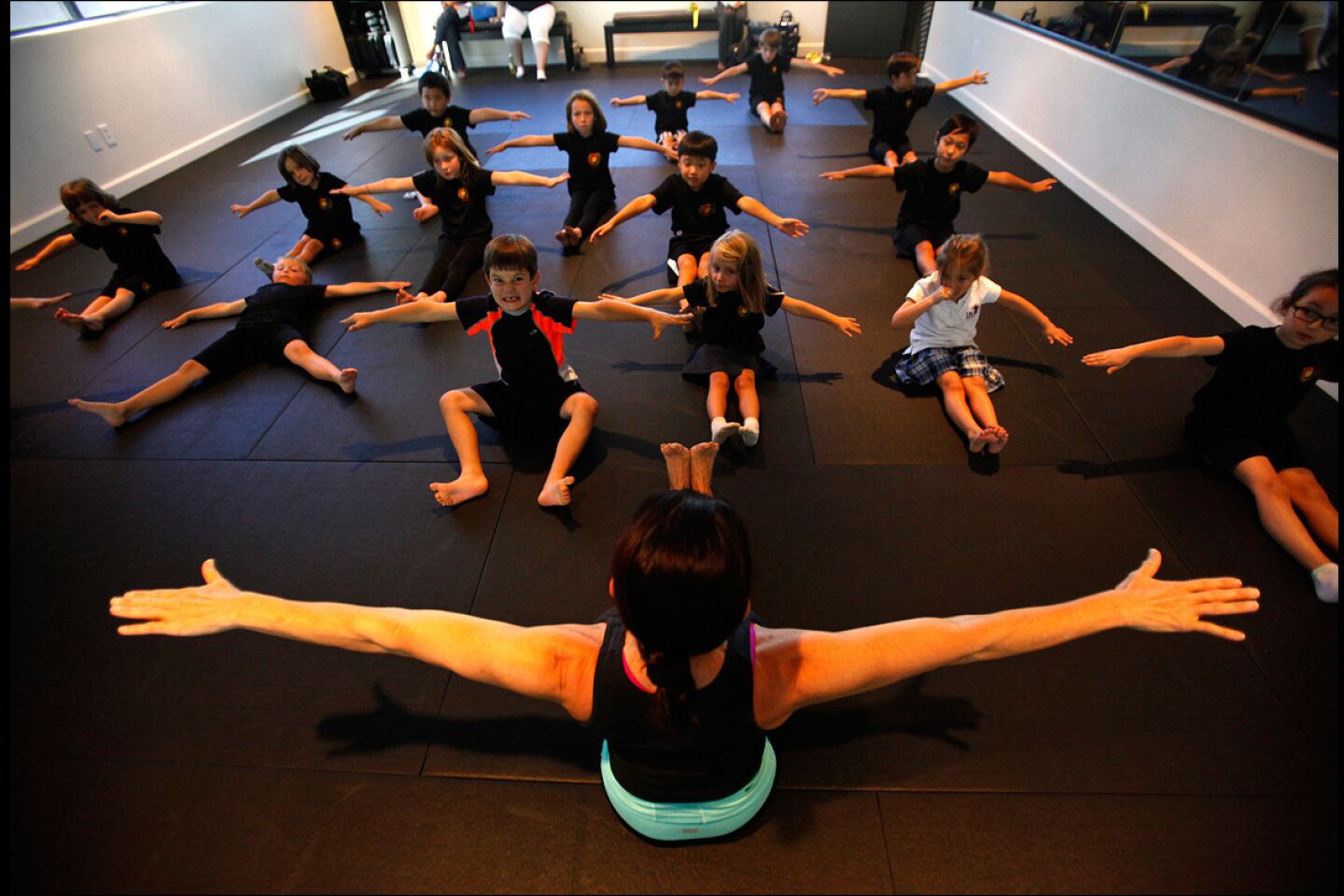 JoAnn Wabisca instructs a yoga class for youngsters.
(Genaro Molina / Los Angeles Times)
Edward Monaghan, second from left, supervises a Jeet Kune Do class.
(Genaro Molina / Los Angeles Times)
Arched Gaikwad, 2, horses around with Jean Williams, assistant youth curriculum director, at the Ekata fitness center.
(Genaro Molina / Los Angeles Times)
A group of elementary school kids sat cross-legged on the floor, their eyes shut tight, listening to their teacher: How was their day at school? What were they feeling? Could they take a moment to breathe and check in with themselves?
Then, their quiet time over, the kids stood up, the music came on, and they launched into an exuberant hip-hop dance class.
That confluence between Eastern practices and Western fitness conventions is what makes Ekata — Sanskrit for "oneness" — one of the more unusual fitness clubs on the landscape, a place where a tranquil Taoist meditation room seamlessly co-exists with the intense activity taking place in the full-size boxing ring.
Founder Ed Monaghan opened Ekata in May as a way to combine his interests in health, fitness, martial arts, applied movement and Eastern philosophy. A professor at UCLA's School of Theater, Film and Television, he also is involved with the UCLA Mindful Awareness Research Center.
"There are no TVs," he said, indicating the walls of the 12,500-square-foot two-level gym, located in Valencia. "We want people to be fully present, to focus on their movement. While working out, they can increase their attentiveness. [They] can train the external body but train intelligently, to do things that are smart."
Ekata was conceived as a family-friendly space; offerings include popular martial arts classes for children starting at age 3, and lessons in life skills and character building for teens. Adults can try cardiofunk, Zumba and Jeet Kune Do "Nitro," a combination of kung fu, boxing and fencing. Practitioners can be booked for sessions in acupuncture and biokinesiology. Massages and nutritional counseling sessions are also available, while children can take advantage of free homework assistance by accredited teachers or can play in the Montessori-inspired, TV- and video-game-free supervised child-care space.
On a recent weekday afternoon, the place was bustling, yet not overcrowded. A spa-like entrance leads to a spacious, brightly-lighted main fitness space with standard circuit training equipment. Around that space are multipurpose rooms for classes. A snack bar sells healthful refreshments, and a juice bar is in the works. An upstairs level contains treatment rooms for reiki or massage, a study hall for kids, and another space where kids are taught lessons on how to be trustworthy, or how to identify people who may do them harm. There's a dedicated meditation room, a venue for the 30-minute O2 Life class — a blend of meditation and breathing techniques that is open and free to even non-members.
Adult memberships include monthly personal training sessions, but staff members are always on hand to step in and offer guidance to members.
"Because everything we do here is about practicing mindfulness, we encourage our members to be patient," said Monaghan. "Fitness is not a quick fix. We think of longevity, and what is necessary to change our thought process to get the right results."
Monaghan said he wanted to go against what most fitness facilities do — sign up members who never come in. Members here go month to month — and if someone doesn't show up for a few days, a staff member will call to check in.
"The Western mind-set is all go-go-go, to work out till you fall over," said Monaghan. "We are here to remind people that even while they work out, they have to be kind to themselves."
Memberships range from $49 to $199 per month for adults, and $79 to $169 for children.
Ekata, 27831 Smyth Drive, Valencia. (661) 255-1114, www.ekata.net