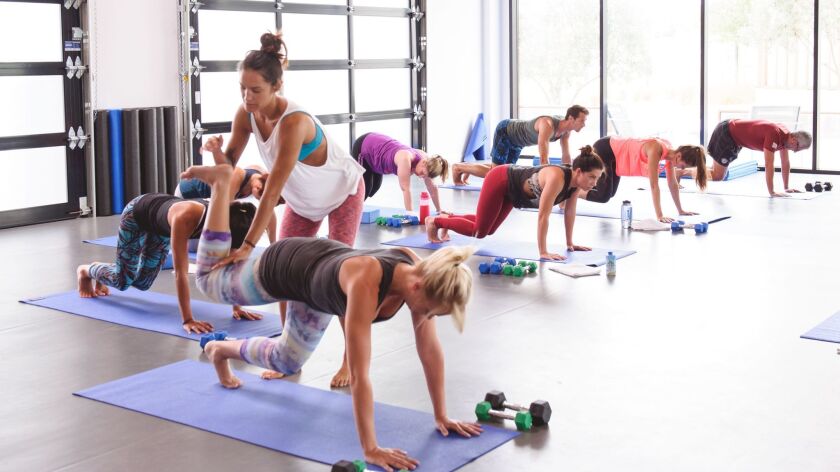 Demands on your time can be overwhelming this time of year. But a few new fitness options mean no more excuses for skipping a workout:
Listen to your trainer
Popular audio fitness app Aaptiv provides some 17,000 "classes" a day to its users, who pay $10 a month for unlimited access to trainers providing direction and motivation with outdoor running, strength training or working out on an elliptical or treadmill. Just launched are classes focused on meditation and walking, said Aaptiv founder and Chief Executive Ethan Agarwal.
"It's included in the same package, so someone can go for a run, do some stretching and then relax with a 10-minute meditation class on the same app," he said.
Aaptiv is designed for all levels, from someone starting out with a 30-minute walk to high-endurance marathon runners.
Save at the studio
Open Sweat, for classes in some of the top fitness studios in Los Angeles offering CrossFit, yoga, pilates, barre and more, launched this month. Download the free app and get notifications at 6 p.m. for available — and often pricey and sought-after — classes for the next day, and then book them for about half the usual cost. For example: an hour strength training class at Lock Box in mid-Wilshire that usually runs for $25 can be had for $14.There are no commitments, restrictions or costs other than for the classes.
Get LIT at home
For those who can't get to the LIT (Low Impact Classes) classes in West Hollywood — the challenging but effective workout devised by former trainers Justin Norris and Taylor Gainor — there is the new LIT Kit. The box arrives at your door with all you need to have a similar workout experience at home — the method is known for putting users through their paces without placing stress on muscles and joints — through a six-week program. There are 12 instructional videos of 30 minutes each that come with the requisite resistance band, booty band, foam roller and lacrosse ball. $89.99
READ ON!
Caring for cuts, burns and scrapes: The rules have changed
4 L.A.-area running clubs that are way more than just running clubs
Zendaya explains why 'fearless' is the best compliment you can pay her
---