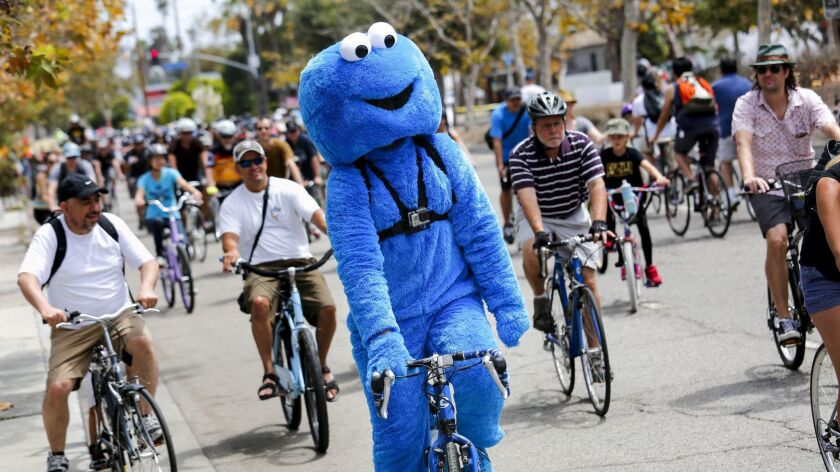 Many people put fitness as their No. 1 New Year's resolution. Instead of waiting until January to begin pursuing your fitness goals, kick-start them in December and continue through the New Year. These free (and almost free) local events offer a little something for everyone.
CicLAvia
Ease into fitness by dusting off that old bike or pair of roller skates. Join thousands of cyclists, walkers and skaters as they make their way through the streets of downtown Los Angeles during CicLAvia's annual Heart of LA. The route temporarily closes streets to car traffic and opens them to Angelenos on bikes and skates. Free for all, CicLAvia "connects communities to each other across an expansive city, creating a safe place" to begin your fitness journey.
When: Sunday, Dec. 2, 9 a.m.-3 p.m.
Where: Downtown Los Angeles, exact road closures
Cost: Free
Info: https://www.ciclavia.org/
Fitbit events
Owning a Fitbit is not necessary at the free, monthly community events led by local ambassadors Blake Raymond and Elise Joan, but you may walk away with one. Blake, a fitness professional who teaches multiple fitness classes throughout the city, and Elise Joan, a yoga professional and wellness influencer, pair their strengths. According to Joan, the events offer HIIT workouts and yoga all in one hour. Events are open to everyone of every fitness level.
December event: Saturday, Dec. 8, 11 a.m.-noon
Where: Pan Pacific Park, 7600 Beverly Blvd, Los Angeles
What: Walk, jog, run and get your steps in through the surrounding L.A. streets while picking up litter along the way
Cost: Free
Info: Facebook Fitbit Local Los Angeles
January event: Saturday, Jan. 19, 11:45 a.m.-12:45 p.m.
Where: Boomtown Brewery, 700 Jackson St., Los Angeles
What: An all-levels HIIT sweat session followed by a yoga and gratitude meditation flow.
Cost: Free
Info: Facebook Fitbit Local Los Angeles
Yoga Expo
Looking for a way to calm the mind and body in today's complicated and stressful world? Then visit the Fourth Annual Yoga Expo and take time to realign yourself. The Yoga Expo is a one-day event offering attendees more than 50 yoga and meditation classes. Additionally, you'll find a marketplace consisting of 200-plus yoga and wellness products and services.
When: Saturday, Jan. 5, 10 a.m.
Where: Pasadena Convention Center, 300 E. Green St., Pasadena
Cost: $35
Info: https://theyogaexpo.org
TheFitExpo Los Angeles
Looking for an event that has a little something for everyone? Then check out the 16th annual TheFitExpo Los Angeles. What started off as a bodybuilding, strength, and fitness event has grown over the years to encompass all aspects of health and fitness. You can also participate in group fitness classes led by Billy Blanks and Instagram celeb Ana Cheri and visit hundreds of booths offering free samples and mega deals.
When: Saturday, Jan. 26 10 a.m.-6 p.m.; Sunday, Jan. 27, 10 a.m.-5 p.m.
Where: Los Angeles Convention Center, South Hall, 1201 S. Figueroa St.
Cost: $30 a day or $45 for both days.
Info: https://thefitexpo.com/
---