Boxer Wladimir Klitschko on training, diet and sibling rivalry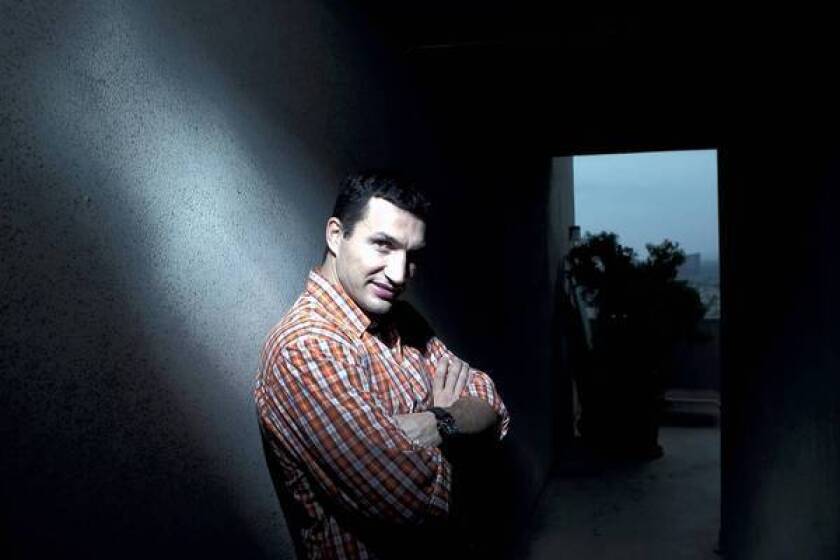 They call him Dr. Steelhammer, because not only could he punch you into a parallel universe, he also has a doctorate in sports sciences. Of his 62 boxing bouts, Olympic and world heavyweight boxing champion Wladimir Klitschko has lost only three. For the 59 who faced him and lost, all but eight were knocked out. I just got a sympathy headache.
Klitschko, who stands 6 feet, 6 inches and has an 81-inch reach, is big enough to burn diesel, and so is his older brother Vitali. Vitali, leader of the opposition party in Ukraine, stands an inch taller than Wladimir, is also a world heavyweight champ and also has a PhD. He's "Dr. Ironfist."
I bet you could have sold tickets to watch some of the sibling rivalry when they were boys.
Did you and your brother fight much growing up? Was he a practice partner?
He was practicing on me. The reality of growing up is we changed schools so many times, my brother was my best friend. We have a five-year age gap, and my brother inspired me. He started boxing, and I just want to show that I could do things better than him. Whether it was a chess game or whatever. We were competitive with one another. The older we got, the more sensitive we became to one another. We have sparred with each other. It was very bloody and not cool. We decided not to compete with each other in the ring.
Has your degree in sports sciences affected your development as a boxer?
Absolutely, yes. I learned in my PhD the discipline I needed to be successful. Most boxers are not that disciplined. They have talent, but the self-organization — the ability to schedule yourself and your priorities — is lacking. My studies were about the control of training on both the psychological and the physical side.
Some of my schoolmates were mentally and physically broken in rigorous training programs. I see the same thing happen in China today. Their training programs are similar to what we did in the Soviet Union. Either they survive or are broken. I use my knowledge to create my own training programs; it is something that helped me to be 36 and maintain my career.
What type of exercises do you engage in to maintain your boxing prowess? Is there any weightlifting?
There is no weightlifting because it doesn't help you go 12 rounds. The cardiovascular work makes your muscles smaller, but endurance goes up. All my muscles are working muscles, not to look good. You're not too massive, but it's effective.
I run, but boxing conditioning is different, so you have to get used to running in the ring. Boxing movements are very different. Swimming is one of the best because every single muscle is working. I swim a lot. I train very hard at things that mimic boxing. I have to do mostly sport-specific training, such as lots of sparring. The most important part is the mental part. You need to have fun when you work out or you'll give up.
With you having a PhD, are you concerned about the effect of boxing on your brain?
You have to be able to anticipate punches, and that comes only with experience. I don't want to take a punch. I learned as a kid that you have to destroy your opponent without getting hit. My goal is not getting hit and to knock the other guy out. Some people might complain because they want to see boxers beat up on each other, but you cannot last long in professional boxing if you take a lot of punches. I've been over 16 years as a professional boxer and 62 fights. And I'm still young. At 36 I'm in my prime.
What type of diet do you follow?
We exist from what we are eating, and it's very important to put in yourself what is good for you. Everyone is different, so you have to adjust yourself; there has to be some experimenting. But, of course, you need to reduce sugar. Don't drink your sugar. You have to change things up, switch from meat to fish every once in a while. I want to live longer and have healthy aging.
I'm not a big fan of alcohol. I think it's one of the most dangerous drugs in the world. I'm OK with it if you don't drink too much of it. A glass of red wine is good for you, but too much would affect my athletic performance.
---