Latest 5K runs are more for laughs than laps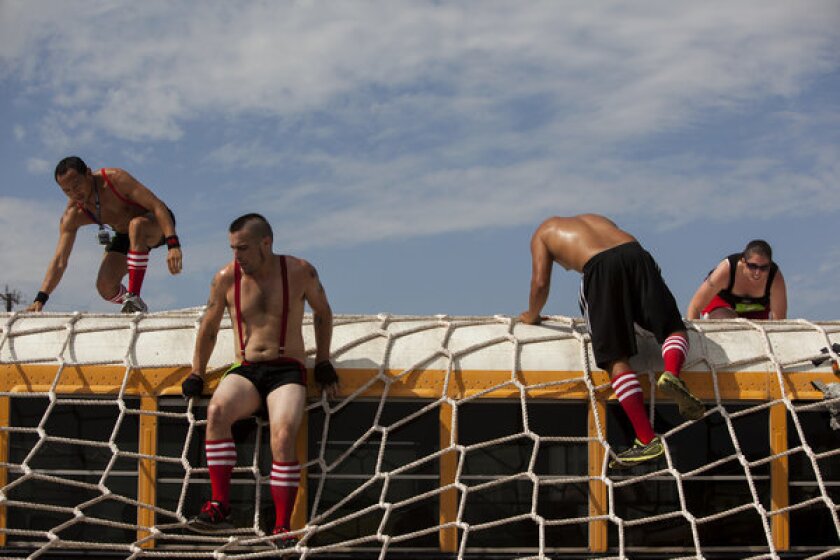 To cheers and techno music, Electric Run competitors gathered after sunset with glow sticks and neon spandex, fuzzy hats and face paint to run the 5K night course, accompanied by a light show.
"The atmosphere was charged and energetic, and I had a great time," said Simone Slykhous, a participant. "The crowd was huge."
That May Electric Run in Los Angeles is one of hundreds of fun runs that have hit the fitness scene in recent years, runs that are meant to dazzle, impress and inspire fun regardless of ability. And for people who find a marathon, or even a half, beyond them, a 3.1-mile fun run could be just right.
---
FOR THE RECORD:
Fun runs: An article about fun runs in the Aug. 3 Saturday section said that Nancy Amato was diagnosed with cancer in 2007. She was diagnosed in 2006. —

---
"I think it's a trend that everyone is seeing with the millennial generation," said Dan Hill, founder and chief executive of the Electric Run. "Young people want to go do something and have an experience with their friends, take photos and then post them on Facebook."
A celebrity component doesn't hurt. Actress Vanessa Hudgens, wearing a hot pink wig, matching leggings, a polar bear hoodie and furry boots, hosted the Los Angeles event, though she admitted she did not run the race.
"The Electric Run is just this fun event that gets people out and moving and having fun," Hudgens said.
And sometimes do a little good along the way.
It's about taking the mind off the run itself, said Patrick Amato, co-founder of Pants Off Racing, a nonprofit organization for pancreatic cancer awareness and supportive services. Amato's mother, Nancy "Pants" Amato, was diagnosed with pancreatic cancer in 2007. By 2009, Amato and his siblings had founded POR, which will sponsor its first race Oct. 12 in Calabasas.
"It's contagious, and we have seen that over the years a good cause goes a long way when you have passion and find a common activity that people enjoy," Amato said.
Similar in its mission, Concrete Hero describes itself as the "ultimate urban obstacle challenge," in which runners must leap over parked cars in a "Carmageddon" section, scale a mock Hollywood sign and swing through tar pits in a 5K timed course. The organization works directly with AIDS Project Los Angeles to raise money.
One of the oldest and most popular races to attract an outlandish field of costumed runners, including world-class athletes, is San Francisco's Bay to Breakers, created in 1912 to lift the spirits during the tedious reconstruction following the 1906 earthquake. About 30,000 people participated this year.
It's the element of surprise that entices a lot of people to these events, said Lauren Gambler, customer service manager for Reed Street Productions, creator of Run for Your Lives, in which people dressed as zombies chase participants through a 5-kilometer obstacle course.
Gambler said the course is a chance to get off the couch, dress up (the event has professional makeup artists to doll up the zombie participants) and have a silly, scary time while jumping through "blood pits" and running through a smokehouse and maze. And the experience doesn't end at the finish line. An apocalypse party awaits both infected and non-infected runners with a DJ, games, contests, food and drink.
---
First-timer Anthony Gordon ran the Concrete Hero obstacle course to help raise money for AIDS Project L.A. Gordon's partner of 11 years, Roger Dennehy, recently became sick, and APLA came through for them, he said, so he wanted to help others.
---
Here's information on some upcoming races:
Electric Run
San Diego, Nov. 9
Pants Off Racing
Calabasas, Oct. 12
Run for Your Lives
Sept. 28, Los Angeles
---
---