Compact exercise aids that work for dorm room workouts
The "Nano Workouts" book shows readers how to add workouts into everyday activities.
(Ulysses Press)
The Gym in a Box comes with four pieces of workout equipment with exercises and instructions printed on each item.
(Trainer Brands)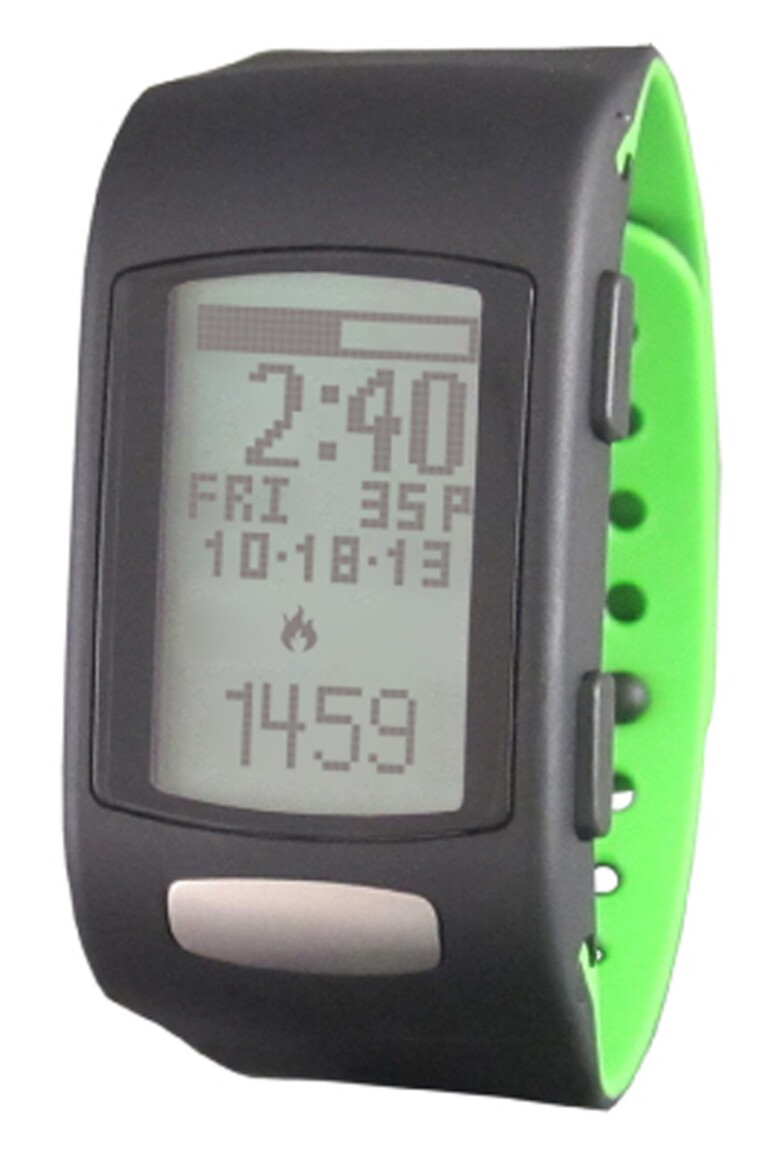 The Lifetrak Move C300 monitors heart rate and tracks exercise goals in an easy-to-read display.
(Lifetrak)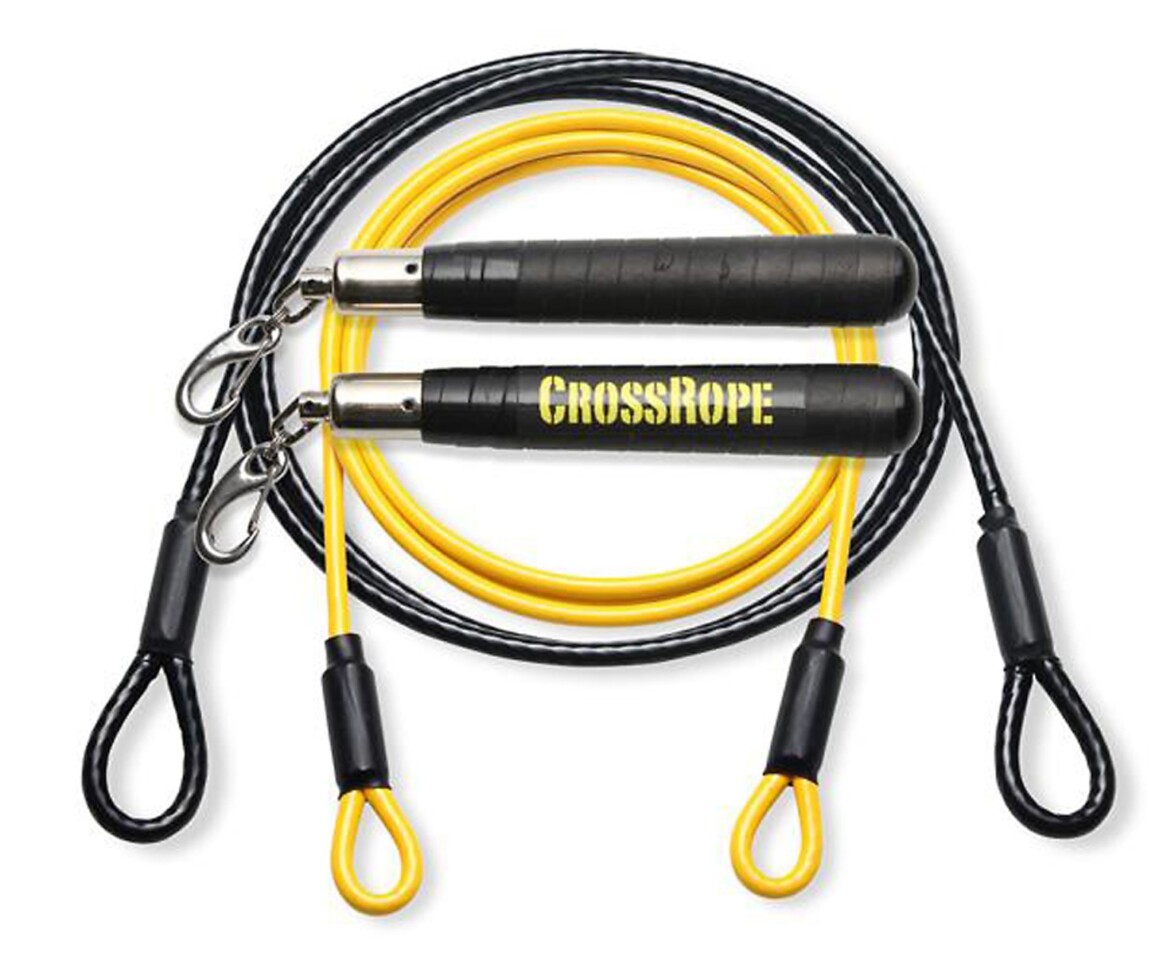 This jump-rope workout system pairs two handles with your choice of weighted ropes that range in weight from 2 ounces to 3 pounds.
(CrossRope)
My co-tester went off to college last week, and I'm a little worried about how he'll keep in shape. Ever since I started this fitness gear column for the Los Angeles Times in 2002 — now up to 280 of them — my son, Joey, has helped me test pull-up bars, elliptical machines, pole-driven skateboards, Trikkes, mountain bikes, golf Frisbees, mini-snow sleds, bodysurfing hand-planes, five-toed running shoes and more.
At 7, Joey was my stoker on the back of a $600 Raleigh Companion kid-friendly tandem, which I then bought and rode him to school and back on every day until eighth grade, when he told me it wasn't cool anymore. A tech-obsessed cross-country runner who conveniently shared my shoe size, he joined me at fitness shows and new-product introductions (where he'd introduce himself as my "intern") and was my teammate at mud runs, in stair-climb races, during stand-up paddleboard yoga and on other assignments. All the while, he was unaware that I'd cleverly kept him working out and away from his Playstation as much as possible.
Before he left, Joey helped test this week's gear — stuff well-suited to working out in his dorm room, 2,000 miles to the east. When he promised that he'd use it often and wouldn't fall prey to the dreaded "freshman 15," I got a little emotional. He's my only kid. And good co-testers don't come along very often.
Exercise everywhere
"Nano Workouts" by Joakim Christofferson: The small, square 6.15-inch,120-page book describes 48 exercises you can do at your desk, in a kitchen, in the shower, at the sink or on a commuter train.
Likes: It changes your mind-set, getting you thinking about simple ways to squeeze exercise out of everyday activities. "It never dawned on me to do biceps curls with grocery bags, edge-of-the-seat ab suck-ins on a commuter train, push-ups during a speaker-phone call and squats while brushing my teeth," Joey said. Other good exercises include isometric towel pulls, chair dips and crunches, sliding planks, phone-call wall-sits, or bicycles, side planks, leg raises, leg circles and torso twists while lying in bed.
Dislikes: Some of the exercises, like sink pulls, manual whisking, big-book dumbbell curls, iso-tension steering-wheel holds and bull necks are too wimpy and stretching it a bit.
Price: $14.95. amazon.com
---
Built-in instructors
Gym in a Box: The 24-by-12-by-4.75-inch handled box contains four pieces of fitness gear that have a total of 106 exercises printed on them. The gear includes an inflatable physio ball, a foam roller, a yoga mat and a stretch band. Includes an air pump and instructional DVD with three circuit-training programs.
Likes: Nothing to remember. Joey loved having a variety of exercises, all in clear view. The physio ball has 12 exercises and brief instructions printed on it, including ab rolls, unstable push-ups, trunk extensions and crunches. The foam roller has 12 deep-tissue massages that hit every muscle in your legs and back. The 5.5-foot-long, 1/8-inch thick mat has 54 yoga and stretching exercises on it, and the stretch band has 26, including important exercises such as upright rows and overhead lat pulls.
Dislikes: None
Price: $89.99. gyminabox.com
---
Wrist tell-all
Lifetrak Move C300: Compact, stylish, waterproof and chest-strap-free sports watch tracks your calories burned, heart rate, steps taken and distance traveled.
Likes: Good information, value and looks. The slim, sleek face is packed with easy-to-read info. The contact heart rate — you press a finger on a button to get your pulse — is almost as accurate as a standard heart-rate monitor with a chest strap. The clock includes date and time with seconds. You can set your goal by time, distance or calories burned. The data load into an iPad or iPhone via Bluetooth. A bar line at top shows you how far you are toward a 10,000-step day. Also, the black-and-green band is reversible, and other colors are available as accessories.
Dislikes: The watch can fall off because the band, which stays in place when two molded studs on one side of the band snap into holes on the other side, has no clasp or loop holding it in place. Joey's popped off momentarily while he was carrying boxes into his dorm room.
Price: $59.99. lifetrakUSA.com
---
Jump on it
CrossRope Weighted Jump Rope System: Jump-rope system gives you the option of pairing the handles with seven weighted vinyl-coated cables that range from less than 2 ounces to 3 pounds.
Likes: Besides the superb benefits of jumping rope — cardio endurance, coordination, proprioception and great toning for calves, shoulders and forearms, all in a compact space — the G-force of the heavier weight adds a significant strength effect. The massive 3-pound Titan cable, it's effect multiplied by the rotation, blasts your shoulders and forearms like a weight workout.
Dislikes: While the heavy weight adds a challenge, the major benefit of jumping rope comes from the speed and coordination of jumping — at any weight. Any cheap, $5-$15 generic plastic-bead rope that yields a good hoop shape will do — making an expensive system seem unnecessary. Also, CrossRope works best on a wood or vinyl floor, not carpet or a concrete floor, which will fray its vinyl coating.
Price: $8.99 to 25.99; handles: $34.99. crossrope.com
---
Wallack is coauthor of "Fire Your Gym: Simplified High-Intensity Workouts You Can Do at Home." roywallack@aol.com
---