Want to hang with La Jolla's rock stars? Kayak to them.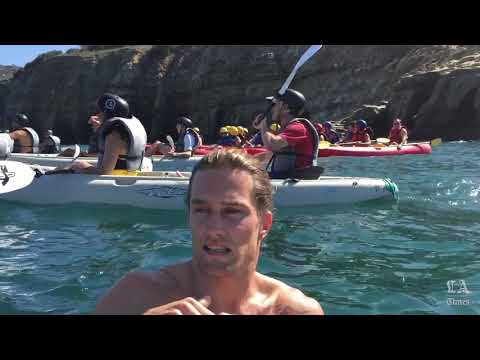 There's a lot to see in a 90-minute kayaking tour of the San Diego-La Jolla Underwater Park, an aquatic Disneyland 12 miles north of downtown San Diego.
"Look — it's Bruno!" shouted our guide.
All heads turned left. Sprawled on an isolated rock in the water below the shoreline cliffs, his reputation as massive as his size, was a true American hero and the rock star of La Jolla Cove: Bruno the sea lion.
There's a lot to see in a 90-minute kayaking tour of the San Diego-La Jolla Underwater Park, an aquatic Disneyland 12 miles north of downtown San Diego. It combines spectacular cliffs and caves with a biodiverse nirvana of sea creatures that thrive in the nutrient-rich, protected water that bans fishing, sailboats and surfers but allows swimmers, snorkelers and kayakers. Dense with kelp and sea grass anchored to 70,000 tons of rock dumped by the Scripps Institute of Oceanography decades ago, the bay is swarming with dolphins, bright-orange Garibaldi fish, leopard sharks, shovel-nosed guitar fish, seals and sea lions; dozens of the latter can typically be found soaking up the sun on the smooth shoreline cliffs. Most prominent among them, according to our guide, is Bruno, a graduate of the exclusive U.S. Navy Marine Mammal Program and a trained mine detector, who once rescued an injured scuba diver by yanking him by his tanks to the surface. Now semi-retired, lording over La Jolla Cove like Neptune, he has draped his massive body on his rocky throne. Dozens of sea lions lounging nearby respectfully keep their distance.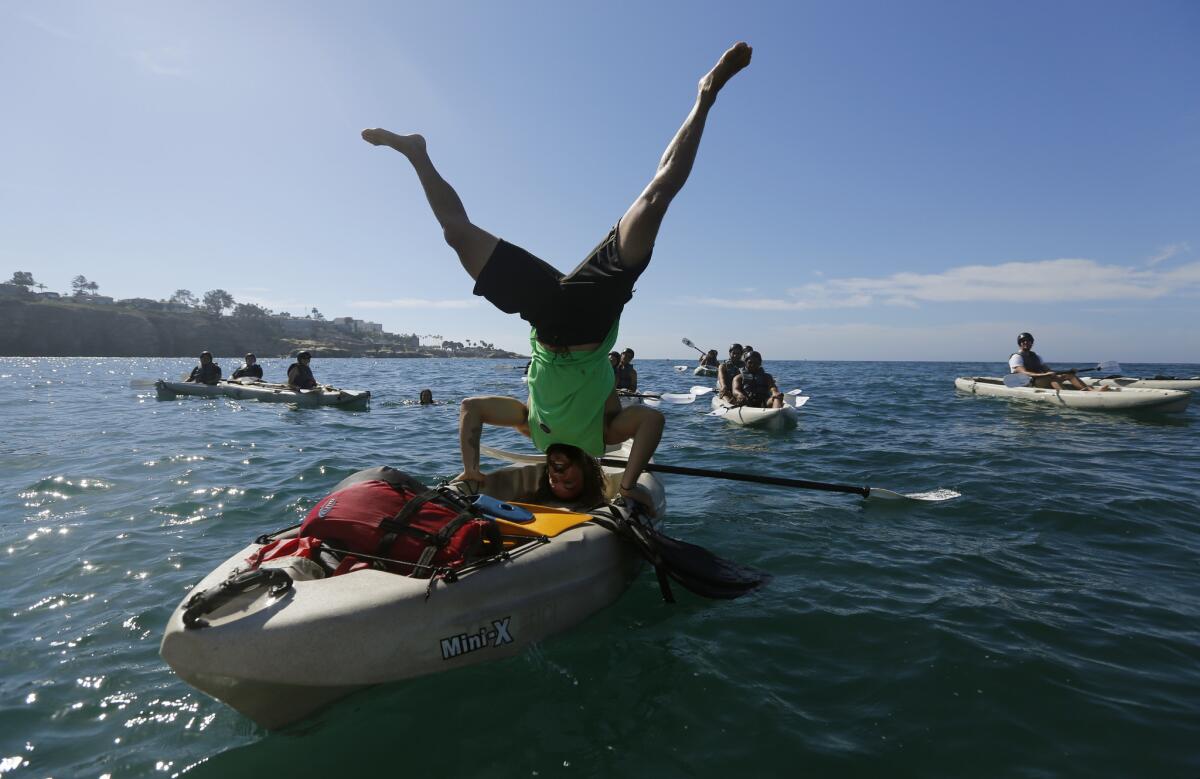 "You got lucky," said Billy Peuplie, 37, our guide from the Everyday California kayak touring company, one of five registered outfitters that operate in the bay. "Bruno's not here that often."
An hour earlier, our group of 20 kayakers met on the flat, sandy beach a mile north at La Jolla Shores. After a five-minute clinic from our guides, we donned flotation vests, split into 10 tandem kayaks, launched though the mild, 1-foot waves and headed southwest, 100 yards from shore. My 20-year-old son Joey and I have paddled together before, but experience isn't necessary in this non-technical sport, even for nervous first-timers. "I was apprehensive, but it was easy," said rookie Leonor Aguilera, 42, a counselor at Santiago Community College who came with a group of eight co-workers.
You can paddle La Jolla on your own or snorkel directly from the famous beach at the cove, but then you wouldn't get the stories. And La Jolla, soaking in money and mansions and intrigue, is loaded with them, as Peuplie, a died-in-the-wool New York storyteller, made clear.
Take Darwin Deason, who built a mind-boggling 36,000-square-foot home on the cliffs that looks like a sand castle. Peuplie joked that the billionaire didn't intend to build a huge home but disliked his neighbors so much that he simply bought them out. Next up was the home of Theodore "Dr. Seuss" Geisel, who used local landmarks like Mt. Soledad, the highest point in San Diego, as inspiration for his famous Cat in the Hat books.
Pointing to the caves, Peuplie told us about the "Wedding Dress" cave, named for the 72-year-old bride who mysteriously slipped into it moments after her wedding vows to a 31-year-old man.
Mafia connections utilized the popular Cave Store, from which a Prohibition-era smuggler built a stairway inside a tunnel that led 100 feet through sheer rock to an oceanfront cave. (Later, Joey and I drove into downtown La Jolla and made the fun climb down the stairway ($5), then posed for pictures on the cliffs with sea lions. Tip: Don't go closer than about 4 feet; in March, a sea lion bit a young boy who tried to pet him.)
See the most-read stories in Life & Style this hour >>
And there's Shopping Cart Cave, positioned in such way that it sucks in all the junk that slips out of people's hands into the water. "Need a free GoPro Camera?" asked Peuplie. "Go in there later. One of my friends actually found one."
The stories served a purpose. They made us forget we hadn't seen any sea animals all morning — until Bruno. The fog had wrecked the visibility. And whether or not that actually was Bruno or if he even exists, it did not matter. We went home happy, eager to come back soon to do it again, with kayak and snorkel, to see more of La Jolla's wonders.
Info on La Jolla kayak tours
Here are some spots for kayak rentals and tours in La Jolla:
Everyday California
everydaycalifornia.com, 2246 Avenida De La Playa
Cost: $40-$50 per person for a two-person kayak
Parking: Free
Bike and Kayak Tours
bikeandkayaktours.com, 2158 Avenida De La Playa
Tour: $39-$52 per person for two-person kayak
La Jolla Sea Cave Kayaks
www.lajollaseacavekayaks.com, 2164 Avenida de la Playa
Tour: $30-$55 per person for two-person kayak
MORE GETTING OUT:
From a bicycle seat, she can really see Los Angeles
An accidental hike in Griffith Park leaves a confirmed city girl wanting more
Rowing is a full-body workout that makes you want to go full speed ahead
Get our L.A. Goes Out newsletter, with the week's best events, to help you explore and experience our city.
You may occasionally receive promotional content from the Los Angeles Times.