From a bicycle seat, she can really see Los Angeles
A blessing before the 30-mile ride begins. This was the third massive ride for the Ovarian Psycos Cycle Brigade, who are encouraging other women -- especially those who haven't been on a bike since they were in pigtails -- to pick up where their inner child left off.
(Barbara Davidson / Los Angeles Times)
The cyclists stretch before a ride begins. Women from as far as Lake Elsinore showed up for the Aug. 1 ride, which started near Olivera Street in downtown Los Angeles.
(Barbara Davidson / Los Angeles Times)
The women start their ride across the street from Union Station.
(Barbara Davidson / Los Angeles Times)
Riders rolling with the Ovarian Psycos Bicycle Brigade cover the streets of Los Angeles one two wheels.
(Barbara Davidson / Los Angeles Times)
The ride begins -- on Los Angeles Street near Plaza Olvera and Union Station.
(Barbara Davidson / Los Angeles Times)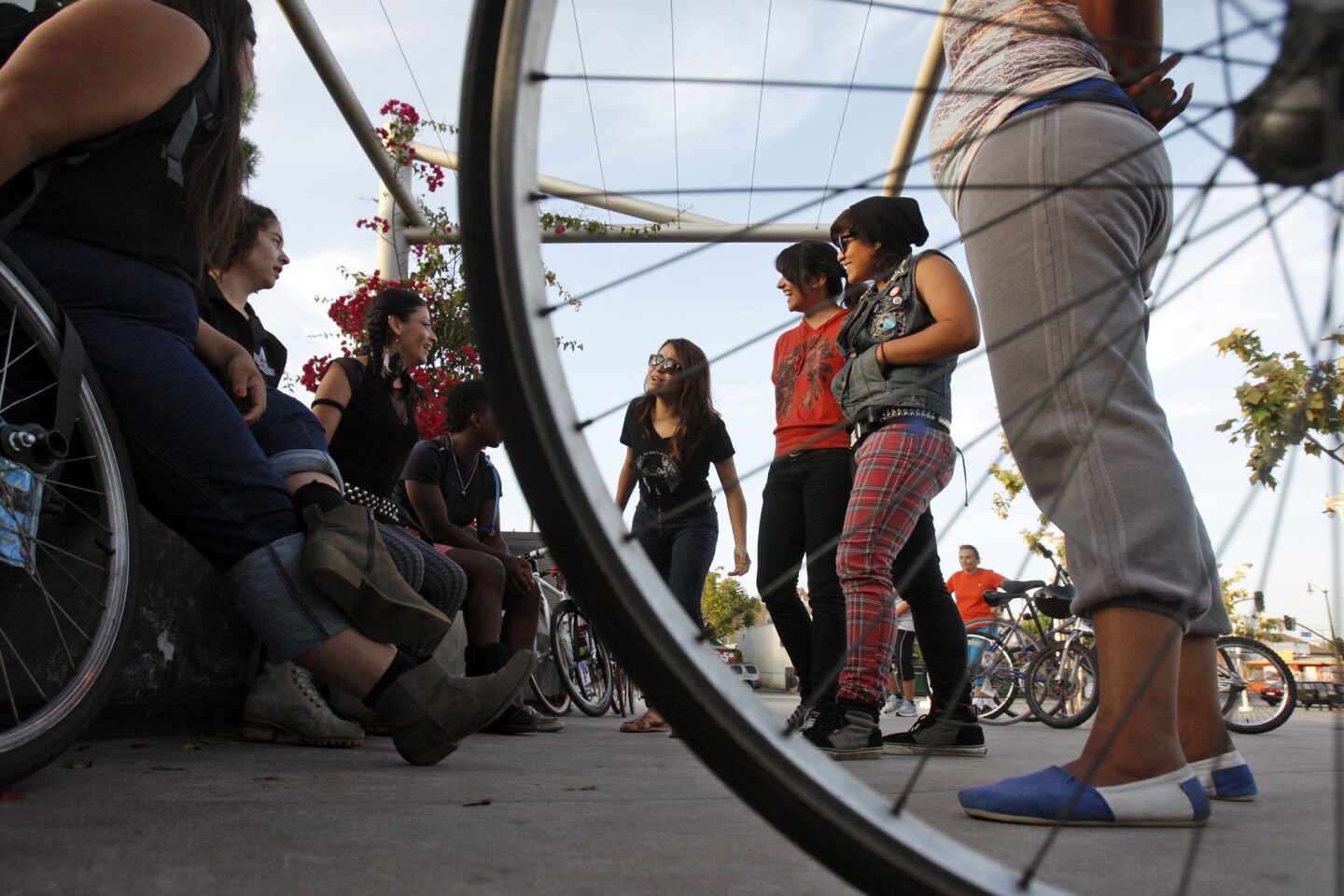 Riders and members of the Ovarian Psycos Bicycle Brigade talk before a ride through Boyle Heights in June 2013. The group does full-moon ride each month.
(Gary Friedman / Los Angeles Times)
Riders warm up before an evening ride in 2013.
(Gary Friedman / Los Angeles Times)
Evelyn Martinez, front, shouts instructions as the ride rolls through the Boyle Heights area in 2013.
(Gary Friedman / Los Angeles Times)
Riders help a woman whose bicycle seat fell off during a June 2013 ride.
(Gary Friedman / Los Angeles Times)
Pauletta Pierce fixes a makeshift bike seat after hers fell off during a ride in June 2013.
(Gary Friedman / Los Angeles Times)
When biking started taking off in and around Los Angeles, I wanted to be part of it, but I was intimidated by the cars that are very much unwilling to share the road.
Then I found the Ovarian Psycos Bicycle Brigade.
The Los Angeles-based group with the eyebrow-raising name bills itself is a supportive cycling community for women of color. It does nonprofit and community work in addition to hosting monthly rides and a yearly mass ride that's said to be the largest of its kind.
I found the Ovarian Psycos the way most people do, on social media.
At the time, I had no bike. And riding the streets and hills of Los Angeles seemed to be just for the brave. Still, the idea of riding in Los Angeles with a small level of protection, surrounded by other women who are willing to wait for the slower riders like me, sounded fun. I decided to join one of the monthly "Luna" rides.
The first ride was really hard. Unfortunately, I was using a cruiser bike, which is heavy and hard to even walk up hills, let alone ride. On my second ride, I used a BMX bike, which was a little easier, but the seat was uncomfortable.
By my third ride, I had a decent bike, one with gears that made hills easier. It was also the longest ride — the group's annual mass ride. It was 30 miles long, and I did 26 miles. (And then my husband picked me up.) I never thought I would be able to go that far, and I know the only reason was because I never felt pressured to quit because I wasn't going fast enough.
Going up hills was hard, but the sense of accomplishment was priceless, and then to speed down the road with the wind on my face, there's nothing like it. The world becomes a blur, houses meld with the streets, and the surrounding screams and hollers provide a halo of excitement.
Riding the streets of Los Angeles allowed me to see the city in a new light, fall in love with it all over again. It's a different way to appreciate the architecture and the cultures, the neighborhoods and their sense of community.
This year, I volunteered as car support during the mass ride. It was my job to bring up the tail, driving with my hazard lights on, alerting other drivers and also protecting the very last riders.
Driving behind more than 100 riders was certainly slow and frustrating for everyone. Cyclists make an effort to use just one lane so cars can freely go the other way. But some streets just had one lane. (I can understand that if you're running late it can be very annoying, but is it really that bad? There's traffic in L.A. all the time. It's nothing new.)
I have friends and relatives who simply do not understand sharing the road or are unwilling to do so. They think that bicycles are not entitled to the streets, but the law says otherwise. Of course, bike riders have to follow laws as well, and I'm not about to say that all bike riders do.
Driving slowly in my car allowed me to watch people's reactions to the mass of cyclists riding by, from angry drivers to men and women stepping outside and peeking from windows to see what the commotion was all about. I even saw a guy come out of a barber shop wearing his hair-cutting cape.
One magical moment came as late afternoon slowly turned into night and the cyclists turned downhill heading toward Hollenbeck Park outside downtown Los Angeles. There was a real sense of community as residents in house after house came to the door, balcony or window to see the cyclists. I watched two boys, one on a skateboard and one on a bike, racing along to catch them.
But my personal favorite moment came when I was in last year's big ride. We came to the 2nd Street tunnel, which was closed to vehicle traffic for filming, but we were able to use both lanes. The tunnel echoed with riders' shouts and cheers, and we emerged to the flash of the cameras — the filming crew had pulled out smartphones.
It may seem: Why go through the trouble of trying to ride a bike in such a car-focused city?
But that's the whole point.
I remember the first time I learned how to ride a bike. I remembered how fun it was to ride as a child, and wonder, Why did I ever stop?
They say you never forget how to ride a bike, but the childhood sense of marveling at the simplest things fades unless we keep it alive somehow.
Twitter: @deniseflorez
MORE:
Nuns in red: What it's like to ride the AIDS/LifeCycle
Your guide to L.A.'s indoor cycling scene: Here's how SoulCycle stacks up against the rest
---