I tried a 100-degree Quartz Massage — and loved it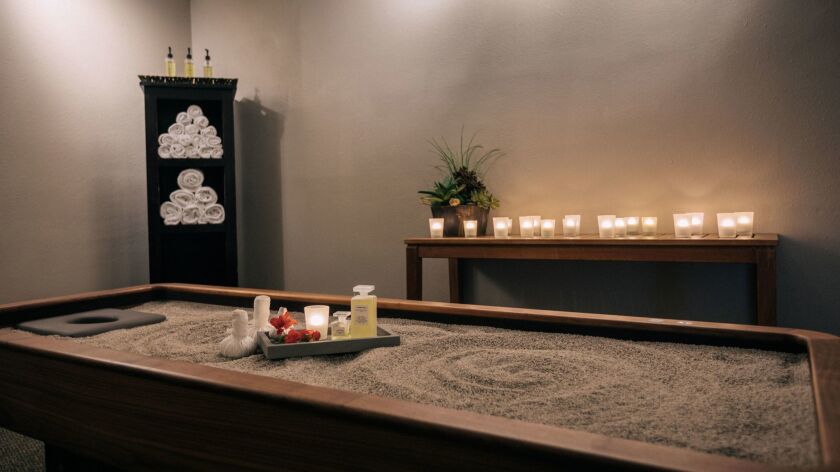 Most Angelenos are familiar with the stress-melting effect of lounging on warm sand. Now they can build on that feeling with an unusual new massage treatment at Corona's historic Glen Ivy Hot Springs spa, best known for its mud and mineral baths.
The 158-year-old spa recently introduced Quartz Massage, or psammotherapy (derived from the Greek word for sand), which involves lying atop a trough-like table of heated crystals more coarse than beach sand. Glen Ivy is one of only three spas in Southern California (the others are in San Diego and Catalina Island) and a handful around the country that offer it, said Glen Ivy's massage treatment manager Charlene Andrews, making Quartz Massage a new experience for even the most jaded spa enthusiasts.
However, the practice of psammotherapy dates to ancient times when Egyptians used to submerge their bodies from the neck down in the hot sand to treat a variety of ailments, and sand therapy of all sorts is still common in Italy, Germany and other parts of Europe.
The experience
The service started as I climbed onto what looks like a pool table filled with crushed quartz crystals heated to a muscle-softening 100 degrees, with a thin blanket draped over the top of the crystals. The "sand" beneath me conformed to my shape. It was almost like lying on a towel at the beach as the therapist had me inhale a relaxing whiff of essential oils and then proceeded to knead my arms, legs and shoulders head-to-toe, before flipping me over.
About halfway through the massage, I could elect to incline the table with feet slightly above my head, to traction my back. "It kind of gives you a sense that you're floating," Andrews said, and that was certainly the case for me. Too much tilt, and it was just disorienting. (You can stay in this inclined position for the remainder of the massage, just a few minutes, or not at all if it makes you dizzy.)
The warm sand did a good job of getting me into a relaxed state to receive the massage and the sand was certainly more ergonomic than a flat massage table. The traction was a minor distraction just as I was getting sleepy, but ultimately my back and joints were probably better for it.
Quartz massage is one of several new services that were rolled out after the spa changed hands in 2016. Also new is a fine-dining upgrade to the restaurant and renovations to guest facilities.
Glen Ivy Hot Springs
Where: 25000 Glen Ivy Road, Corona
Cost: $40 for a 20-minute introductory service, $135 for 50 minutes, $215 for 80 minutes, with warm quartz poultices applied to the back.
Info: glenivy.com
---