Why 'The Good Place's' Kristen Bell says she's 'obsessive about food'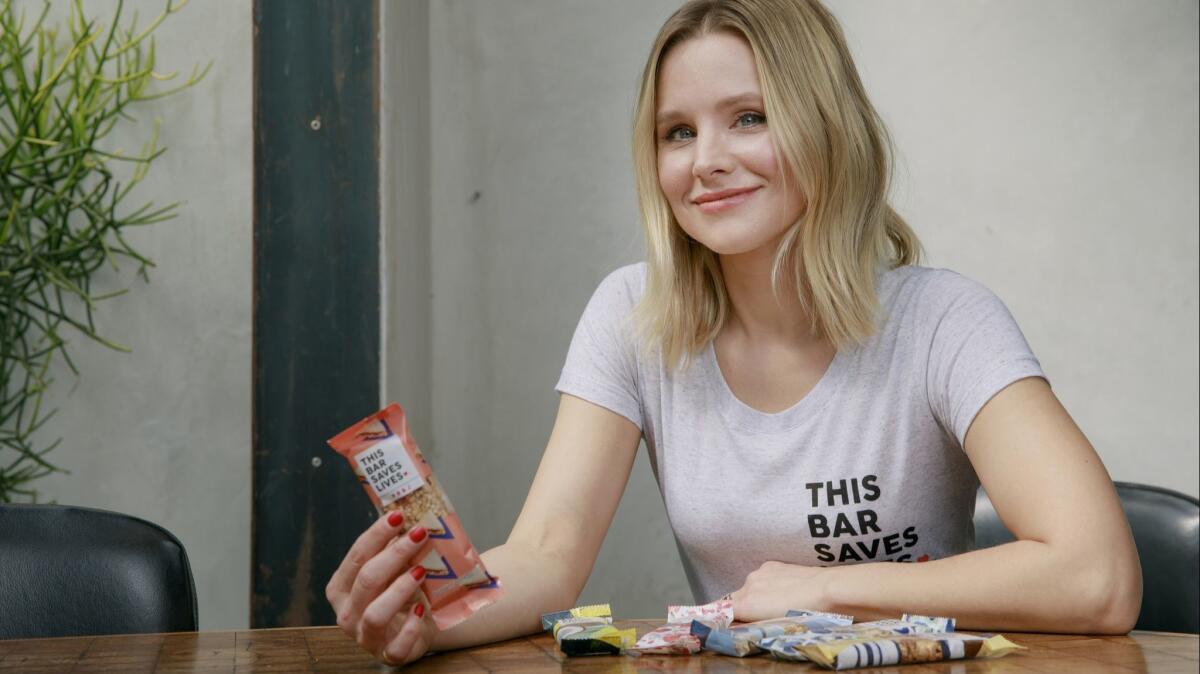 Kristen Bell doesn't just buy groceries and shove them into her refrigerator. Instead, she hits up Google and does what she describes as a "deep dive" into every brand she's purchased, every ingredient listed on each box.
"Food -- that's my jam," said "The Good Place" and "Frozen" actress. "I want to know what's in everything. I'm obsessive about food. I want to know who made it and where it came from."
Bell was chatting before a party in West Hollywood to celebrate her other business -- This Bar Saves Lives -- a line of snack bars co-founded by Bell and fellow actors Ryan Devlin, Todd Grinnell and Ravi Patel. On this night, a couple of new flavors were being launched (dark chocolate and coconut, peanut butter and jelly) to add to the gluten-free, non-GMO and kosher products.
"I'd always been struck by this feeling that charity is wonderful, but businesses could do better," said Bell, 37. "There is a lack of giving back in the food space."
The solution, according to Bell and her co-founders? With every bar they sell, a nutrition packet will be given to a malnourished child via Plumpy'Nut — a peanut butter, powdered milk and vitamin parcel that can take "a skeletal baby at death's door to a healthy, thriving child," she said.
Nutritious convenience foods, prized berries from the farmers market and clever swaps -- cauliflower crust pizza instead of regular -- are all part of meal planning for Bell, who is married to actor Dax Shepherd, with whom she has two children. Here she shares her tips for clean eating, being ingredient-savvy, and why baby steps are better than nothing.
Stock up on go-tos
I'm really into pasta made with chickpeas. It's got a ton of protein. It's a little more chewy than regular pasta, but not in the way that gluten-free pasta is. And my whole household is on ghee instead of butter. There's a California garlic one which I like to open and just smell. And a Madagascar vanilla, which I put on my kids' waffles instead of syrup. I get a farm box that sometimes has Harry's Berries. They're incredible. You can maybe find them at the farmers market. … In the summer, we'll go through six containers a week.
Listen to your body
I was vegan and am now vegetarian. I'm all about eating clean and ethically, but I also believe that it's important to listen to your body. Some people's bodies tell them to eat meat. There's a better way to do it because factory farming is a nightmare. I give my children meat; the chicken they get has been raised in, basically, a spa. They get all but manicures.
Seek out the healthier option
For protein, I'm obsessed with the Beyond Burger. When I'm working out, I'll eat two a day. When I want to do fast food, I'll make a cauliflower crust pizza with a Beyond Burger in the middle, and I've got a pizza burger.
Inconsistency isn't all bad
My workout habits aren't as good as my eating habits. For me, 70% of feeling good is the food I eat. Working out for me is very random. L.A. has great hikes so sometimes I'll do that. Lately it's been Pilates. I have problems with my posture and Pilates mat and reformer help a ton with that. I use a site called Pilates Anytime where you can follow any Pilates class. I've taken some TRX classes at Yogaworks, which is resistance work using bands on the walls. It feels horrifying 48 hours later, but the good kind of horrifying.
Start small
This is what I tell people; you don't have to shoot for the moon. If all you can do is 100 sit-ups on the floor while the kids are watching TV, then do that. You don't have to commit to something for the rest of your life. Maybe try something like Whole30. You buy a book, follow the recipes and after 30 days hopefully you will notice enough of a change to make it last. But for now, just think about today.
Hit the keyboard
There is more information out there than you know. Food feels confusing, but it's not. If you have the inkling to better your life and health, there are resources out there and a little understanding goes a long way.
READ ON!
Yes, you can eat your way to beautiful skin
10 high-tech gadgets to help you get to sleep
How 'Scandal's' Katie Lowes hid her psoriasis
7 steps to making your health your No. 1 priority