Q&A: This former NFL player lost 85 pounds in four months — and kept it off
When San Diego Chargers center Nick Hardwick retired from the NFL in 2014, he lost 85 pounds in four months. Three years later he's defied the statistics that show that many of us who lose weight gain it all back and then some. But Hardwick has kept it off and now helps others doing the same, posting recipes and offering tips on health and fitness on his blog and Instagram. After suffering a serious neck injury playing football, he is limited in what he can do. But that doesn't slow him down. When he's not in the broadcasting booth offering commentary and analysis, he walks and does yoga every day. In March, he hiked Mt. Kilimanjaro on behalf of the Waterboys charity. What's his secret? "I wish I did yoga sooner," says Hardwick, 35. "I could have added years to my football career." Recently, I talked to Hardwick by phone from San Diego.
---
When did you decide to make a change?
I weighed 295 pounds as a center for the Chargers. I injured my neck in Week 1 of 2014 and was told I was done. Right then, I decided to take the weight off. Coaches say linemen either get bigger or smaller [after retirement]. I definitely wasn't going to get bigger. By the end of the football season, I was standing on the sidelines at 210 pounds.
What was it like maintaining your playing weight of 300 pounds?
I was uncomfortable a lot of the time. I was overinflated and felt bloated. I know it sounds vain but I didn't like my belly hanging over my jeans and my legs rubbing together when I walked. I was eating at least 7,000 calories a day. I would start eating from the minute I woke up. I would pound protein bars, drink shakes, smoothies, eat a full breakfast with eggs, sausage — you name it. I had a bag of almonds that I would eat all day. I would have protein shakes after lunch. I would eat dinner and then consume half of one of those big tubs of Greek yogurt. Then, in bed at night, I would eat a pint of Ben & Jerry's ice cream.
I wish I did yoga sooner. I could have added years to my football career."

— Nick Hardwick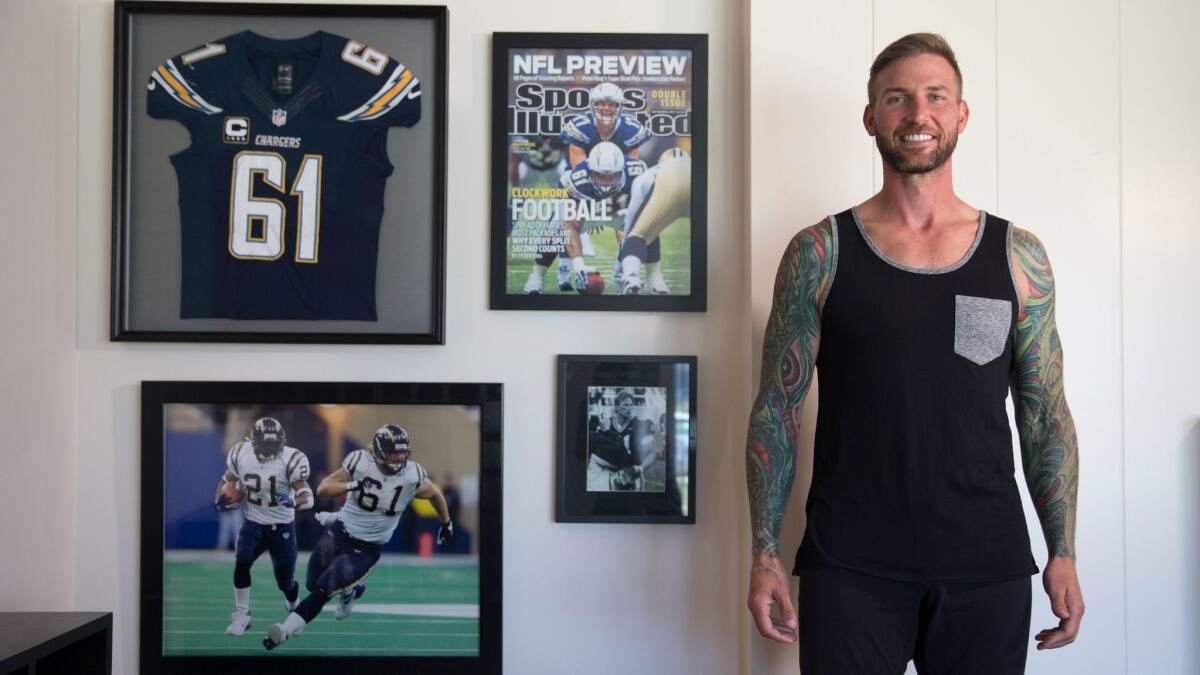 More photos of Nick Hardwick »
How did you lose the weight?
It was simply reducing calorie intake. And not lifting weights. It wasn't that I wanted to lose weight. I needed to lose weight. I wanted to alleviate pressure on my joints and mitigate some of the damage that I created playing football. When I was in college I was thinner and weighed 195 pounds. I essentially ate my way on to a football roster. One interesting thing that happened after I lost the weight: I grew an inch and a half. I was 6-foot-3 and am now 6-foot 5.
What does your new diet look like?
I came up with a diet on my own through years of knowing how to put on weight. I was a high school wrestler and once lost 48 pounds to make the wrestling team. I knew how to manipulate my body. It worked for me because I'm very systematic. I've done every iteration as a form of experimentation to see how I feel physically and mentally. I came to this diet with this overarching theme of calories in, calories out. If you are taking in less calories than you're burning, you'll lose weight. That's the law of thermodynamics. The other one was metabolic confusion. I've got to continually change and adapt and confuse my body. The body doesn't know when its next meal is and the body has to get used to that. I also experimented with intermittent fasting.
Can you share some specifics?
The body needs to feed off of itself if it has to. The diet is basically 4-2-3-1. One day, four meals, next day, two, next day three and the next day I would have one meal. Those meals were about 600-800 calories a piece.
---
And limiting processed foods and excess carbs?
In a perfect world it would be done with whole foods. I tried everything and it worked: paleo, vegetarian, slow carb. It gave me a great structure to work from.
You recently hiked Mt. Kilimanjaro. Any advice for others who have it on their bucket list?
Be in good enough condition to walk 20 miles if you have to. I would also say, don't overtrain. All I did was walk — four or five miles a day. I worked on posture a lot. That can alleviate a lot of complications. I did yoga every day. I tried to keep my muscles long and supple. I also followed a fat-adapted diet which is supposed to help with altitude sickness.
---
Your Instagram philosophy seems to be "work out anywhere, anyplace, anytime."
Seriously! I picked my kids up from school yesterday and while they were playing, I started doing yoga poses and Warrior 3 on the curb. I will exercise anywhere. I'll do a handstand. I'll drop down and do push-ups in the middle of a crowd. It makes me feel good and I enjoy it. I don't feel like I need to allocate three hours of my day to a workout. I'll just chip away at it all day.
I will exercise anywhere. I'll drop down and do push ups in the middle of a crowd. It makes me feel good and I enjoy it. "

— Nick Hardwick
Gym Rat: A look at workout classes in and around Los Angeles. »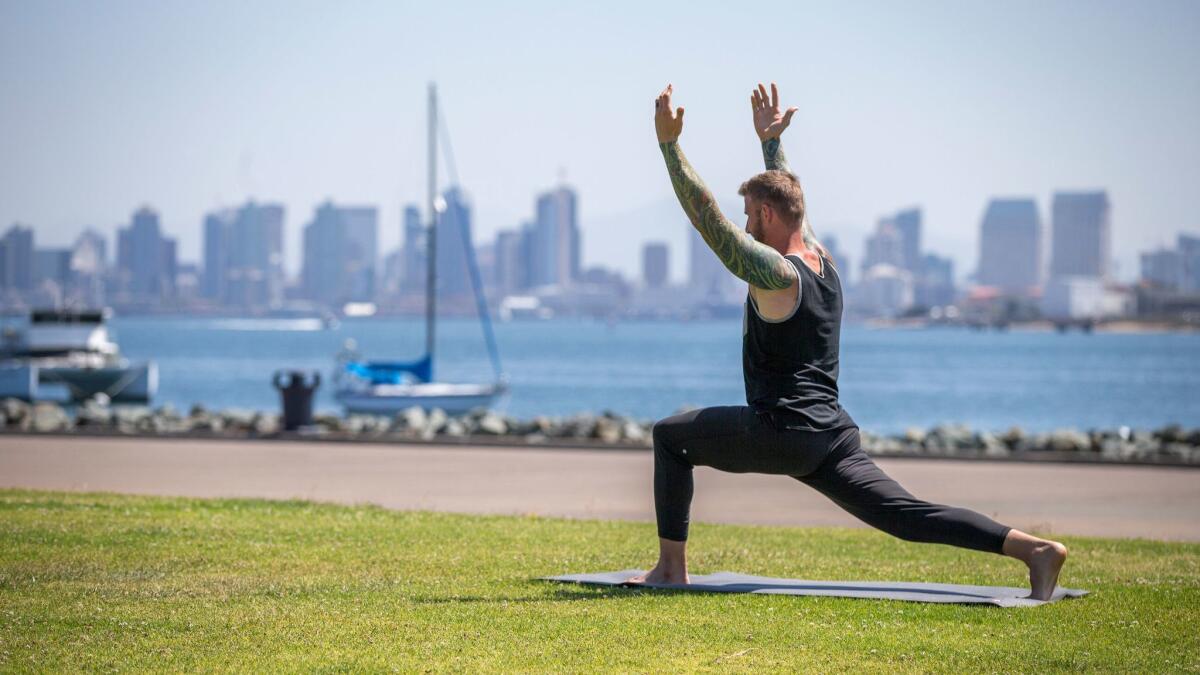 San Diego is a great city if you love to be active and outdoors. What are some of your favorite go-to places?
My wife and I take the kids and the dog down to Sunset Cliffs for a little bit of nature. We live in Point Loma and have a great park near us called Liberty Station that has a ton of shops and a comfortable feeling. A few of my favorite hikes are Potato Chip Rock in Lake Poway and Iron Mountain off of Poway Road. I really enjoy that one as the sun is coming up. You can see the sunrise in the east.
---
You've accomplished something a lot of people would love to do: You dropped a huge amount of weight and kept it off. What advice would you give others who need to lose a substantial amount of weight?
Don't wait. Losing weight is like climbing a mountain. If you look up at the mountain before you start, it's going to be daunting. But if you just put your head down and start walking, you have a chance to accomplish the feat.
How do you cope with your injuries?
Most of my injuries stem from my neck. I got 200 to 300 stingers playing center. That was why I had to retire. I have stenosis in my spinal column. I don't really lift weights anymore and I don't lift weights over my head. If I do any weight-room-type stuff, it's all body weight.
---
What do you do to relax?
That's a good question. Relaxation is probably the hardest thing for me. I find it being with my kids at the park or Friday night movie nights at home. I have distinct boundaries between work time and family time. Family time is how I unwind.
You describe yourself as a health advocate. What are you trying to impart to others?
I feel compelled to let people know that there is so much information out there and you've got to get started. I came to this because after playing 11 years of football, I set my body back. When I look at myself now, I see myself as being mortal and I want to preserve the back end of my life. I'm advocating for people to take a longer view of their health. You need to invest in yourself and your health to have a long fruitful life so that you're not in discomfort when you're 60 or 70. Everything you do now will benefit you later.
Twitter: @lisaboone19
READ ON!
Surfing icon Laird Hamilton shares his 10-point plan to live forever
Actress Shalita Grant's five laws of motion
​​​​​​​There's just one name for yoga done to the sounds of Drake: Introducing Namasdrake
How one of the fittest guys in Hollywood was inspired by Oprah
Get our high school sports newsletter
Prep Rally is devoted to the SoCal high school sports experience, bringing you scores, stories and a behind-the-scenes look at what makes prep sports so popular.
You may occasionally receive promotional content from the Los Angeles Times.