This great L.A. walk takes in architectural gems, and fine city views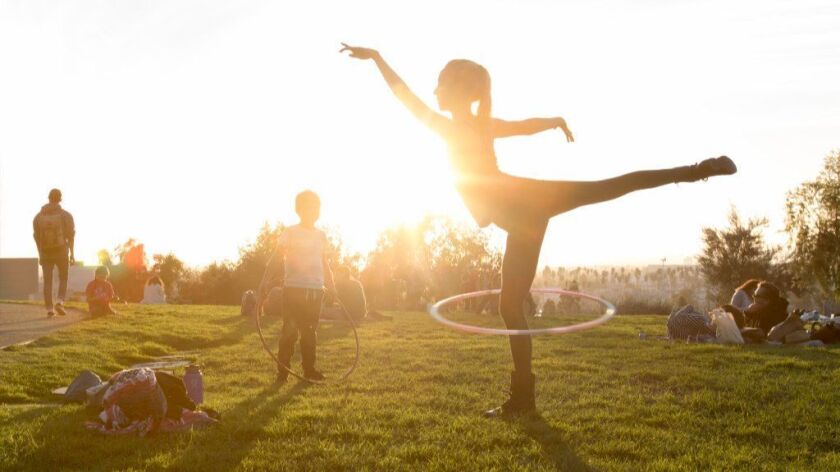 An important L.A. architectural artifact and a small public green space, hidden in the heart of East Hollywood, are the backdrop for this short stroll in the Barnsdall Art Park. It's mostly flat, but involves several staircases. Shady on a hot day, this 36-acre park offers fine views of the city and a lovely lawn for picnics.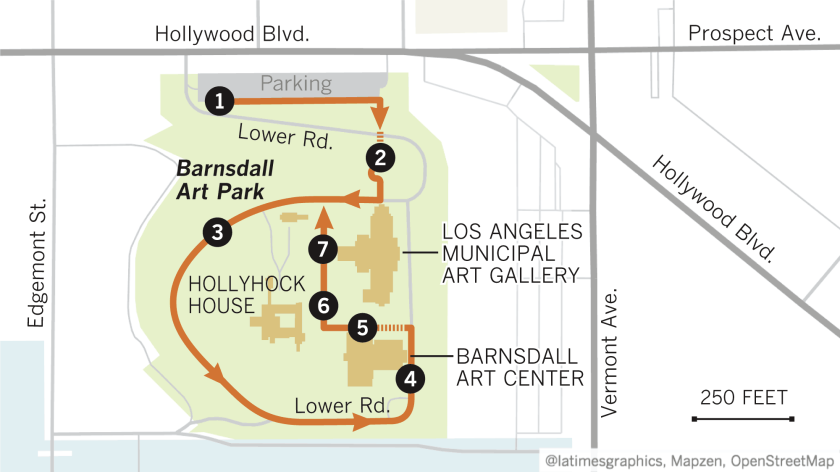 Find more great L.A. Walks — maps included >>>
1. Enter the park's parking lot from Hollywood Boulevard, just west of Vermont Avenue, or enter the park gates if you're on foot. Walk between olive trees to the far end of the parking lot and find a staircase on your right.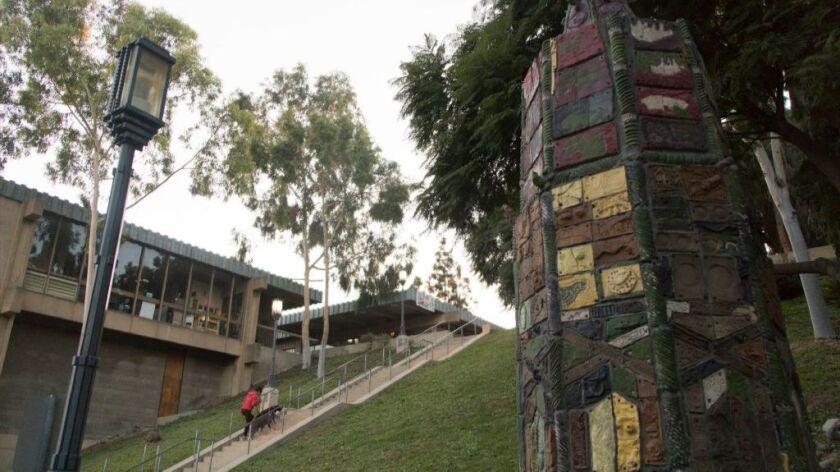 2. Climb 48 stairs, cross a driveway, and climb 28 more. Follow the path to the driveway and turn right.
3. Follow the road as it circles the Hollyhock House, the private residence that legendary architect Frank Lloyd Wright built for heiress Aline Barnsdall between 1919 and 1921. But resist the temptation to visit just yet. Instead, continue on around as the road passes a green lawn on the left, bordered by hollyhocks, and shows off views from Hollywood to Century City on the right.
4. After the road flattens and comes to a stop sign, turn left. Walk about 50 feet and look for a staircase rising to the left. Climb 70 stairs to the top of the hill -- past a series of classrooms that offer art instruction for children and adults -- and enter a broad plaza thickly shaded by pine trees.
5. To the right, explore the 299-seat Barnsdall Gallery Theatre (which hosts private shows and events) and Los Angeles Municipal Art Gallery, open noon to 5 p.m. Straight ahead is Hollyhock, Wright's textile block masterwork. Spend some time inspecting the exterior or, if it's 11 a.m. and 4 p.m. Thursday through Sunday, buy tickets at the adjacent Visitor Center and enjoy a self-guided tour of the interior. (Private, docent-led tours are also available with reservations. Call (323) 913-4030 or email hollyhock@barnsdall.org)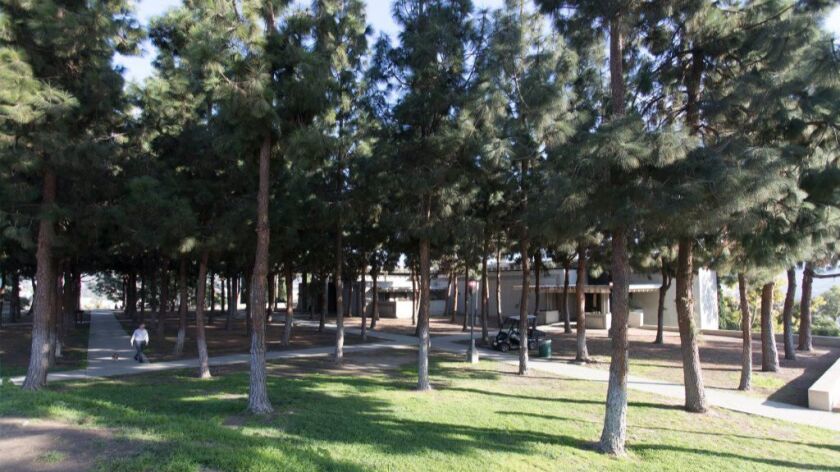 6. Follow the line of palms north, with Hollyhock House on your left, until the end of the plaza. Up to the left you can see the Griffith Park Observatory and the Hollywood sign. High and slightly to the right look for Wright's other local treasure, the sand-colored Ennis House.
7. Drop down 20 stairs, turn right, and then find the walkway that leads down the 76 stairs to the parking lot. Turn left and return to your starting point.
The stats
Distance: 3/4 mile
Difficulty: 2 on a scale of 1 to 5
Duration: 45 minutes
Details: Dogs on leash welcome. Free parking. Open daily 6 a.m. to 10 p.m. Accessible by buses 180/181, 206 and 217
Fleming is the author of "Secret Stairs: A Walking Guide to the Historic Staircases of Los Angeles" and "Secret Walks: A Walking Guide to the Hidden Trails of Los Angeles." Each month, he leads a free walk at one of his favorite spots in Southern California. Find out more at his Facebook page, Secret Stairs. He can also be reached at charles.fleming@latimes.com.
MORE L.A. WALKS
This short, steep hike takes you high above Burbank
Strolling around the lakes in El Dorado Park in Long Beach
This hike takes you to an (allegedly) haunted mansion: The Cobb Estate in Altadena
---