A shaded hike in La Cañada Flintridge that's perfect on a hot, sunny L.A. day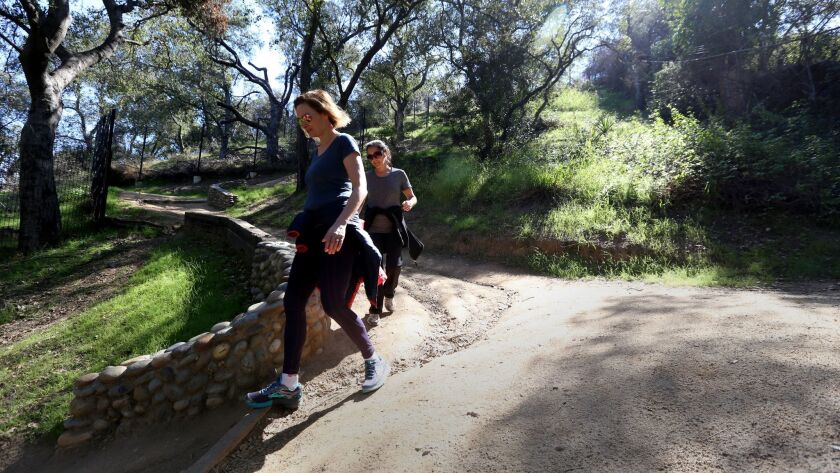 This short, steep loop in La Cañada Flintridge is more of a hike than a walk. But the hard work earns magnificent views. Largely shaded during the afternoon, this is a good hot-day route. But the slippery surfaces require sturdy legs and good shoes, and make this a dry-weather walk only.
Find more great L.A. Walks — maps included >»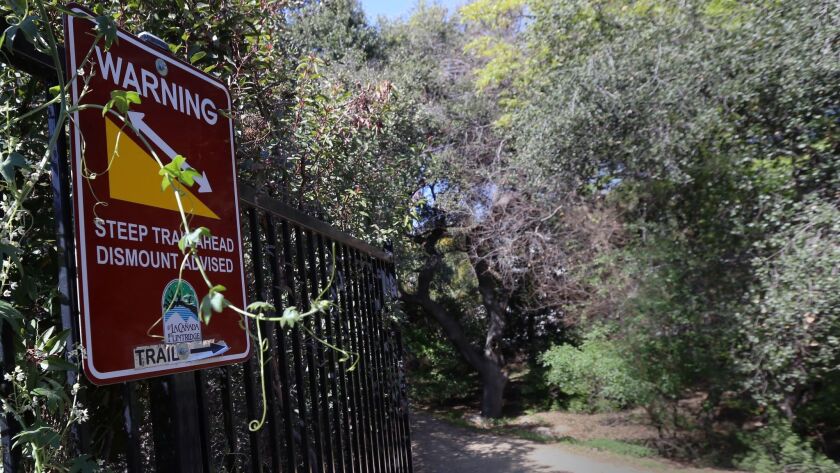 1. Begin walking at the marked trailhead near 1450 Descanso Drive, near the entrance to Descanso Gardens. Follow the arrows for Descanso Trail into a narrow dale shaded by oak trees, keeping a black mesh fence on your left. Note the sign that says "Steep Trail Ahead Dismount Advised," and soon begin a series of sharp switchbacks.
2. As the trail flattens out, enjoy the big views of the San Gabriel Mountains behind you. On a clear day you can see the tops of Mt. Wilson and Mt. Lowe.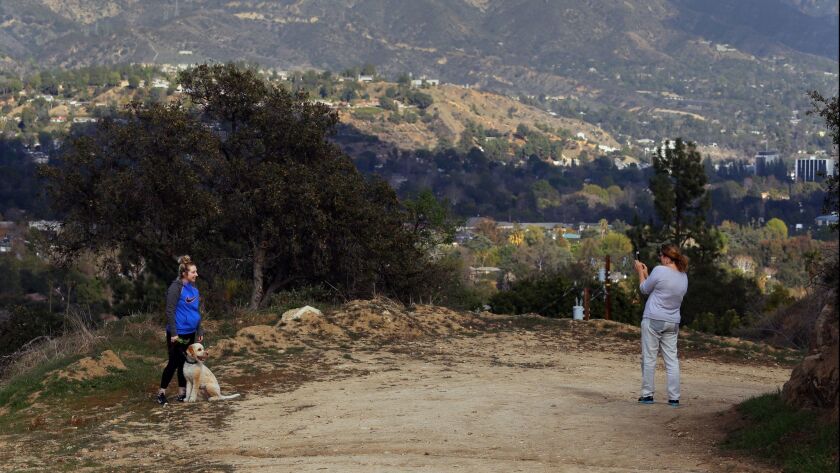 3. Where the black mesh fence ends, bear left and stay on the wide dirt path. Below to your right is the SR-2 Freeway, and in the distance is the Beaudry Motorway, another great place to take a hike. To your left are the grounds and water features of Descanso Gardens.
Hear something in the distance? That's a firing range, in a nearby canyon, used by the Glendale Police Department.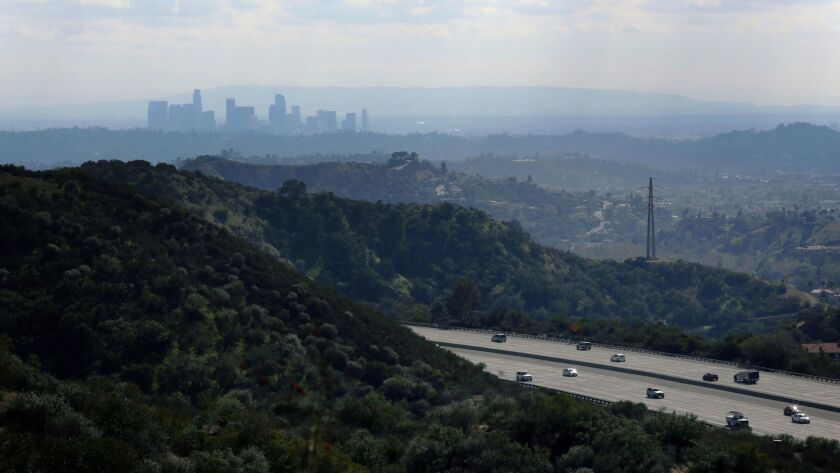 4. At about the 1.4-mile mark, a descent finally begins, and the buildings of downtown Los Angeles will come into view.
Just ahead, take a sharp left-hand turn onto Edison Road, noting the trail marker for "Forest Hill Exit."
5. Walk between a rusty water tank and a set of high-tension electric lines. Just after these, bear slightly right and head downhill on the wide dirt road.
If you want a slightly longer walk, keep going straight ahead and after a quarter-mile leave the dirt road for a narrow path off to the right, following signs for the "Conservancy Trail." This winds up in the same place.
6. Pass a yellow gate to find yourself on pavement again. This is Forest Hill Road.
Follow it downhill under oak shade through a quiet residential neighborhood.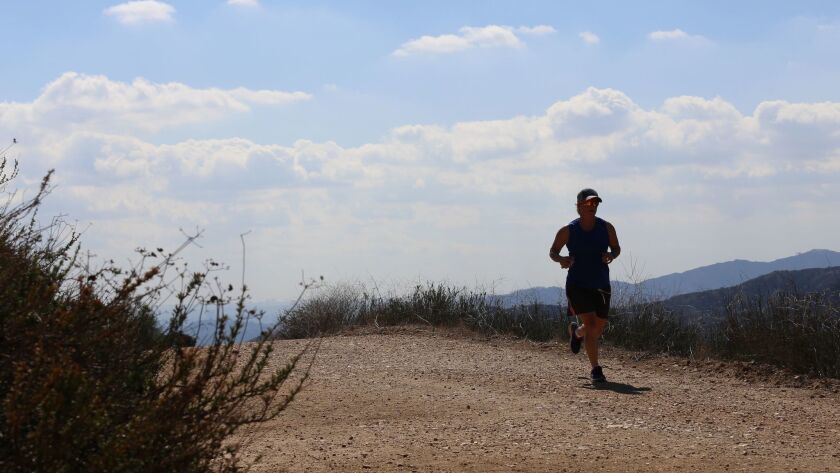 7. At the T intersection, turn left onto Padres Trail, then right onto Encinas Drive. When you meet Descanso, turn left, and return to your starting point.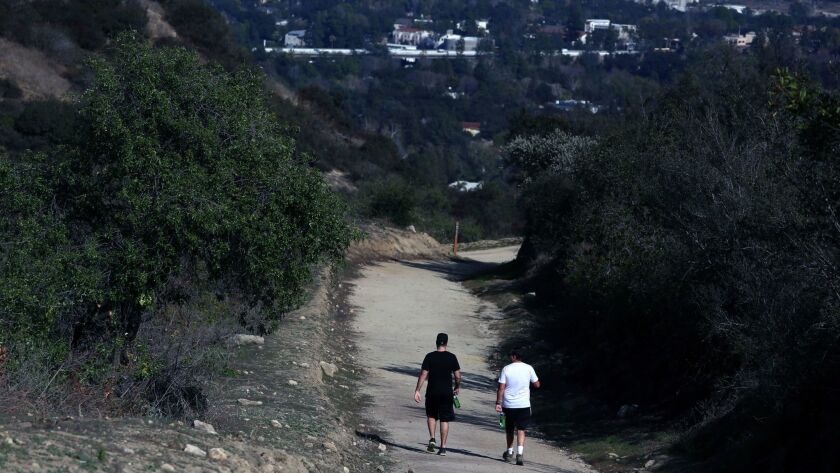 The stats
Distance: 3 miles
Difficulty: 4 on a scale of 1 to 5
Duration: 1 ½ hours
Details: Free street parking. Okay for mountain bikes and pets on leashes. Accessible by Glendale bus lines 3, 32, 33, 34.
Fleming is the author of "Secret Stairs: A Walking Guide to the Historic Staircases of Los Angeles" and "Secret Walks: A Walking Guide to the Hidden Trails of Los Angeles." Each month, he leads a free walk at one of his favorite spots in Southern California. Find out more at his Facebook page, Secret Stairs. He can also be reached at charles.fleming@latimes.com.
MORE L.A. WALKS
This short, steep hike takes you high above Burbank
Strolling around the lakes in El Dorado Park in Long Beach
This hike takes you to an (allegedly) haunted mansion: The Cobb Estate in Altadena
---