Mallika Chopra talks 'Living With Intent' and balancing priorities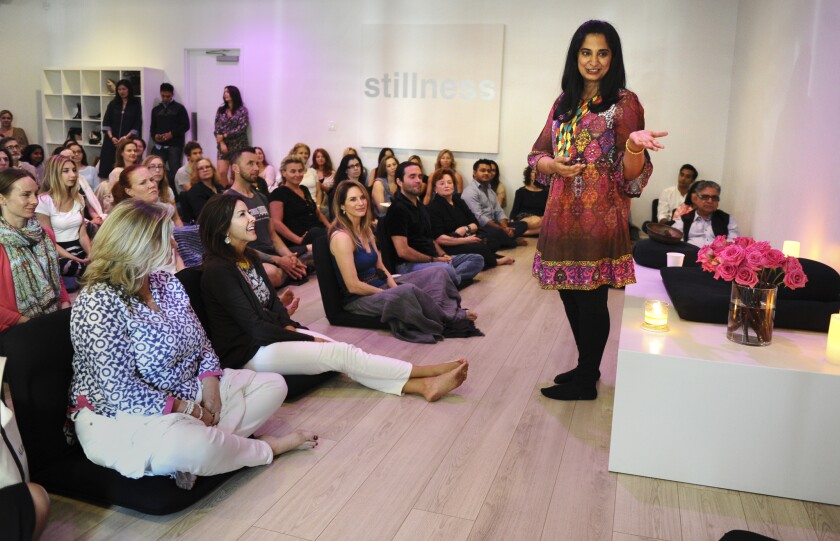 She's the daughter of one of the most renowned self-help gurus in the world, but Mallika Chopra discovered she doesn't always have all the answers. Her father, Deepak Chopra, is a medical doctor who can also be credited for popularizing meditation and bringing Ayurveda healing techniques into the mainstream. But his daughter says that in recent years she had forgotten some of her dad's most important lessons: the daily practice of meditation, eating mindfully, de-stressing, getting enough rest.
In writing her latest book, "Living With Intent: My Somewhat Messy Journey to Purpose, Peace and Joy," Chopra, 42, flew to Delhi to reconnect with her grandparents. Then she interviewed leaders in natural medicine and spirituality, such as Eckhart Tolle, Dr. Andrew Weil and Marianne Williamson.
"They are teachers that I've grown up with because of my father," she said. "But I didn't really pay attention at the time. My father had access to all these people, and I barely read their books." In her own book, she chronicles her struggles with stress, sugar addiction, weight management and feeling guilty that she was not doing enough as a wife, mother or business person.
"I was a wreck," said Chopra, founder of Intent.com, a website that allows users to post their intentions to seek support from one another. "I was trying to be perfect."
Was there a pivotal moment when you decided to write this book?
I was leading a meditation class and guiding the group into a quiet meditation. But as I did so, my own mind continued to wander. I kept thinking about the chocolate chip cookie I had just eaten, and how my body was sometimes in pain, and I realized I was putting everyone through this meditation just so I could deal with the overwhelming thoughts I was having. I then realized I had to do something about this.
When you realized you needed help, was your father your first call?
I went to my dad, like I normally do. I told him, "I'm so out of whack." First, he sort of freaked out. He didn't understand what was going on. It took him a few minutes to transition from the concerned father worrying that his daughter was having a breakdown to being able to help me. We sat down and did a "balance wheel," writing down all the different aspects of my life so I could figure out what I needed to work on. Everybody should do one. These include rest and sleep, nutrition and exercise, work, financial goals and career. I realized as I was doing mine that there were so many things I was talking about all day long, but not really living.
Do you feel like the bar was set pretty high for you growing up, that people expected you to live a perfect life?
Absolutely! Neither my brother (Gotham, a filmmaker) nor I became doctors. But people come to us with their medical concerns and ask us for Ayurvedic treatments. ... I feel like everyone expects me to be doing all these great things. But I don't meditate regularly. I hate yoga. People assume we follow some vegan diet. And I'm like, "I like my Scotch." There is this perception of what people think we are, and the reality is we're just like everybody else.
What are some of the biggest lessons you learned from writing this?
Firstly, to ask for help. I would tell anybody that, if they are feeling overwhelmed. Ask for help, and then figure out the resources after that. If you try and do everything yourself, which many women do, it's impossible. Also, I'm no longer afraid of failure.
What has changed for you after you finished the book?
This book was a personal narrative about finding some sense of sanity and balance and purpose in my life, and to help others do the same. I realized at a certain point the craziness of my life — managing my kids, my husband, being an entrepreneur, doing errands, my to-do list — I was getting stretched in so many directions that I wasn't eating well, I wasn't sleeping properly, I had gained weight, and I just wasn't living a life of balance. Since then, I've made significant improvements in my life, in all those areas, and have recommitted to the things I learned growing up. I remember so vividly a conversation with Eckhart Tolle, who talked about being a frequency holder. He said that most of us in our everyday lives are doing what we are meant to do.
---