Say aaaaah! Meditation studios are the newest trend in wellness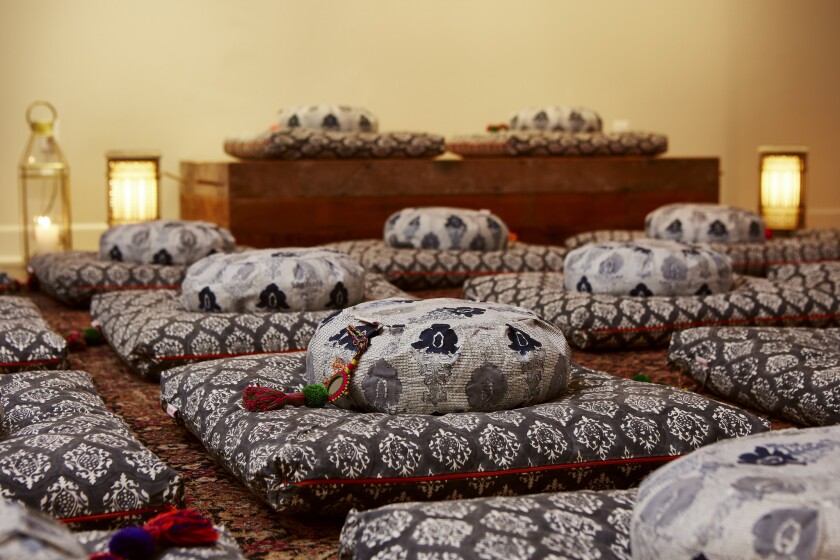 This is how busy and harried we are at work, home and all places in between: A new boutique studio in Los Angeles offers busy Angelenos a place to do nothing but … meditate.
Like so many entrepreneurs, Tal Rabinowitz was emboldened by the fact that she couldn't find what she needed — and went ahead and made it herself. The result is the Den, a meditation-only studio that Rabinowitz designed to be secular, accessible to the masses and not linked to a particular movement, guru or lifestyle.
"There is no lingo here," she said. "Meditation should be for everyone."
Rabinowitz has long been a proponent of meditating, finding it enormously helpful in the high-stress job she formerly held as an executive vice president at NBC. (The official opening party brought in a stream of her celebrity friends from her TV days, including Kate Walsh, Amanda Seyfried and Anna Kendrick.) In September of last year, she took over the space once occupied by the venerable textile store, the Silk Trading Company, on the corner of La Brea Avenue and 4th Street in Los Angeles.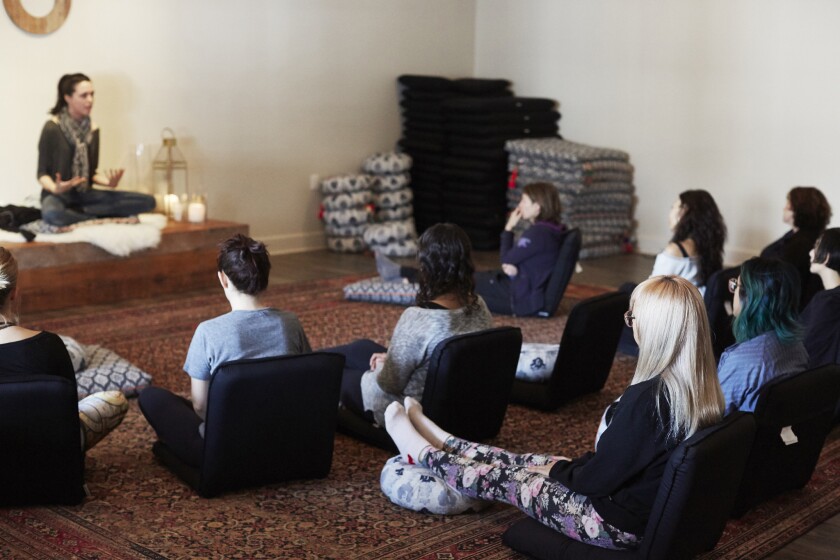 With all the distractions at work and home, said Rabinowitz, sometimes you have to be in a space where the only thing you can do is meditate. (It joins another drop-in meditation studio, Unplug in Santa Monica.)
Now the 2,500-square-foot studio — filled with comfy couches and bookshelves and where the walls are painted soothing shades of teal blue next to exposed brick — holds three rooms. The main meditation room is where classes take place, run by a rotating roster of 22 teachers. Sessions range from 20 to 45 minutes.
A smaller room is for people who want to drop in and meditate on their own.
In the last space, healers in disciplines such as reiki, cranialsacral therapy and massage will offer their services.
See the lifestyle news readers are sharing the most>>
The rooms are, predictably, cozy and welcoming: thick cushions are evenly spaced along a wood floor, a raised dais at the front is for the teacher. Dim overhead lighting comes from brass lanterns swinging from the ceiling. Some classes offer music, others are conducted in silence with only the teacher's voice as guidance.
There are several classes a day, each with a different intention: focus, healing, breathe and, the last classes of the night, including sweet dreams. Meditation incorporating qi gong and fostering creativity, as well as those for pregnant woman, are also offered.
"We try and cover the bases," Rabinowitz said. "Some classes are mantra-based, others target focus and mindfulness. We encourage people to keep meditating at home, but there's also something wonderful about being in a group setting like this."
Classes are $22 each. A five-class package is available for $100, and a monthly unlimited membership is $160. Workshops are also offered, and those who want to drop in and meditate outside of a class pay $5.
Our favorite three classes:
A.M. energizer
The first class of the day, at 8.45 a.m., is directed toward the pre-work crowd: This 30-minute session is designed to increase mental acuity and sharpen clarity for the day ahead. "People set their intentions for how they want their day to be," Rabinowitz said.
Lunchtime detox
The 1:15 p.m. class offers a 30-minute session midday: "It's a quick relaxation to bring you down, clear your head, and get you ready for the rest of the day," she said.
Candlelight relax
This is just as it sounds: 45 minutes of flickering candles and deep breathing to help meditators decompress at the end of the day, clearing any negative vibes that have accumulated at the office or elsewhere.
The Den is located at 360 S. La Brea Ave. in Los Angeles. www.denmeditation.com
ALSO
3 products that might make meditation easier and more enjoyable
Are you getting enough vitamin B12?
Meditate your way to weight loss? Instagram star Tiffany Cruikshank says awareness is key
---