In the blood: How 'The Red Tent' became a rallying cry for women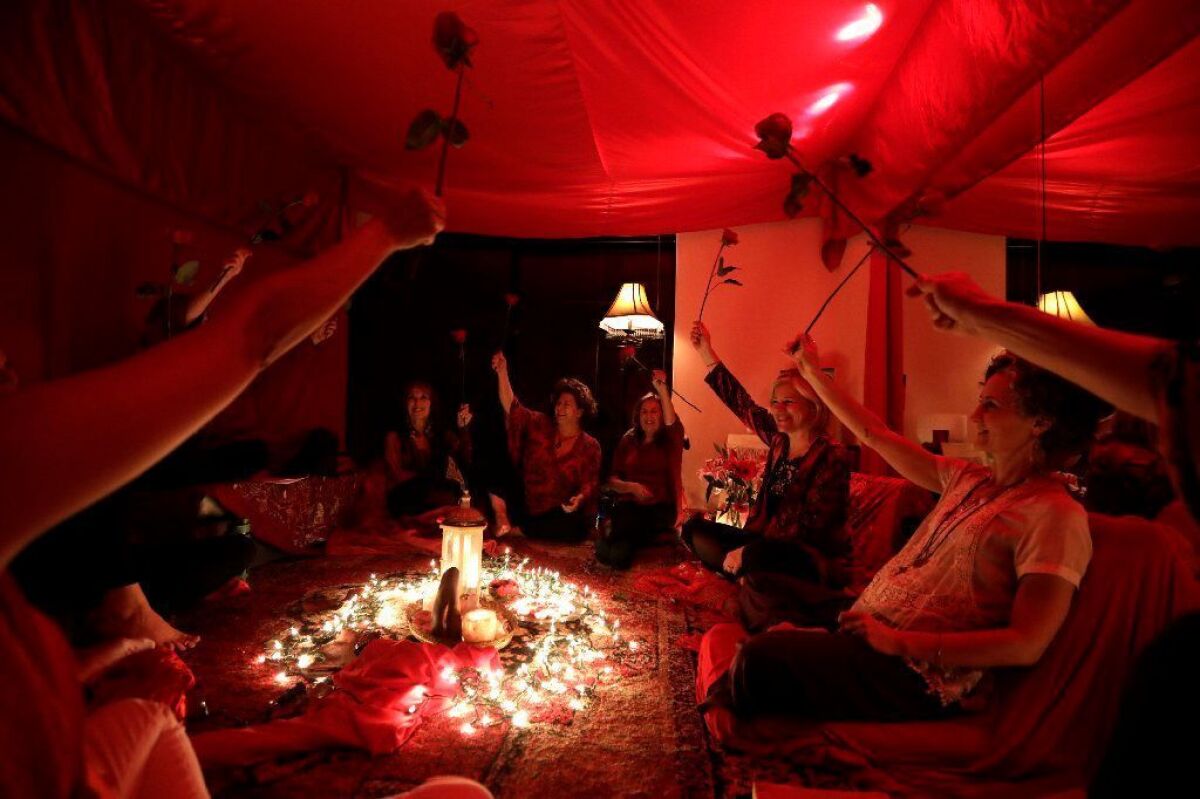 On the night of a new moon, a circle of women from the Los Angeles area gathered in a dimly lighted Mar Vista condo swathed in scarlet fabric for a Red Tent gathering. One attendee cradled another middle-aged woman in her arms, as others, ranging from their 20s to 60s, studied tarot cards. A new arrival went to shake the hand of Kate Goldstein, an essential oils professional. "We probably shouldn't shake hands," Goldstein said. "I just rubbed someone's feet."
This type of activity is not unusual for the Red Tent, which meets at the start of every lunar cycle as a designated space for women to rest, share stories and care for one another. The name comes from author Anita Diamant's bestselling novel "The Red Tent" and refers to the biblical Jacob's tribe and its women, who must, according to ancient law, take refuge during menstruation and births. At this Los Angeles event, Google Voice is used to summon music, and red flowers line the room. The attendees are here to connect with their bodies and one another.
"For anyone who has never been here, the Red Tent is a sacred space set aside for us to remember," the evening's host, Greta Hassel, told nearly a dozen women outfitted in shades of scarlet. "Remember the temple of the body, and that it is blood that creates life."
Hassel is a marriage and family counselor who describes her life's path as going from Southern belle to seminary scholar to sex educator — and she's been leading these circles for the last several years.
Red Tent gatherings don't take place just in Hassle's living room. They are part of a grassroots community that has spread all over the United States and several parts of the world. Many credit ALisa Starkweather — founder of the Princess Path and co-founder of the international women's initiation, Women in Power — with its beginnings.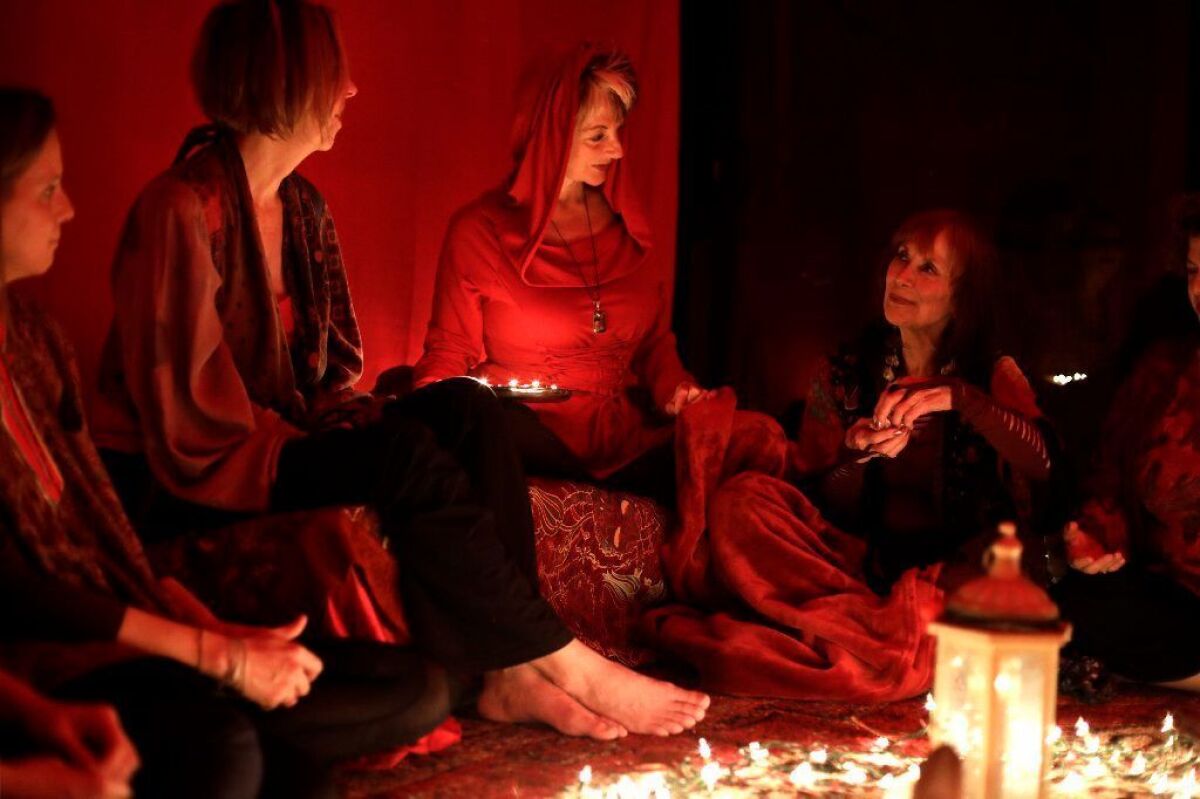 "I've dedicated my life to organizing spaces for the empowerment of women, and lifting their voices up," Starkweather said on the phone from her Massachusetts home. "Instead of bleeding time being something as never held by the culture at large, now you have girls that have been brought up in the Red Tent and have been initiated into what it means to be a woman, and to tell stories." She adds that in our #MeToo moment the Red Tent serves, as it has for many years, as a refuge from sexual harassment or trauma.
Starkweather pitched her first Red Tent around 2009, inspired in part by the women's consciousness groups of the 1960s. She is quick to point out that the events are not political and not meant to be therapy, but a space to feel at home whether the event's red fabric is spread above a kitchen, basement, community space or at a conference. Each Red Tent gathering is different, whether it's practicing guided meditations, experiencing reiki, singing, or borrowing women's consciousness-raising tactics from '60s and '70s feminists to fit our modern era (such as taking a vagina selfie with your smartphone instead of looking at it with a hand mirror).
Starkweather said that that Diamant's book, first published in 1997 and widely shared through word-of-mouth, was integral to the community. "It felt like a strategy," Starkweather said. "Not only was it popular, people had read it and got a feeling about it, but it also felt like it could be something you develop in the modern-day culture."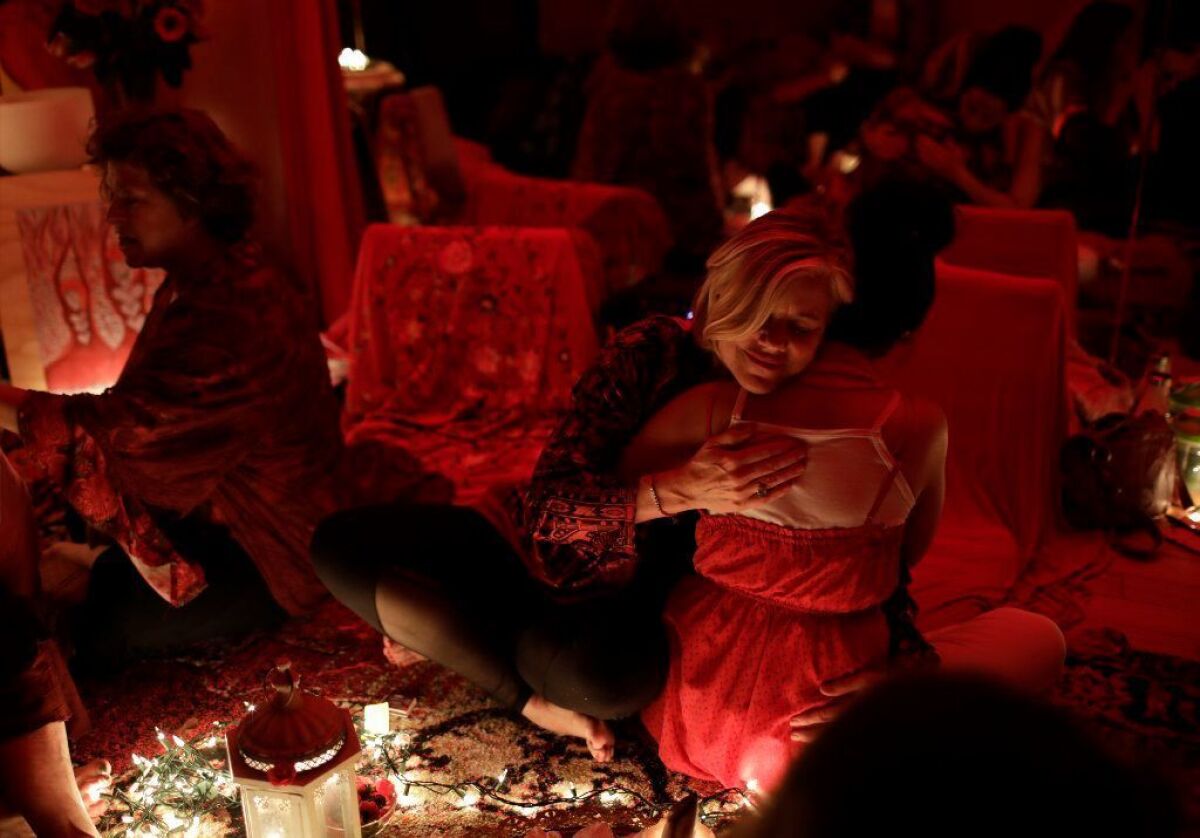 Her grassroots vision has expanded, and some women operate the Red Tents as a small business — almost like a franchise — charging a small fee to take part in the groups. There are also Red Tents on college campuses to raise awareness on female sexual health, and there was a feminist sex shop in Toronto — which has since shuttered — dubbed the Red Tent Sisters.
"The Red Tent" author Diamant is aware that her novel, which is now more than 20 years old, has sparked movements and businesses from her imagined version of this women's space. "It's generally a really positive thing out in the world, but I have no real connection to it," Diamant said. "When you write a book and send it out into the world it belongs to the readers." She added that her title in itself conjures a place where women can gather privately, safely and joyfully to enjoy one another's company. "The Red Tent is a big tent," Diamant said.
It's this concept that captured the interest of filmmaker and scholar Isadora Leidenfrost, who made the 2012 full-length documentary "Things We Don't Talk About: Woman's Stories From the Red Tent." The film points out that Red Tents are not a new idea, and as part of her interest in women's spaces, Leidenfrost studied the early traditions of women's menstrual huts, some of which still exist, including in parts of India, Africa, Pakistan, Latin America and some Native American cultures. She acknowledges that menstrual huts have a complicated history. In February, a 21-year-old Nepali woman made headlines after dying in a menstrual hut; she died from suffocation after building a fire on a freezing night.
In addition to the dangers of being in isolated locations, menstrual huts can have negative implications for girls and women such as missing work or school. It's a topic that Meghan Markle, the Duchess of Sussex, has been vocal about in her humanitarian work. Markle advocates for ending the stigma around periods worldwide and providing access to proper sanitation to communities where girls' periods are preventing them from getting an education. Former First Lady Michelle Obama also called attention to this subject at the World Bank in April 2016, and an Oscar was recently awarded to the Los Angeles documentary filmmakers who created a short film centered around menstruation taboo in rural India, called "Period. End of Sentence."
It's worth noting that not all menstrual huts are a negative experience. Some women embrace it as a time to slow down from daily duties and celebrate womanhood and mensuration, and it is this idea that the Red Tent community draws from.
For Leidenfrost, who lives in Illinois, the Red Tent community not only inspired her work, it transformed her life. "I thought that I never wanted to have children, but coming into this Red Tent space — it looks like a womb, it feels like a womb — what happened is that I overcame my fear of having children, and in 2016 I had a daughter," Leidenfrost said.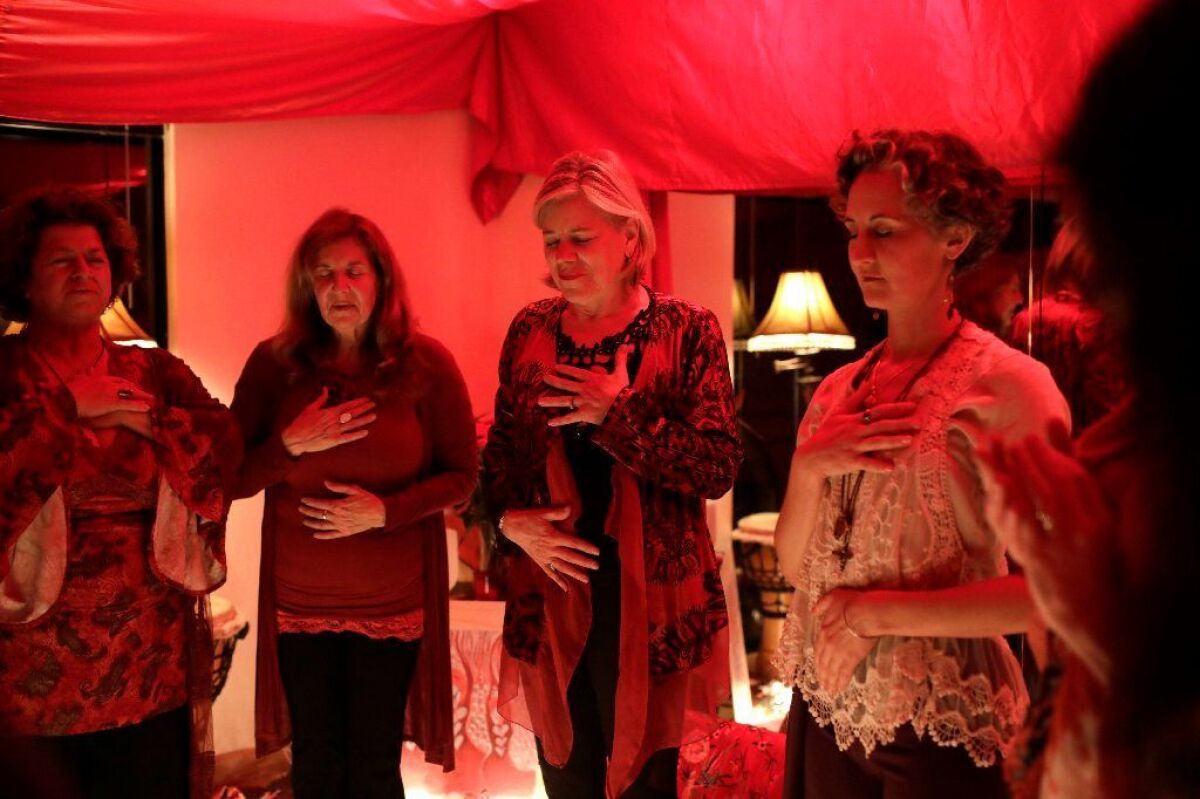 Leidenfrost hopes younger women will carry on these female sacred spaces, as does Los Angeles' Hassel. She recently started a First Moon Rite of Red Tent for young women to celebrate the arrival of their monthly cycle. "In this #MeToo moment I think it's so important for girls — before they start dating or go out into the world — to love themselves," Hassel said. "That's what the Red Tent is founded on."
Details on upcoming Red Tent events are at: facebook.com/RedTentLosAngeles