Across Los Angeles, a mash-up of yoga, dance, music and wellness is edging onto the social scene. Now instead of wondering if you should go to the gym or out on the town, you can do both, often in unusual or inspiring surroundings and not always at night.
Mix a mindful group activity such as yoga or a sound bath, with visual art, concerts, DJs or dance parties.
That's the secret sauce to events co-orchestrated by Bender LA.com, which was created by Justin Henderson, a former researcher in community health, "to find ways to make a healthy lifestyle more accessible by making it fun."
Right now, his events are leading the way as L.A. looks up to its skyline and rooftops for fun and fitness. To add an inspirational element, Henderson often aims for rooftop or outdoor settings with a view. At past events, hotel pool decks and even nightclubs have subbed for the yoga studio.
On the horizon: "Illumine" Full Moon Sunset Yoga on the roof at Row DTLA.: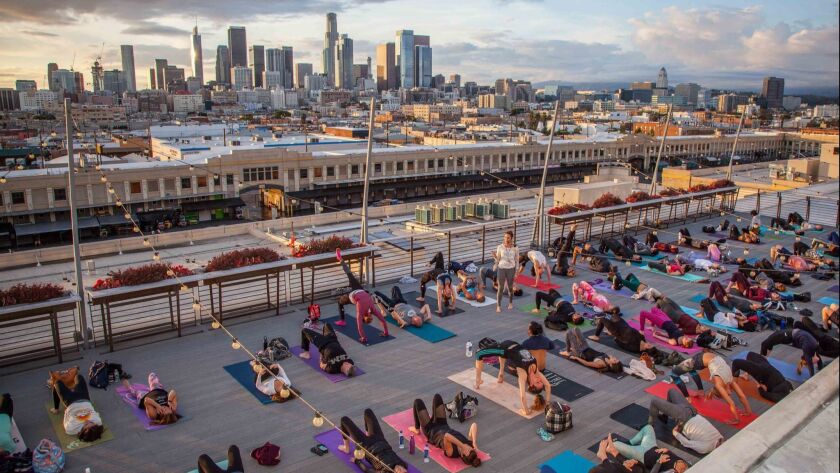 This summer series will include a 75-minute yoga session for all fitness levels while a DJ spins sound to "awaken lunar energy." After, enjoy more music, tarot card readers, chair massages and kombucha. The schedule for the rest of the summer is still in the works, so watch benderla.com for the latest.
The next event Henderson is co-orchestrating? Cloud City: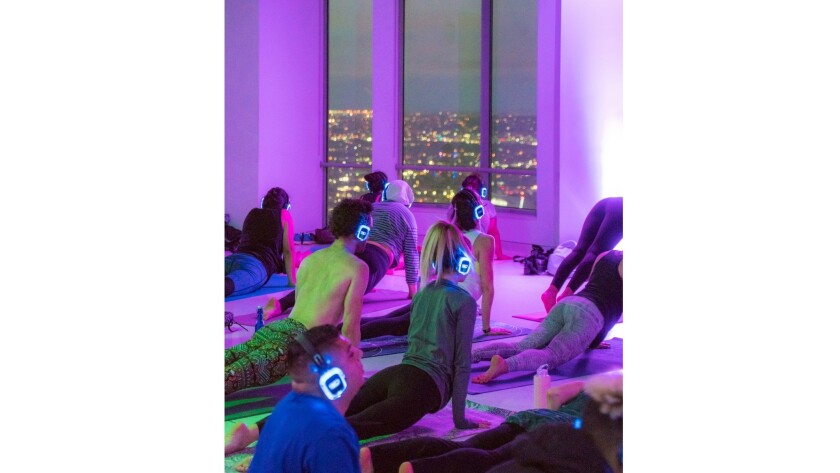 It all takes place atop U.S. Bank tower, on the 69th and 70th floors, starting with sunset yoga while overlooking the skyline, plus music and more until 2 a.m. including sound bathing, digital art, and a virtual reality visionary gardens. And don't forget, unlimited rides down the tower's outside glass Skyslide. Yikes.
When: Doors open at 8 p.m. July 20
Where: OUE Skyspace LA on the 69th and 70th floors of the U.S. Bank tower, 633 W. 5th St., Los Angeles.
Cost: $22 to $37
Info: benderla.com
As summer hits full swing, here are several more fitness series and special events that will allow yogis and fitness fans to dance at dawn, do sun salutations at sunset high atop a skyscraper or even stretch out before chowing down at a food festival:
::
Flow to the top
Shhhhh. This 75-minute vinyasa flow yoga session take place on the roof of the ROW DTLA (and is also an event co-produced by Bender). Like City Lights, the Flow + Flavor class uses "silent disco" headphones, allowing the instructor to send along fitness cues and music from resident DJs. Follow with brunch from more than 50 vendors at Smorgasburg, where you can go all in with cupcakes and ice cream or maintain that virtuous feeling with vegan tacos. Shop ROW DTLA when you're done.
When: 10:30 a.m. on July 8, Aug. 5, Sept. 9, Oct. 7, Nov. 4 and Dec. 2.
Where: ROW DTLA rooftop, 777 S. Alameda St., Los Angeles.
Cost: $20 to $25
Info: benderla.com
::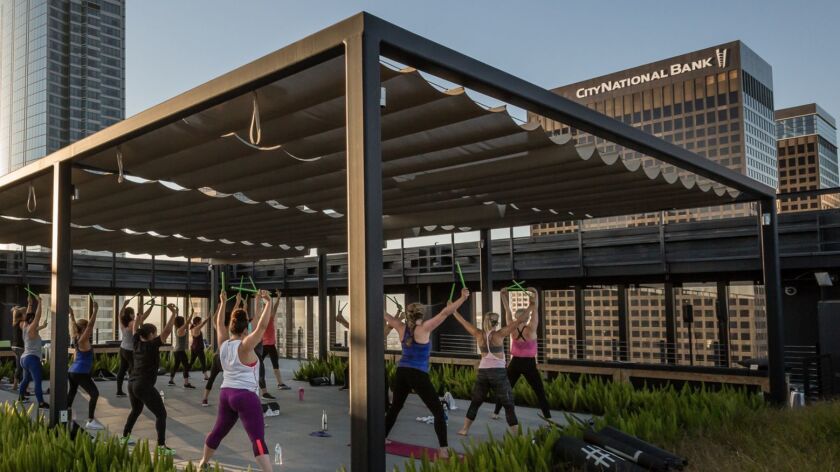 It's a Bloc party
After a $180-million renovation turned the former Macy's Plaza into the Bloc and added creative office space and health-oriented shops and restaurants, the center's operators added fitness events that have brought new energy to the modernized mall. The monthly FitspoLA workouts on the 34th-floor rooftop have featured the Pound workout, a popular high-intensity interval training that uses yoga and Pilates-inspired movements: Participants beat weighted drumsticks to energizing music while overlooking downtown and the Hollywood Hills. "Instead of just taking a Pilates or a spin class, people are really looking for something that is more engaging and has more of an entertainment aspect to it," said Meg Byrne, branding and marketing manager at The Bloc.
When: Doors open 6 p.m. July 25, Aug. 15 and Sept. 19.
Where: 750 W. 7th St. (Parking at 700 S. Flower St.)
Cost: Free to tenants of The Bloc; otherwise, $10 plus tax.
Info: theblocla.com
::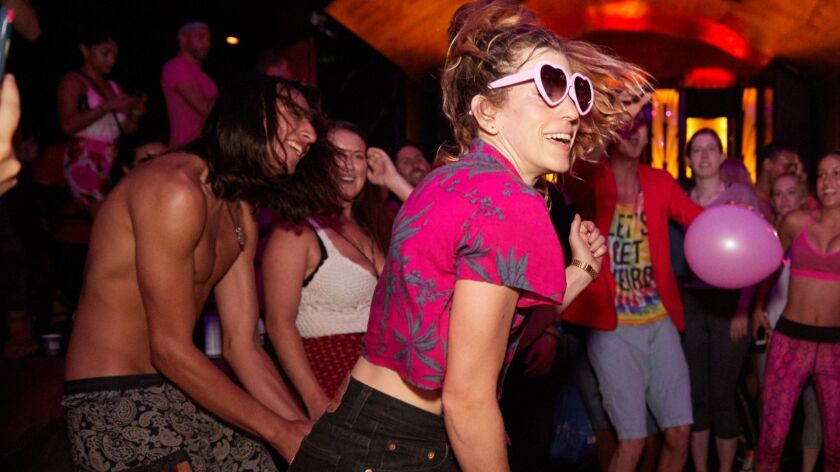 Set sail at dusk
A Midsummer Night's Masquerade sets sail in Marina del Rey with the organizers behind the popular Daybreaker events (where energetic souls greet the sunrise with a workout or yoga for an hour, then dance to live music for two hours before punching the clock at their 9-to-5.) The events starts as the sun starts to dip: "We'll dance and play… set to the backdrop of a fiery, golden sunset," organizers promise. And who knows, maybe a little romance will break out. Sprightly spirits are expected to make an appearance, "so come donning any alter ego you wish."
When: 6 to 6:45 p.m. yoga, followed by a 7 to 9 p.m. dance party on July 19. Cast off is 7:15 p.m. sharp
Where: 13755 Fiji Way, Marina del Rey
Cost: $35 to $45
Info: daybreaker.com
::
Morning yoga — and mimosas
Locals and guests at the La Peer Hotel in West Hollywood can use yoga to start their day with the new monthly Yoga Wake Up Rooftop Summer Series. Held on the last Saturday of the month through September, the rooftop classes are an in-real-life version of the Yoga Wake Up app that's essentially a yoga-in-bed alarm clock (it delivers yoga audio sequences). Only, unlike your workday routine, this workout finishes with a complimentary mimosa by the pool.
When: 10 to 11 a.m., June 30, July 28, Aug. 25 and Sept. 29.
Where: La Peer Hotel, 627 N. La Peer Dr., West Hollywood.
Cost: $25; free to hotel guests
Info: consciouscityguide.com
---