L.A.'s hot new swim workout includes a hip-hop soundtrack — underwater
Even swimmers with very basic freestyle skills can use this a low-impact circuit training class to improve their stroke and get a heart-pumping cardio and strength workout. Video by Genaro Molina / Los Angeles Times
You don't have to be a talented swimmer to channel your inner athlete at L.A.'s hot new water workout, SwimTeam.
Even swimmers with very basic freestyle skills can use this a low-impact circuit training class to improve their stroke and get a heart-pumping cardio and strength workout.
And unlike other water workouts, you can still hear the coach's cues and hip-hop soundtrack underwater, thanks to SwimTeam's special headsets.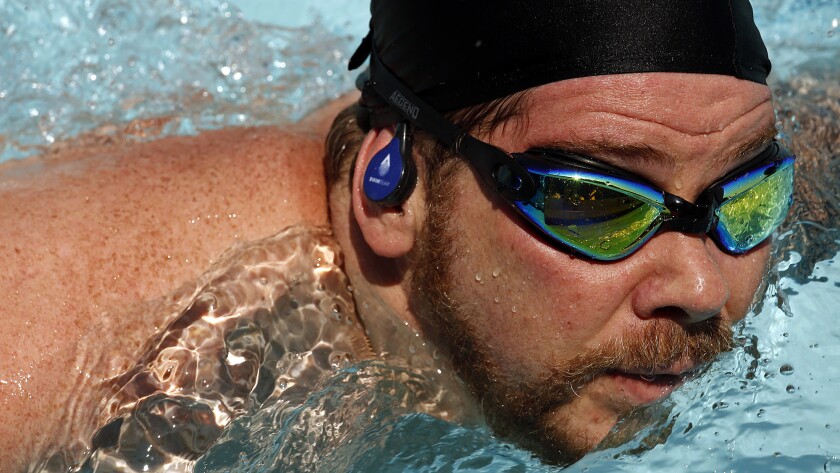 Aura
The vibe at SwimTeam is social and decidedly no-nonsense, with classes held mostly at public pools in Culver City, West Hollywood, Bel-Air, Santa Monica, Venice and Tarzana. Just show up in your suit, and a swim cap and goggles. Headsets are provided.
A crowd of 10 swimmers gathered on a recent Sunday at the public pool in West Hollywood ranged from those looking to reconnect with lap swimming, to a pregnant woman needing a low-impact workout. A few like me were just looking to stay fit and cool off in 90-plus-degree weather. Whatever the reason, we were all challenged, as Coach Gage Robinson took us through laps and sprints across the 75-foot pool, interspersed with underwater strength intervals.
"Keep your legs straight," he cued, as we kicked, or "Try to keep your shoulders under the water" as we used our arms as levers in trunk rotations.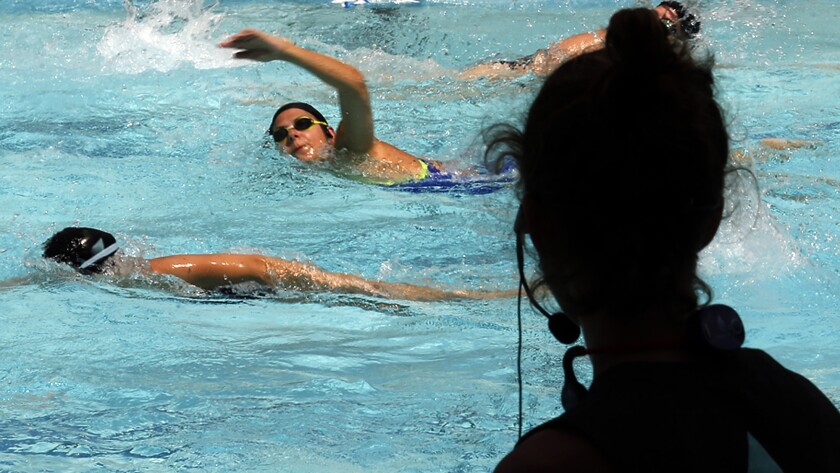 Effort
While you might not feel sweat rolling down your face in the water, make no mistake, this workout is fast-paced. Laps across the pool run right into 45-second intervals of strength exercises such as those baseball bat trunk twists, the side mountain climbers, or kicks and punches treading water.
You barely have time to catch your breath for a few seconds before you're swimming back to the other side of the pool, to do another round of exercises. And once this is done, you're on to a series of short sprints, one of them for time, so you can record your progress. It's not about competition, and there are no races among class participants. It's really all about pushing yourself to go faster and improving your form.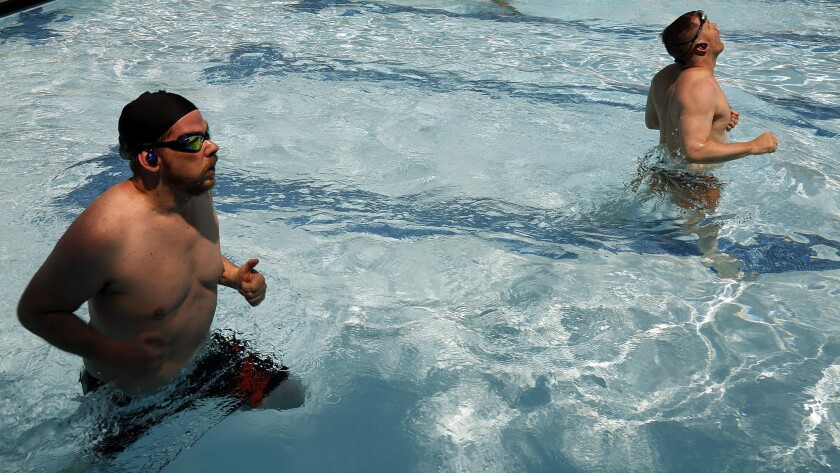 That said, this class is no substitute for swim lessons. While you might get some minor cues to tweak some aspect of your stroke, what's coming through the headset is mostly encouragement and humor, as well as the cues and explanation of the exercises. (For those that need more help, SwimTeam instructors are available for private lessons.)
It goes by quickly, and in the end I had logged about a half-mile swim in class (not counting the warm-up or cool-down laps) and completed 16 sets of strength exercises. By the final sprint, I was gasping for air and beyond ready for the floating cool-down.
Style
With many of these exercises — or if your freestyle stroke looks as rough as mine — it helps to keep a sense of humor. Several times I caught myself switching to breast stroke to catch a bit of a break, but no one else — including the coach — seemed to care.
Still, because of the sheer number of laps involved, the SwimTeam class would be difficult for a new swimmer, or someone who had been away from exercise for some time.
But for those who want to challenge themselves in the water, or just need a little more motivation to get back in the pool, SwimTeam, which runs year-round, would be a good fit.
SwimTeam
Classes are currently available in Culver City, Hollywood, Santa Monica and Tarzana. More pools coming online soon.
Cost: $30 per class with loyalty discounts for those taking more classes.
Find SwimTeam pools and schedule at swim.team.
READ ON!
Yes, you can eat your way to beautiful skin
10 high-tech gadgets to help you get to sleep
How 'Scandal's' Katie Lowes hid her psoriasis
7 steps to making your health your No. 1 priority
---