L.A. Walks: Hollenbeck Park / Boyle Heights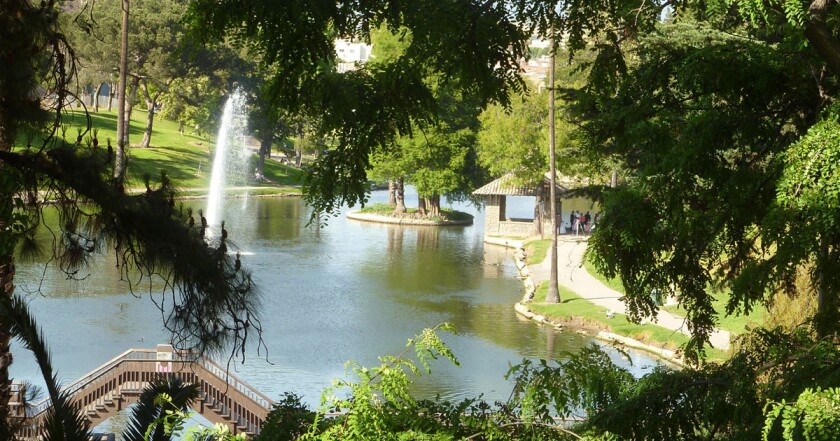 Nobody walks in L.A.? Ridiculous! A gentle, flat walk in an urban setting, this is an East L.A. oasis in the midst of historic Boyle Heights, filled with old city history and fine downtown views. It's a popular weekend destination for local families for Saturday strolling or Sunday picnicking.
1. Begin at Mariachi Plaza. Check out the musicians waiting for a gig, or grab a bite from one of the many Mexican restaurants.
2. Boyle Avenue is a row of historic addresses. The site of the Keiro Retirement Home and Keiro Intermediate Care Facility was once the home of Andrew Boyle, the landowner for whom the area is named.
More from L.A. Walks: Explore Los Angeles by foot
3. Also see the Neighborhood Music School at 358 and the Elmer Simons home at 504 Boyle.
4. Hollenbeck Palms is also a retirement home, started in the 1890s by real estate tycoon John Hollenbeck and his wife.
5. Hollenbeck Park sports jacaranda, palm, eucalyptus, magnolia, coast live oak, varieties of pine and bamboo. On islands in the lake, home to ducks, geese and other water fowl, are stands of redwood trees. The park is clean and outfitted with ample benches and seats.
6. On the hilly side of the park, which presents park, which presents gorgeous views of the downtown skyline, brides and grooms pose for photos, with Hollenbeck's lake and fountain as a background. So do quinceañera courts, dressed to the teeth.
7. For a picnic, pick up a taco from El Rey Principe food truck or an ice cream from one of the many paleta vendors passing by.
8. Across the street, the beautiful old Linda Vista Community Hospital looks abandoned and haunted. Soon to be condos, it's a busy film set. Shoots here included "Pearl Harbor," "Outbreak" and "ER."
THE STATS
Distance: 2.5 miles
Duration: 1 hour
Difficulty: 2 (out of 5)
Transit details: Metro Gold Line, Mariachi Plaza stop. Metro bus No. 620, Local No. 30. Free street parking.
---