Los Angeles has has so many great places to run outdoors. So why are so many people paying to run indoors?
That piece of gym equipment that everyone loves to hate is now at the center of one of the hottest boutique fitness trends: treadmill running classes.
Rather than strapping on shoes and hitting the pavement to enjoy a free run in SoCal's near-perfect weather, an increasing number of locals are plunking down as much as $30 a session to run inside on a piece of gym equipment they had probably ignored for years. In fact, says David Siik, developer of treadmill running classes for high-end fitness club Equinox and author of "The Ultimate Treadmill Workout," a majority of people who walk into his classes for the first time immediately offer the disclaimer "I'm not a runner."
But it's these reluctant runners — and runners who want to run with a group but are afraid of getting left behind — who are fueling the boom in treadmill studios.
Fitness class subscription service ClassPass said demand has helped drive its treadmill class offerings up 82% since 2017, making it the fastest-growing niche among its boutique fitness clubs — small studios that cater to specialized workouts and often offer a luxe experience compared to a big-box gym.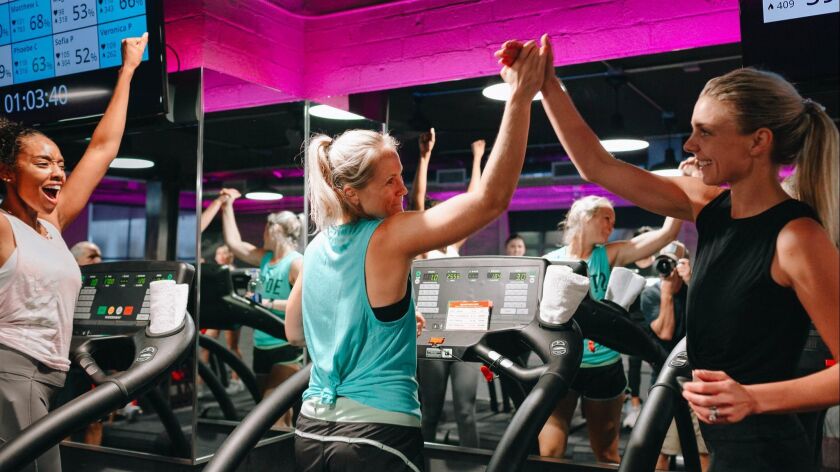 Misa Dugally, co-owner of Stride Treadmill Studio, which opened in Pasadena in 2017, remembers that feeling when her friend and fellow co-owner, Katie Ownbey, first persuaded her to give running outdoors a try.
"I felt very uncomfortable doing it," Dugally says. "I didn't think I looked like everyone else." Working on a treadmill, she says, gave "me the confidence to go out and be with other runners."
"It's really about doing it together," agrees Ownbey. "When you're running on a treadmill in a group, everyone starts together and finishes together. It's about community and helping people reach their goals together."
Kevin Hockins, 37, a coffee shop owner from Altadena, says he "despised running" when he took his first class at Stride Treadmill Studio in Pasadena almost one year ago. He did it, he says, mostly out of curiosity after getting a free trial from ClassPass. But soon he was hooked.
"I needed the structure and discipline of someone telling me what to do and how to do it," he said. "You don't have to think, you just let your body do the work. (Hockins dropped 25 pounds since he started and finished the Los Angeles marathon — his first — in March.)
He still hits classes four to five days a week at Stride, in addition to his outdoor runs. "I like the community," he says.
Stride is one of the treadmill studio brands ramping up for nationwide growth: It was recently acquired by Irvine-based Xponential Fitness, which franchises Club Pilates, Pure Barre and other fitness studios across the country. (The Pasadena studio and two others in Huntington Beach and Tustin will remain under the co-founders' ownership.)
Equinox, which currently has treadmill running classes at all of its gyms across the country, announced plans this year to spin off standalone versions of Siik's Precision Run studios: A West Hollywood studio with room for a gear shop, running assessments, a lounge and healthy drinks on tap will open this year, with a San Francisco studio scheduled to open next year.
Of course, that's on top of the explosive growth by treadmill-heavy fitness studios such as Orangetheory and Barry's Bootcamp that have opened larger numbers of studios across the country and abroad.
Even Peloton, known for its high-end spin bikes, got into the treadmill act last year, launching a $4,000 model with live and on-demand classes that allow home users to compete against each other and share stats on social media.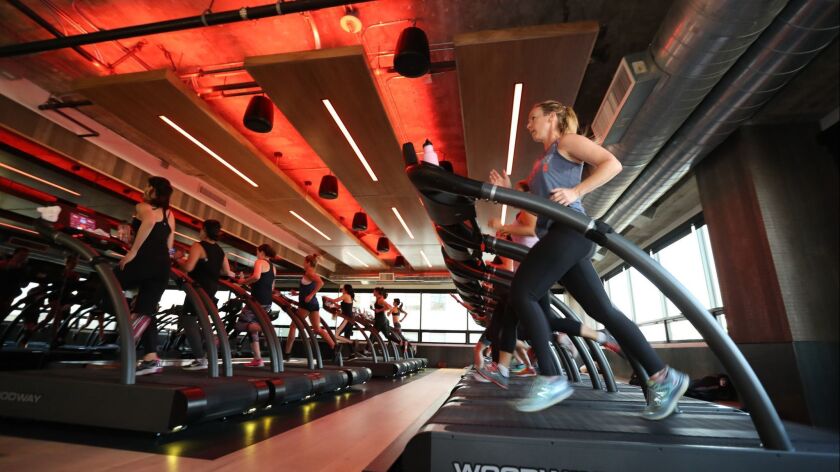 You can credit millennials for helping to fuel this trend, says Brian Smith, who keeps close tabs on the fitness industry as managing director for investment firm Piper Jaffray. "They spend a disproportionate amount of time and money on health and wellness," Smith says, while forgoing larger purchases. Indeed, the millennials surveyed by L.E.K. Consulting reported spending an average of $151 on health and fitness per month compared with just $63 for baby boomers. And 75% of millennials are doing it indoors at a gym or studio, according to L.E.K., which provides research on the fitness industry for investors.
Boutique fitness studios such as Stride make them feel they are getting something of a personal training experience, Smith says, at a price point that's cheaper than buying treadmill.
The high-intensity interval treadmill workouts offered at places such as Precision Run and Stride change constantly as they mash up different combinations of speed, incline, duration and recovery time.
Although it might sound intimidating to non-runners, treadmill workouts can be scaled to individual fitness levels, making them especially welcoming to beginners, Siik and Ownbey say.
The treadmills used in these studios probably aren't the kind gathering dust in your garage, but shock-absorbent, slat-belt Woodway treadmills that more closely mimic outdoor running. At Precision Run, the equipment features touch screens that have been specially designed to make it easier to slow down and change speed in your intervals midworkout.
The studio at Precision Run is dark, with "immersive" lighting that subtly changes colors from gold to amber to red as you run and a predominance of non-lyrical electronic music to get runners in the flow before throwing in a little Beyoncé or Lady Gaga to help you make it to the end of the interval set. Additional oxygen is pumped into the air to enhance performance.
During the class, Siik and other instructors provide cuing, encouragement and guidance on form, such as keeping arms smoothly moving front-to-back instead of side to side, to working on your stride.
This is not about slogging away for long periods at a steady pace. Classes at Precision Running are built around different interval routines and themes — 107 to be exact — such as the "ladder" workout I did recently of 30-, 50-, 70- and 90-second run intervals that build in both incline and speed before descending, or "April Showers," an incline-heavy routine that leaves you extra sweaty.
Some classes are run-only, others feature a handful of strength circuits with resistance band designed to complement the running.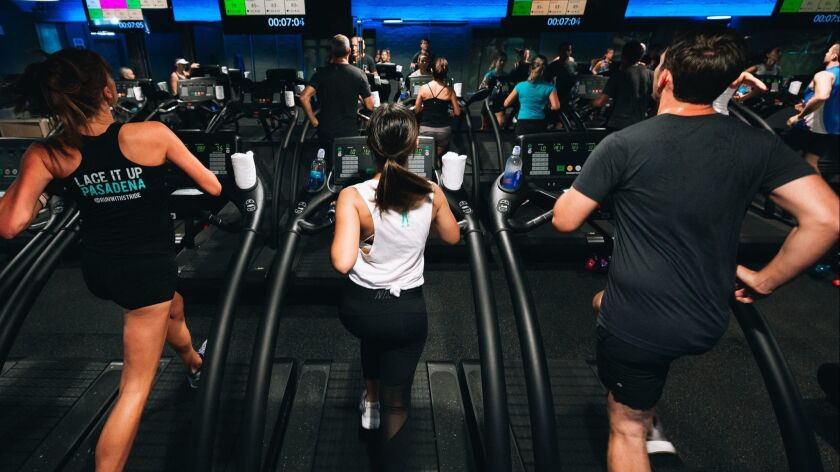 What's different at Stride is a chest-strap heart-rate monitor and a big display at the front of the room telling you how hard you're pushing. Instructors use that as a guide to give the class adequate recovery time, Dugally says.
Here, pop and hip-hop are programmed to the pace of each sprint, with laminated cards on each treadmill giving users a guide to recommended speed ranges at each training level, from recovery to sprint. Most people walk away having run three to six miles.
Andy Rodemich, 42, a marathon runner and ultra-marathoner from La Cañada Flintridge, remembers being skeptical when a friend suggested he take a class at Stride. "I don't do treadmills," he remembers saying.
But, he says, he found that he pushed himself harder on the intervals when he did it with a group and an instructor encouraging him and guiding him through intervals and inclines.
"I can run outside and do 20 miles … and then come in here and do an interval class and feel just as tired or more tired. This is the icing on the cake to make my training that much better." Indeed, after adding a couple of treadmill runs a week to his training, he says, his marathon time dropped from 3:20 to just under three hours.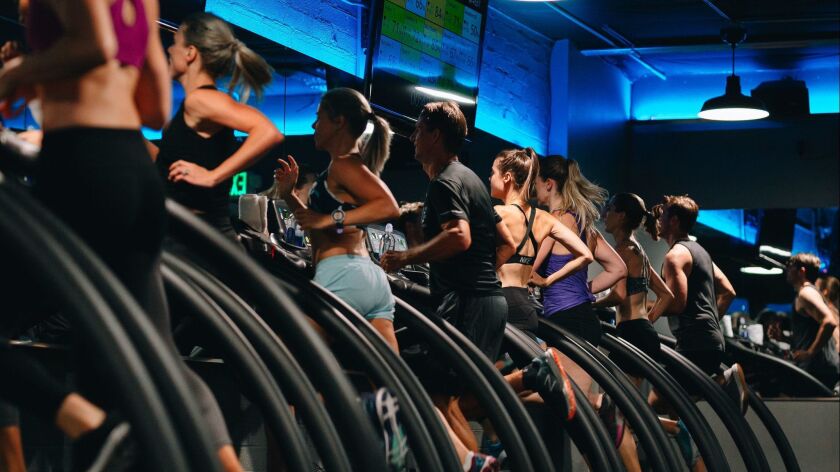 Treadmill running is not a substitute for outdoor runs, however, particularly when it comes to race training, says Lynn Millar, chair of the department of physical therapy at Winston-Salem State University.
You don't have the same level of air resistance that you do outside, Millar says. Your gait is typically shorter on a treadmill, and you don't use the same level of knee flexion on a treadmill to disburse the force of each foot strike. Of course, you're also not using quite as much force to push off the ground when you use a treadmill.
"You're not propelling as much on the treadmill because it's propelling you," Millar says, which is why treadmill studios often do their recovery at a 1% grade, to more closely mimic the experience of outdoors.
You're also, she says, not recruiting as many muscles if you're not jumping curbs, and dodging people, animals and cars. But, Millar says, "You're still getting a good workout." And, she says, it's a great controlled environment to learn to run.
For Siik, the success of indoor running has been validating. "There are people now who … say 'I am an indoor runner,'" Siik says. "They feel like a legitimate runner even if it's on a treadmill.
"It's a lifestyle choice."
---