Reading Nook: Philippe Besson and his Paris balcony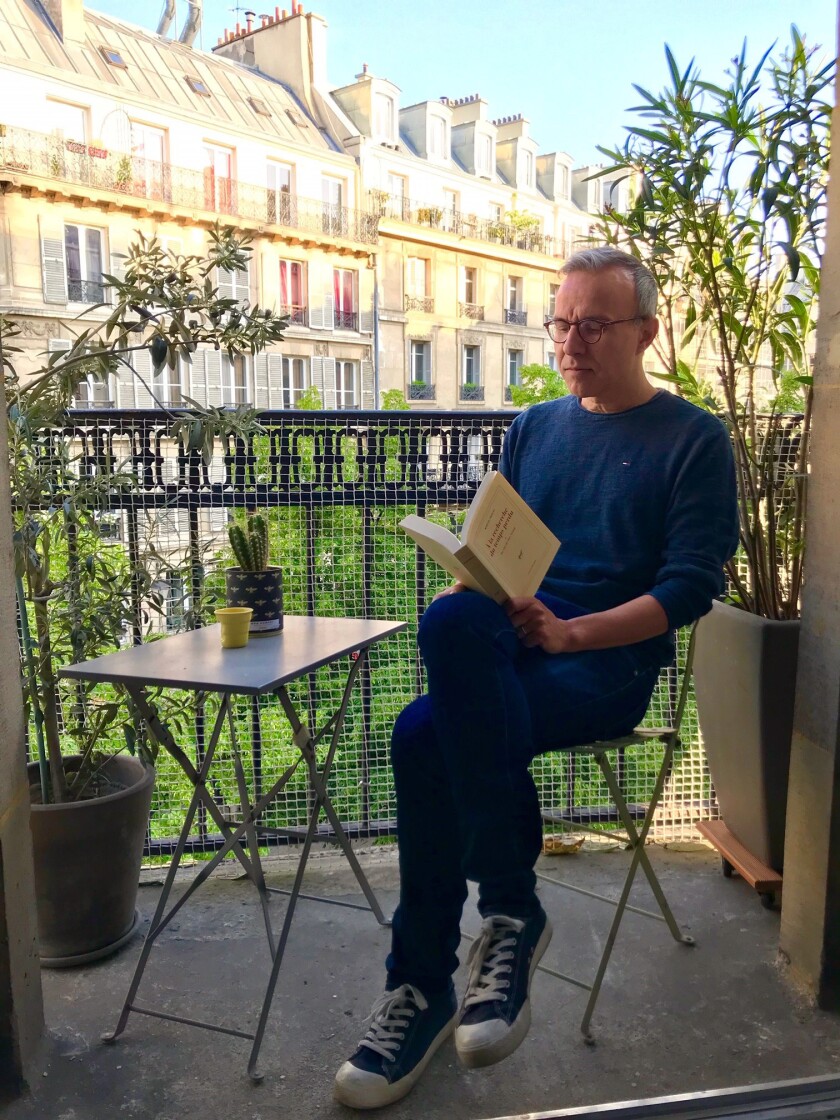 Let me tell you: My apartment in Paris is located near the Centre Pompidou.
If you've ever visited the French capital, you know what I'm talking about — that big contraption that looks like a colorful oil refinery, with its blue air conditioning tubes, green pipes, yellow power lines, red elevators, rolling escalators visible behind a gigantic glass facade, placed at the very center of the city, where the heart of Old Paris beat, long ago, not far from Les Halles.
I like this place that at first shocked people, because sometimes we find it hard to deal with anything that is out of the ordinary, but to which they eventually got accustomed.
The street where I live leads to it. It is a pedestrian street, with old cobblestones and young trees, oddly calm despite the busy terraces of the neighboring cafes and the constant comings and goings of the passersby. From my windows, I can see the treetops and feel the reassuring presence of that postmodern steamer in the distance.
I am lucky to have a balcony. There, I put a table and a wrought iron chair between an olive tree and an oleander. This is where I sit to read on sunny days; the sun is a pleasant company when you turn the pages of a book.
At the moment, I am reading Romain Gary, who was formerly the consul of France in Los Angeles, and who, in "The Night Will Be Calm," recalls his life. He especially conjures up Hollywood in the 1950s. He writes some lovely words about Katharine Hepburn and Spencer Tracy: "She was devoted to him while he was married to another woman, it lasted twenty years and the spring kept them company all the way."
I must admit that plunging back into that era is exhilarating for us French dreamers, who love myths and want to believe that a springtime could last 20 years. It's even more delightful and disarming to be carried away by a book from the balcony of a Paris apartment in 2019.
Reading takes us elsewhere, to another geography, another temporality. And when we end up closing the book, normal life comes rushing back. For me, normal life is the balcony, the treetops, the branches of the olive tree, the scent of the oleander, the heat of the sun.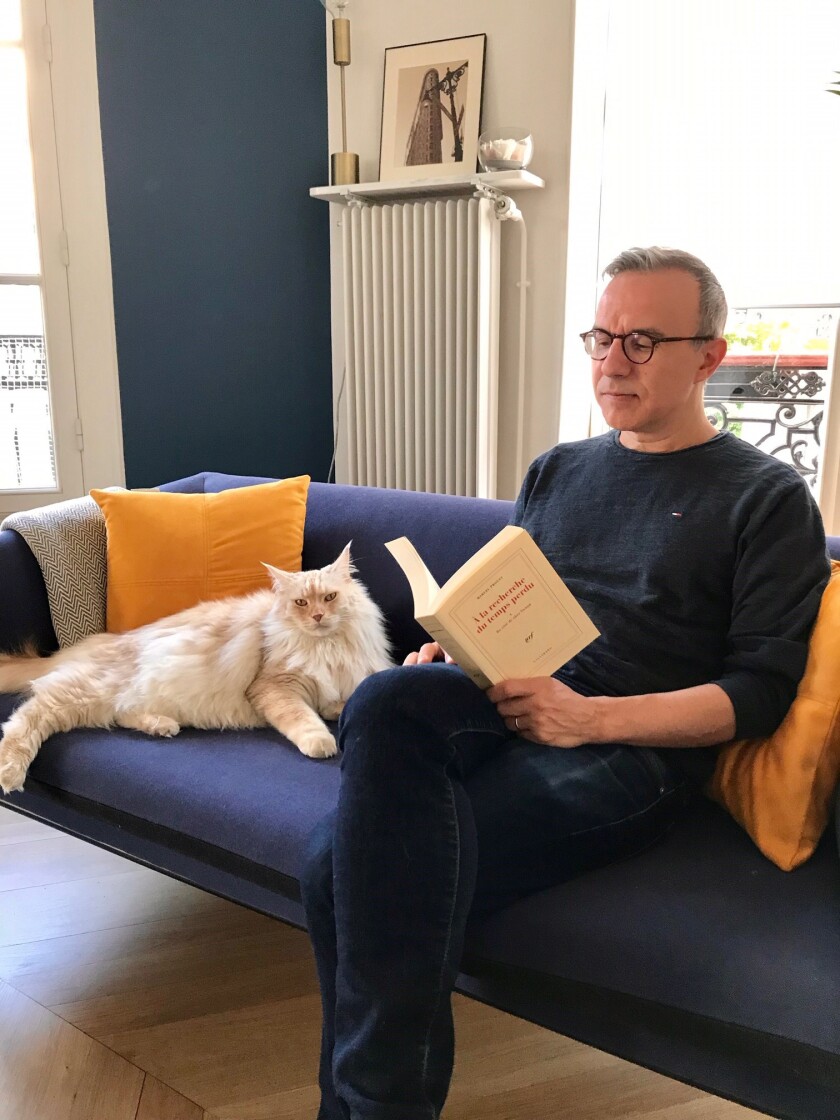 For the rest of the year — in the fall, in the winter — I read in my living room, comfortably ensconced in a blue sofa, which I bought in a lovely shop located in the Marais on a day when I wanted to change the scenery, as happens to me sometimes. It is a large and bright room with a lot of windows, moldings on the ceiling, a fireplace, traditional herringbone parquet flooring.
Baron Haussmann, who renewed Paris in the 19th century, left his mark in many apartments. However, the true singularity of that room is the presence of my cat, a cream-colored Maine Coon named Leo. He has green eyes, ears with tufts of hair at their ends and a mane under his throat.
As soon as I sit on the couch to read, Leo climbs up, to his spot that no one denies him. He curls up in a ball, or rests on the orange pillows, and keeps me company the entire time.
He is both near and far, manifesting a desire for intimacy through this ceremony but maintaining a regulatory distance. He reopens his eyes from time to time, as if to check the progress of my reading. I've come to believe that he prefers I read long books, so that this moment that belongs only to him and me lasts longer.
Besson is the author of 18 books, most recently the novel "Lie With Me," which was translated into English by Molly Ringwald.
---