Still no toxic cleanup plan for Navajos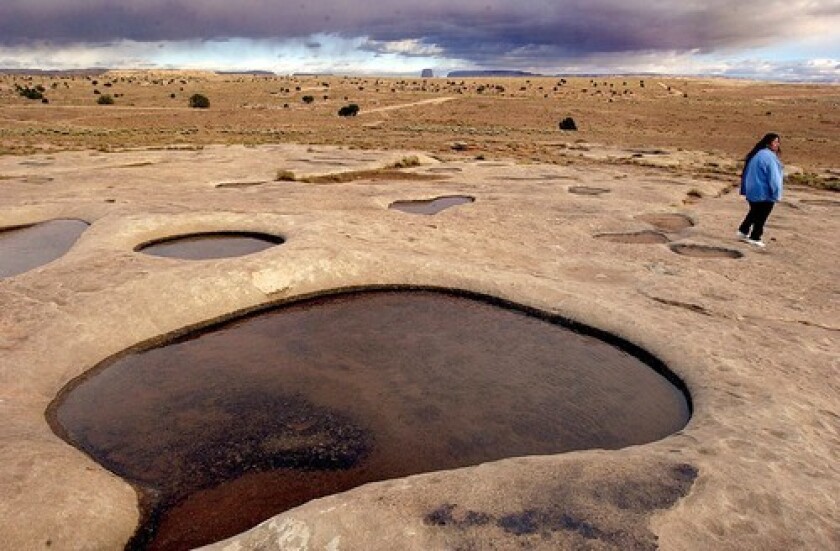 Los Angeles Times Staff Writer
WASHINGTON —
The Environmental Protection Agency plans to resume long-stalled testing for toxics on the Navajo reservation unleashed by abandoned Cold War uranium mines, but it and four other federal agencies have yet to come up with overall cleanup and health plans, their representatives told seven House members in a closed meeting this week.
The EPA, the Department of Energy, the Nuclear Regulatory Commission, the Bureau of Indian Affairs and the Indian Health Service were summoned to meet with five Democrats and two Republicans on Wednesday. The meeting was a follow-up to an October hearing of the House Committee on Oversight and Government Reform on the long-standing failure to protect the tribe from toxics and radiation.
Most of the 1,000 mine entrances at 520 sites have been sealed off, but groundwater is contaminated, waste piles still cascade down hillsides and erosion of dirt cover allows radiation to resurface. The EPA has concluded that some of the exposures on the reservation can lead to lung, bone, liver and breast cancer.
Committee Chairman Henry A. Waxman (D-Beverly Hills) called the situation "a modern American tragedy." At the hearing, which was prompted by a Los Angeles Times series published last year, the Navajo government asked for $500 million as an initial allocation to get a thorough remediation underway, as well as more manpower for tribal and federal efforts.
Waxman told the agencies to report back again in six months. "We have a duty to make this right," he said later.
In coming months, the EPA plans to test 70 homes built with uranium ore or waste from processing mills that have been known about for many years but never examined. Hundreds more structures have been identified within a quarter-mile of the old mines, but have not been checked for toxic construction materials. The EPA also will revisit 41 water sources where dangerous levels of uranium were documented in the last three to 10 years.
In addition, the agency has paid $150,000 for a "circuit rider" who will offer testing and advice in settlements where Navajo families drink untreated water.
The Navajo reservation, the nation's largest tribal homeland, encompasses parts of Arizona, Utah and New Mexico.
The EPA has also listed 18 large abandoned uranium mines for examination for potential Superfund status.
Navajo officials characterized the session as a start. "We have the beginnings of what we need, which is the agencies talking to each other, but we're very far from what our stated goals were," said Navajo environmental director Stephen Etsitty, who was at the session.
---