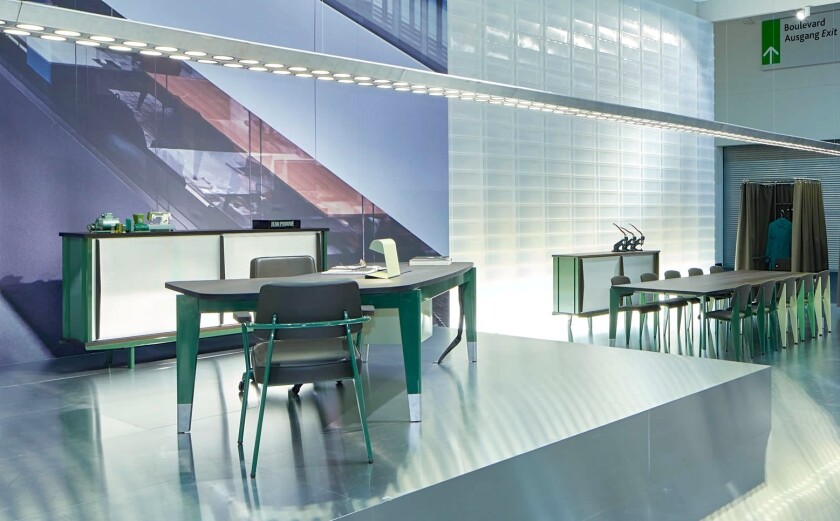 The "suits" at G-Star Raw, the Dutch premium denim label, certainly know how to motivate their employees. In 2014 the fashion firm commissioned acclaimed contemporary Dutch architect Rem Koolhaas to design its new headquarters in Amsterdam, then furnished it with new iterations of classic 1940s and '50s designs by the late French Modernist Jean Prouvé. The result: a workplace that merges 21st century technology and midcentury industrial swagger.
Now, in collaboration with Vitra, a Swiss family-owned furniture company, the Prouvé Raw Office Edition is being exhibited at the Vitra showroom in Culver City through Sept. 21. Collectors take note: The furniture will be sold only through the end of 2016.
"All the pieces are products that Prouvé designed some 70 years ago for the interiors of several French corporations and universities," says Pieter Kool, G-Star Raw's director of 3-D design. "Some designs haven't been manufactured since their initial release in the 1940s."
Are you a real estate junkie who likes luxury homes and celebrity cribs? Sign up for our Hot Property newsletter
As an architect as well as industrial designer, Prouvé often employed signature elements, including an almost triangular back leg on chairs, which adds structural support and creates a silhouette that resembles a ship's rudder or a fin on a classic car.
"We were very focused on staying as close as possible to the original designs. This led, for example, to the use of aluminum handles and solid natural oak in the designs, materials you don't see used as often nowadays," Kool adds.
In addition to modern updates, including soft-close drawers and electronics ports, G-Star Raw ordered the natural oak furniture in two shades for table and desktops, and steel components in three shades of green: antique, industrial and olive.
"The origin of the colors lies in workshop machinery," Kool adds. "Back in the 1940s the paints in these colors were widely available and durable."
A recent preview of the collection revealed that Prouvé Raw Office Edition is as sturdy, precisely manufactured, comfortable and handsome as it is pricey. A fully loaded Bureau Présidence desk is priced at just shy of $20,000, and the industrial-elegant Bahut storage unit with diamond-patterned metal sliding doors starts at $16,265.
These may attract corner-office showoffs, but there are also (slightly) less expensive options for homeowners, too, including the leather-upholstered 1939 Fauteuil de Salon Haut, a swank and low-slung alternative to a club chair, for $5,365, and the Standard SR, a side chair that can find its way to the dining table for $1,365.
Prouvé Raw at Vitra
Where: 8753 W. Washington Blvd., Culver City
When: 9 a.m. to 5 p.m. Mondays through Fridays and by appointment. Ends Sept. 21.
Info: (310) 839-3400
ALSO:
Oakland-based Esqueleto opens new showroom in Echo Park
Is this the ultimate Ikea hack? Greycork unveils flat-pack, tool-free furniture
Bohemian Haskell Collection latest addition to hip 17th Street in O.C.
---