Four Hours: The magical, mystical sights and scents of Burbank's Magnolia Park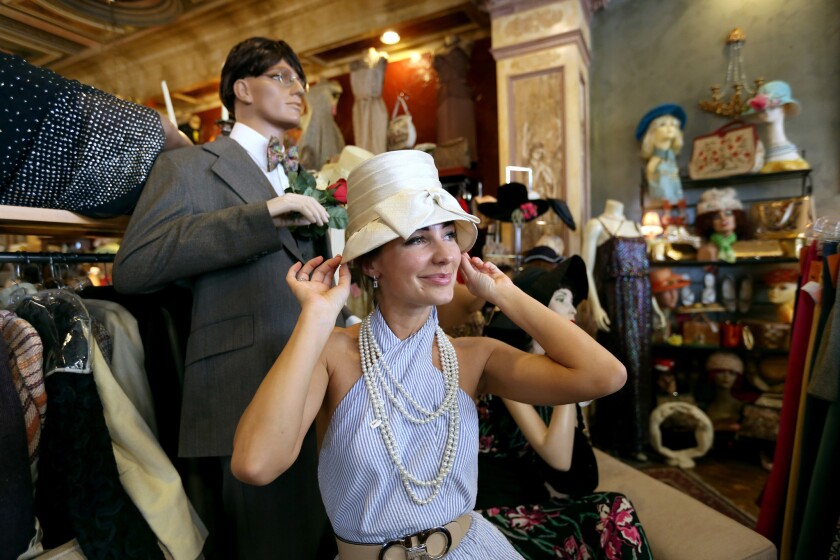 Alex Wilson, 35 of Los Angeles, tries on a vintage hat at Playclothes Vintage, in Burbank.
(Raul Roa / Staff Photographer)
Shop for gems and get your tarot cards read at The Bearded Lady Vintage Oddities in Burbank.
(Raul Roa / Staff Photographer)
Playclothes Vintage specializes in clothing from the 1940's through 1960's.
(Raul Roa / Staff Photographer)
Roxy Jamin, 17 of Glendale, right, and Jaimee Dormer, 34 of Pasadena, shop for vintage clothing at Playclothes Vintage.
(Raul Roa / Staff Photographer)
Shelby Hutchinson arranges necklaces at Playclothes Vintage.
(Raul Roa / Staff Photographer)
Vintage clothing, furniture and accessories at Playclothes Vintage.
(Raul Roa / Staff Photographer)
Riley Caskey, 23 of Austin, Texas, left, and Lauren Nicole, 24 of L.A., stroll down Magnolia Blvd., in Burbank.
(Raul Roa / Staff Photographer)
The Witch of Wonderlust Olivia Graves, 22 of Pasadena, sets up her Tarot cards at the Mystic Museum in Burbank.
(Raul Roa / Staff Photographer)
Co-owner Kiko Bailey inside Bearded Lady Vintage & Oddities.
(Raul Roa )
Mystic Museum and Bearded Lady Vintage & Oddities co-owner Erik Wessel.
(Raul Roa/Staff photographer )
Alex Soto, left, takes photos of visitor Richard Smith, inside the Mystic Museum.
(Raul Roa )
Magnolia Park in Burbank features many independent stores.
(Raul Roa/Staff photographer )
Magnolia Blvd. in Burbank has a small town feel.
(Raul Roa / Staff Photographer)
Book a perfume session at Phoebe Peacock and create a custom fragrance based on your preferences.
(Lisa Boone)
Jennifer Hardaway creates a custom scent at Phoebe Peacock.
(Lisa Boone)
A citrusy custom scent for staff writer, Lisa Boone.
(Lisa Boone)
Some of the perfumes sold at Phoebe Peacock include Besame Mucho.
(Raul Roa / Staff Photographer)
The New Deal owner Kerry Krull, left, enjoys a fried chicken sandwich while her mother has the Mac & Cheese.
(Raul Roa / Staff Photographer)
The fried chicken sandwich from The New Deal in Burbank.
(Raul Roa / Staff Photographer)
As it stretches its way from Burbank to North Hollywood, Magnolia Boulevard is one of Burbank's most popular "stop, park and walk" destinations.
In recent years, as store rents have increased, some of the smaller, quirkier businesses have moved, but Magnolia Park's small-town charm remains. The family-run hardware store the DIY Home Center still exists. The Handy Market continues to host an open-air barbecue every Saturday. And on the last Friday of the month, more than 30 food trucks park along Magnolia for "Ladies and Gents Night Out."
On a single boulevard you can shop for vintage wares, enjoy a tarot card reading and create your own perfume. Along with long-established stalwarts like Porto's and Atomic Records, here are a few Magnolia Boulevard highlights worth your time: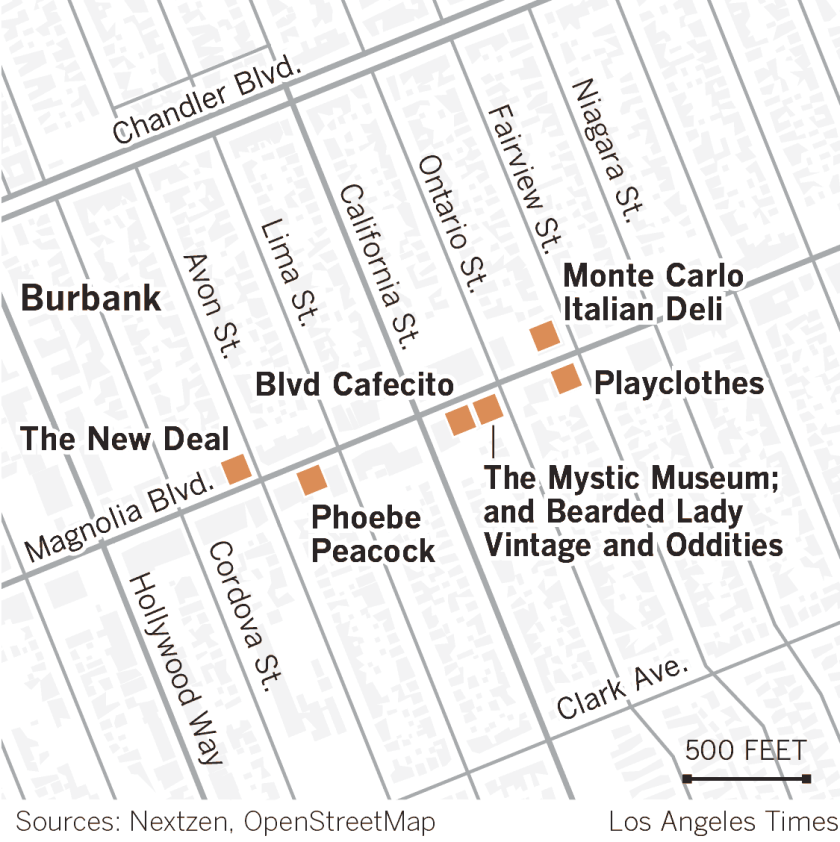 11 a.m. Book a KleanSpa perfume session at Phoebe Peacock, a boutique perfumery and gift shop at 3414 1/2 W. Magnolia Blvd., where you can create your own scent based on your personal selections. Prefer citrus? Musk or patchouli? Some of your likes and dislikes may surprise you as owner Jennifer Hardaway presents you with unidentified notes from more than 200 in stock. "Sometimes people think they like jasmine, but they don't," she says of the blind "sniffing session." Before you know it, Hardaway has created a roll-on fragrance or spray formula so appealing, you will want to reapply it throughout the day. (My citrusy scent included musk, ambergris and cedar bean, pink grapefruit, California grapefruit and pink peppercorn). A consultation and a roll-on signature scent starts at $75, more for a spray.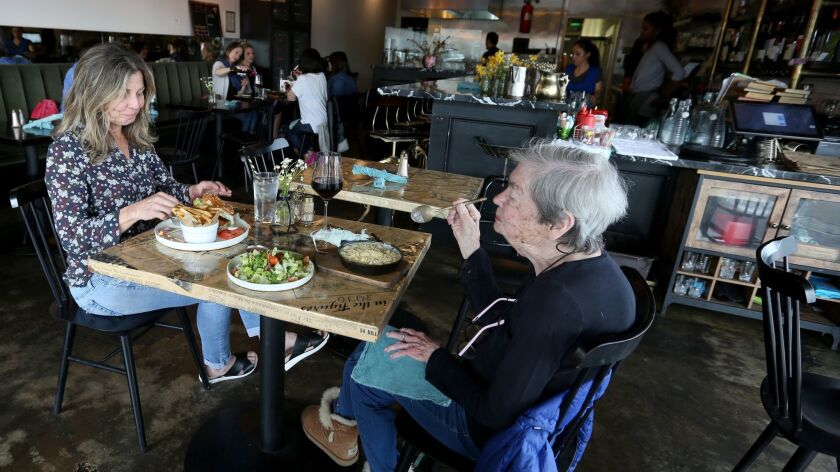 Noon. Walk across the street to the New Deal, a stylish family-run cafe at 3501 W. Magnolia Blvd. offering sandwiches, salads, burgers and some vegetarian fare. Watch the bustling boulevard — or "Sabrina" on a plasma screen over the bar — while noshing on an ahi burger, fried pickles or roasted heirloom carrots with burrata and pesto. Thoughtful touches such as paper straws, repurposed cotton napkins and vintage books used as bill folders, support the shopping district's dedication to recycling. Design tip: Don't miss the stylish decor in restrooms.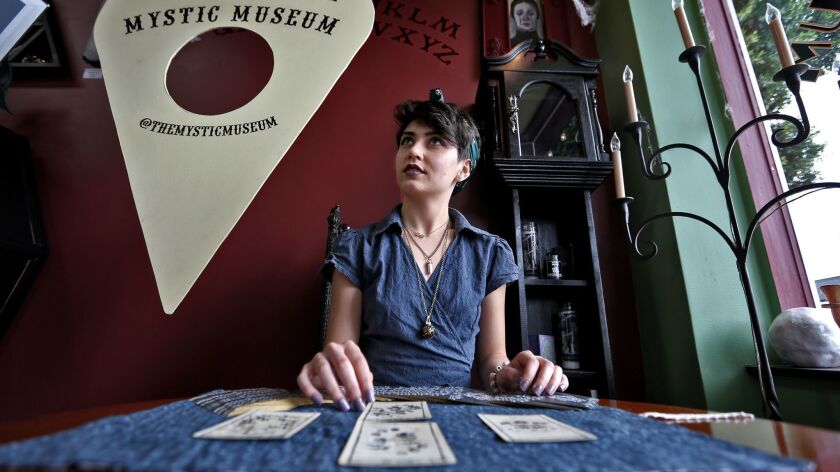 1:15 p.m.
Stop in for a tarot card reading at the Mystic Museum, in a ghoulish complex with Bearded Lady Vintage and Oddities at 3202 and3204 W. Magnolia Blvd. You can study spirit boards, occult displays,and stage Instagram-worthy "Chilling Adventures of Sabrina"-inspired photos. You can even levitate — we won't give the secret away here — for your feed. Cosplay encouraged but not required. Museum admission $10. Tarot readings start at $45. The free-to enter vintage and oddities store offers a wide variety of eerie items including ethically sourced taxidermy and antique medical tools.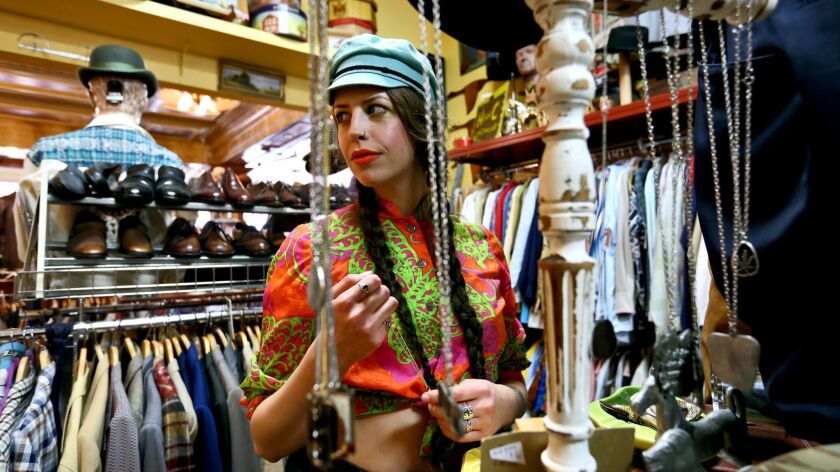 2:15 p.m. Grab a Mexican Mocha at Blvd Cafecito at 3210 W. Magnolia Blvd. and walk a few doors over to Playclothes, a vintage emporium at 3100 W. Magnolia Blvd., packed with clothing, accessories and housewares from the '30s to '80s. As you enter, a sign alerts visitors that Tiger Lily, the store's popular cat (there are two at the DIY Home Center as well) resides inside, a move that reinforces the boulevard's friendly vibe. Items such as purses, hats, gloves and bathing suits are grouped by era with an emphasis on clothing from the '40s through '60s. Home decor spans Victorian to shabby chic, including furniture, lamps, pottery and soft furnishings.
2:45 p.m. When you're done, walk across the street to the Monte Carlo Italian Deli at 3103 W. Magnolia Blvd. and purchase some pizza makings (its pizza dough is terrific) for dinner at home tonight.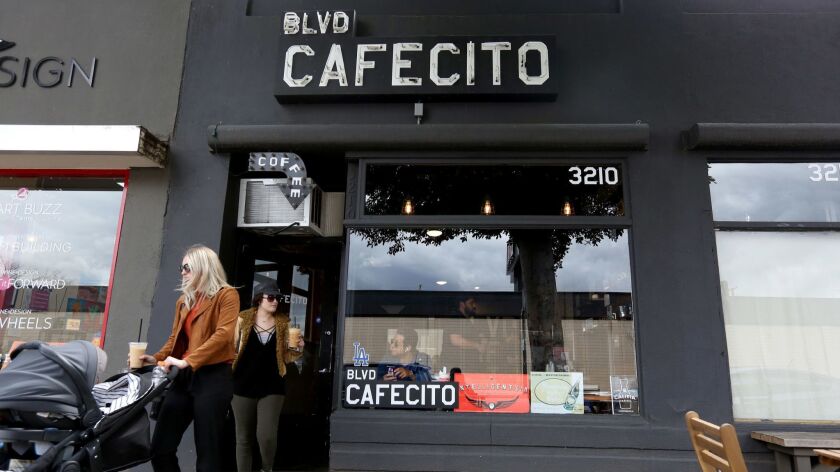 More Four Hours itineraries:
Four Hours: Exploring Rancho Palos Verdes — and whale watching
Four Hours: A kid-friendly guide to South Pasadena
Four Hours: Blast your cares away, then stroll bargain-filled Santee Alley for a new pair of kicks
---
The essential weekly guide to enjoying the outdoors in Southern California. Insider tips on the best of our beaches, trails, parks, deserts, forests and mountains.
You may occasionally receive promotional content from the Los Angeles Times.