Why deep watering may be the answer to your garden woes
Deep watering is the holy grail of vegetable gardening. We've heard a thousand times that pushing water deep into the ground forces plants to send their roots deep as well, making them stronger and less susceptible to drought.
But while the experts are heavy on the "whys," they've been a little short on the "how-tos."
Yvonne Savio, the retired coordinator of the UC Cooperative Extension's master gardener program in Los Angeles, has a simple, low-cost approach that — judging from her lush Pasadena garden — really works.
Savio, creator of the comprehensive Gardening in L.A. blog, simply "plants" 5-gallon nursery buckets between her tomatoes and other vegetables and then a couple times a week fills the buckets with water and lets it slowly drain into the soil.
While the water is running, she does other tasks, such as weeding, pruning or harvesting, "so it lets me do two things at once."
Savio developed the strategy years ago, after using gallon-size juice bottles in the garden and deciding those weren't big enough. "I had to fill them too many times," she said.
Now her garden is studded with sturdy 5-gallon nursery buckets, the kind that already have drainage holes in the bottom. If you haven't been saving your empty nursery buckets, most nurseries have an ample supply, she said, and sell them for a nominal fee, if they charge you at all.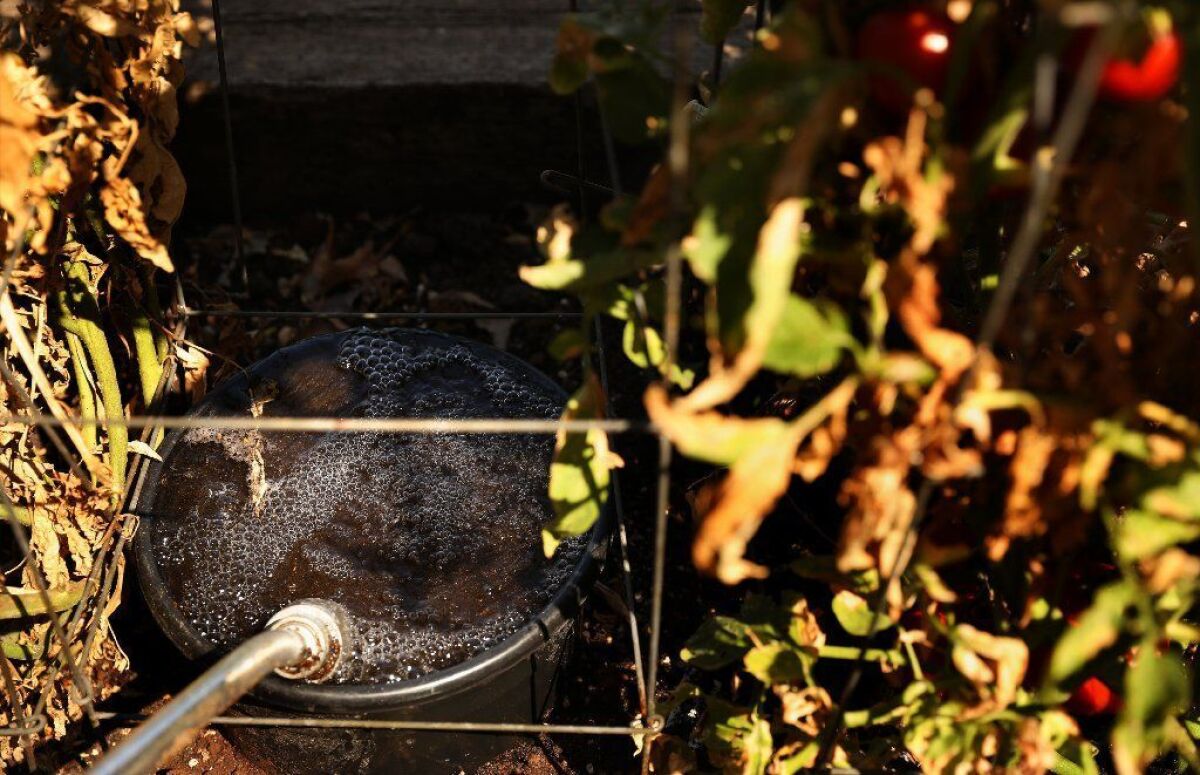 A few tips:
Use nursery buckets with thick, firm sides so they don't buckle once they're planted.
Intersperse the buckets about a foot between your plants, and bury them so their tops are about 4 inches above the soil. That depth leaves room for mulch and makes it harder for scampering lizards to fall inside.
The buckets make fertilizing easy. Add a shovelful of manure and, voila, you're watering with manure tea. Liquid fertilizers can be added to the buckets too; just follow directions on the label.
Savio installed her buckets years ago, leaves them in year-round and plants around them every spring. If you've already planted your garden, Savio suggests digging holes about a foot from your plants, until roots become visible, which may be just a few inches down. Stop digging when you see the roots, she said, so you don't disturb the plant, and place the bucket as far as you can into that shallow hole. The water will still go deeper than surface watering and allow you to add liquid fertilizer and manure too.
The legendary Southern California broadcaster Huell Howser visited Savio's garden in 2004 to learn about her many water-saving, composting and recycling techniques. You can watch the 30-minute video here; she describes her 5-gallon bucket technique about 15 minutes in.
Get our L.A. Goes Out newsletter, with the week's best events, to help you explore and experience our city.
You may occasionally receive promotional content from the Los Angeles Times.