10 cookbooks to give and get this holiday season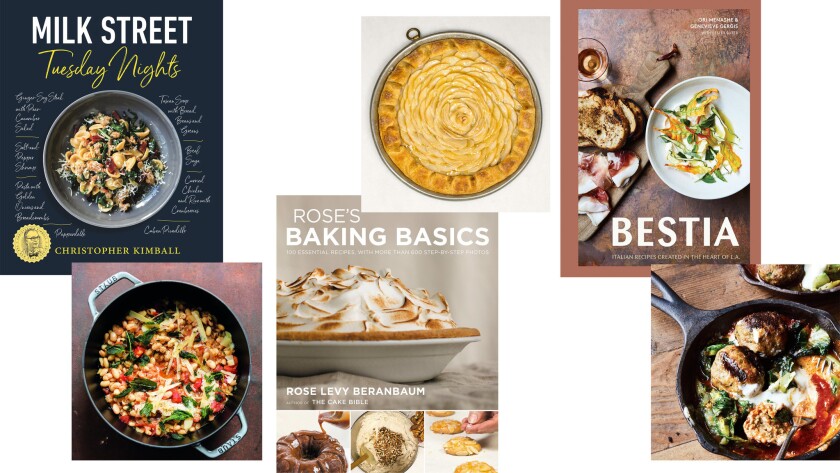 Cookbooks are some of the best gifts you can give your food-minded friends and relatives because they're easy to find, simple to wrap — and can often trigger reciprocal dinner invitations. Among this year's wealth of cookbooks are a few excellent baking books, some new books from award-winning folks whose other books might already be on your shelves, and two debut books from Los Angeles chefs. Here are 10 new cookbooks to put on your gift list.
"Rose's Baking Basics" by Rose Levy Beranbaum (Houghton Mifflin Harcourt, $35)
For the record:
11:40 AM, Nov. 02, 2018An earlier version of this post gave the name of an "I Am a Filipino: And This Is How We Cook" author as Nicole Fonseca. Her name is Nicole Ponseca.
Do you (or whomever you're gifting) need another of Beranbaum's baking books? You really do. This one, her 11th, features 100 recipes for the essential stuff: cookies, cakes, pies, tarts and breads along with toppings and fillings. What makes this book particularly useful is all the photos — 600 of them, apparently — often in step-by-step sequence. All these pictures are pretty, yes, but also practical because baking is so often somewhat intangible without visual aids. They also offer pretty good incentive because there's nothing like more than 300 pages of pictures of cupcakes, brownies, rugelach, chocolate rolls, lemon and blueberry tarts, and babka to make you want to start baking.
"The Nordic Baking Book" by Magnus Nilsson (Phaidon, $49.95)
Magnus Nilsson, chef of the acclaimed restaurant Fäviken in northern Sweden, does not write normal chef cookbooks. His last one, "The Nordic Cookbook," was a King James Bible-sized encyclopaedia of regional dishes with a glossary and illustrations to go along with many of his own photos. Nilsson's new book is along the same vein, this time documenting the baking traditions and recipes of his native Scandinavia. The variety is truly impressive: rye crackers, Faroese roulades, green marzipan layer cakes, Swedish beer soup and striped peppermint sticks. There are more than 450 recipes, illustrations and more of Nilsson's great photos — plus enormously fun things, such as pictures of tundra and boats, and a template for a gingerbread house.
Play our gift guide game and find the perfect present »
"Now & Again: Go-to Recipes, Inspired Menus and Endless Ideas for Reinventing Leftovers" by Julia Turshen (Chronicle Books, $35)
Cookbooks are often ambitious, aspirational things, filled with recipes that load our tables and refrigerators. So it's something of a relief to find one that celebrates the opposite: leftovers. Julia Turshen's latest cookbook is organized around the idea that we need guidance not only for what to cook for dinner but what to do with the extras afterward. So the more than 125 recipes in this book have follow-ups — secondary recipes built with the leftovers of the original recipes. It's a terrific, creative and wonderfully pragmatic approach. It's also flexible, as Turshen varies the leftover suggestions, using components, transforming the dishes wholesale, or simply pointing out that some dishes are best eaten cold the next day — or, in the case of baked pasta, pressed into a waffle iron. So much fun.
"I Am a Filipino: And This Is How We Cook" by Nicole Ponseca and Miguel Trinidad (Artisan, $35)
As the authors, who own and operate two of the best Filipino restaurants in the country, write in their introduction: "This is not just a cookbook. It's a manifesto." In the last few years, Filipino food has gone from a little-known immigrant cuisine, mostly experienced at home, to being on the forefront of American restaurant dining. Ponseca and Trinidad have been a big part of this, and their debut cookbook is a great guide to both the subtleties and history of the food, and the dishes themselves. From pancit and adobo to chorizo burgers and jackfruit ice cream, this book demonstrates the delicious mash-up of recipes that define the vibrant cuisine.
"Israeli Soul: Easy, Essential, Delicious" by Michael Solomonov and Steven Cook (Houghton Mifflin Harcourt, $35)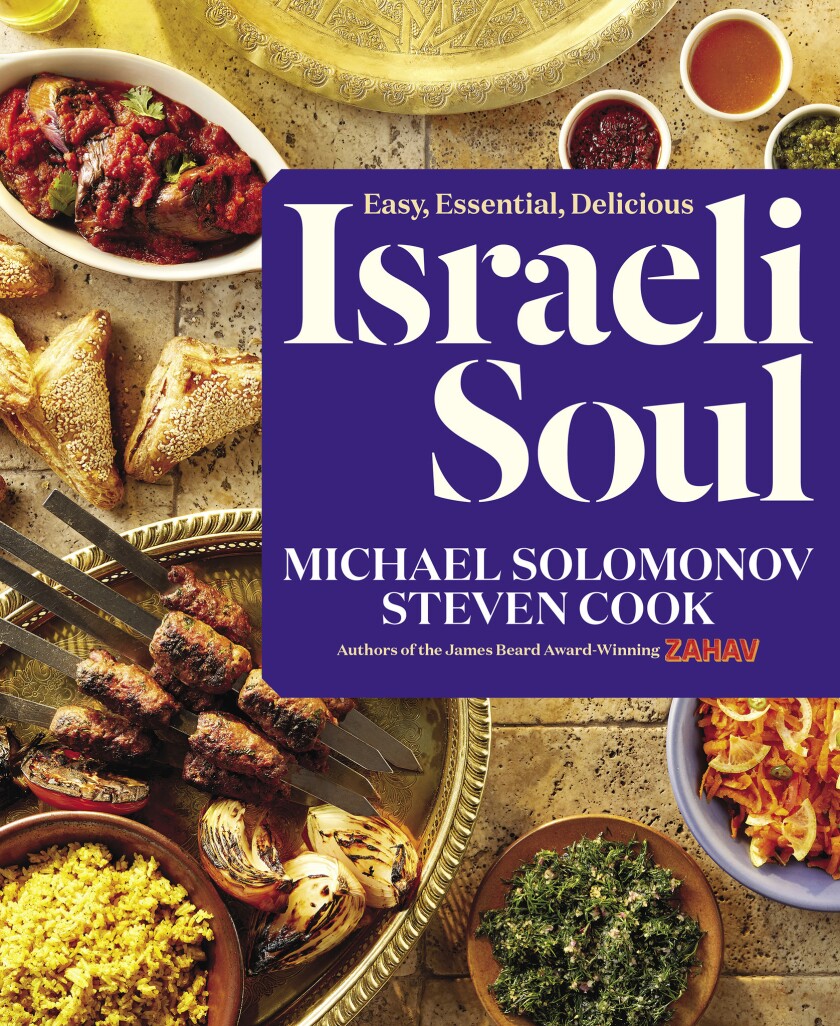 The follow-up to the pair's award-winning first book, "Zahav" — named for their Israeli restaurant in Philadelphia — this book showcases the informal food of Israel, the street food and home cooking. Falafel, shawarma, hummus, kebabs, plus cookies and halva and ice-pops. Timed to coincide with the 70th anniversary of Israel's founding, "Israeli Soul" is a celebration of the country as well as its food, threading short essays on various towns and traditions throughout the recipes. There are also step-by-steps and sidebars — Building Kebabs, the Three Stages of Coal — that are both exceedingly practical and fun to read, as well as short bits about other chefs and local markets that further liven the pages.
"Everyday Dorie: The Way I Cook" by Dorie Greenspan (HMH/Rux Martin Books, $35)
You likely already have a cookbook or two from Greenspan, the James Beard Award-winning cookbook writer, whose writing shows up regularly in the New York Times Magazine. Among her 13 cookbooks are "Dorie's Cookies" and "Chocolate Desserts by Pierre Hermé," which reflect the range of her considerable expertise. Greenspan's latest book is built around the dishes she cooks at home — simple, workmanlike stuff for weekday dinners with the family. This is Greenspan, so the recipes run the gamut from burgers, spaghetti and meatballs, and pimento cheese, which might be described as "everyday" for most of us; to flounder meuniere with onion-walnut relish, summer vegetable tian, and salmon brandade. Which means, basically, something for everyone — and yes, there are desserts.
"Chinese Heritage Cooking From My American Kitchen," by Shirley Chung (Page Street Publishing, $21.99)
The "Top Chef" alum's first cookbook comes right on the heels of her first Los Angeles restaurant, Ms. Chi Cafe, which opened in Culver City in early October. Chung's cookbook features more than 75 recipes that display her Chinese-American roots: Born in Beijing to a family who over generations lived in both China and California, Chung went to culinary school in San Francisco, and cooked for both Thomas Keller and José Andrés before going out on her own. Chung's dishes reflect that both heritages and techniques. So there's a Little Gem salad, that quintessential California farmers market dish, paired with salt-cured duck eggs; a recipe for Chinese shrimp and grits that "started as a classic Chinese garlic shrimp recipe," and melded Louisiana with "corn congee." With one chapter devoted to comfort food and another to condiments and hot sauces, this is just the sort of cookbook to head into the holidays with.
"Bestia: Italian Recipes Created in the Heart of L.A." by Ori Menashe and Genevieve Gergis with Lesley Suter (Ten Speed Press, $35)
Ever since Menashe and Gergis opened Bestia, their Italian restaurant in downtown Los Angeles, in 2012, the place has been packed. With the couple's first cookbook, which features 140 recipes from the restaurant, you can just make their intensely flavorful, creative dishes at home — since the place is still one of the hardest reservations in town. This is rustic Italian food, through the lens of Menashe's technique-intensive cooking: pastas an pizzas, pickles and charcuterie. There's an ample pantry section, with the mostardas, soffritto and sauces that are fundamental to the dishes, plus recipes for the 'nduja and salumi for the ambitious. And the final chapter is filled with Gergis' brilliant fruit-intensive desserts. Here's hoping the duo are already testing the follow-up to this book — their second restaurant, Bavel, is as hard to get a table at as their first.
"Milk Street: Tuesday Nights" by Christopher Kimball (Little, Brown and Company, $35)
Christopher Kimball, who co-founded America's Test Kitchen and started Milk Street in 2016, has come out with the second book from the Boston-based cooking school and magazine. The conceit of this book is that Tuesday nights are best accomplished with quick meals that make use of staple ingredients. So here are 200 recipes that are organized by the time it takes to make them ("fast," "faster," "fastest"), plus categories like "easy additions" and "one pot." The dishes span many cuisines and there are fun sections such as "weeknight pizza" and "recipes that let you walk away from the cooking" — nice, if you want to load up the oven and go read the rest of the book.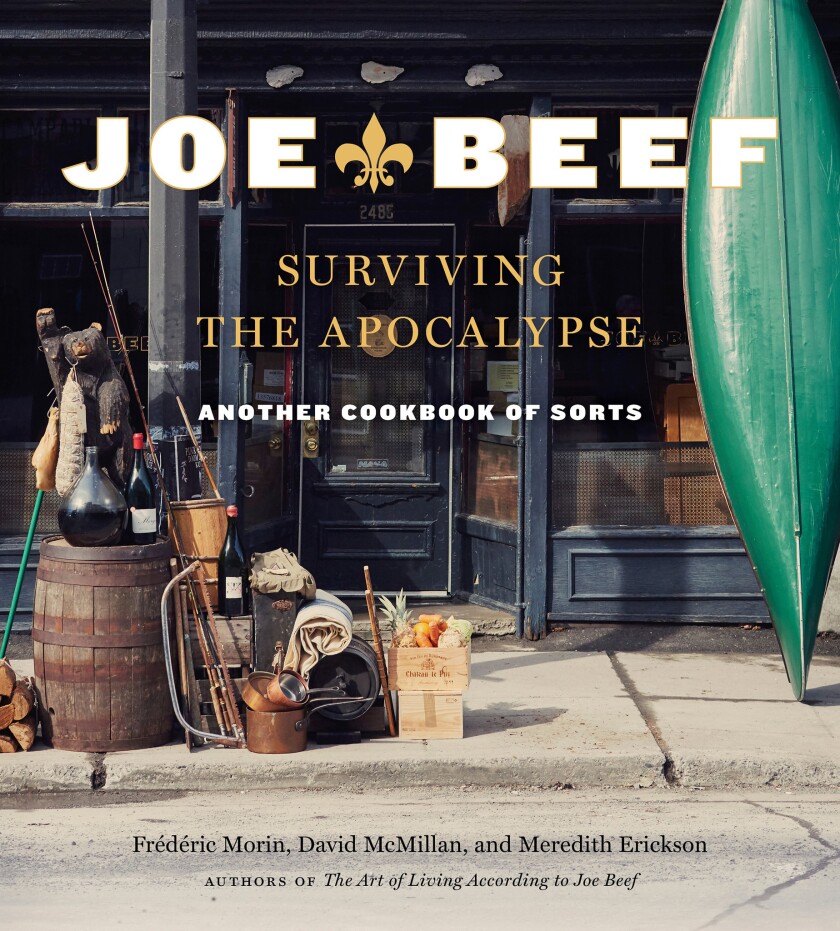 "Joe Beef: Surviving the Apocalypse, Another Cookbook of Sorts" by David McMillan, Frederic Morin and Meredith Erickson (Alfred A. Knopf, $45)
This is the follow-up book to the terrific first Joe Beef cookbook, which came out in 2011 and itself followed up on the Montreal restaurant for which both books are named. Although there are plenty of zombie jokes, this book isn't about the actual apocalypse so much as how the food-minded can prepare for the metaphorical one (extreme weather, elections, etc.). "This book is about how to build things for yourself," Erickson writes in the introduction, "about how to make it on your own." In Joe Beef world, this translates into a cellar stocked with crab apple cordial and pickled deer necks; recipes for soap and partridge pie and squash sticky buns; and tiny essays on natural wine and kids' dinnertime behavior. Survivalism, yes, but with style.
---