Browsing: Japanese housewares find an eager market in L.A.
Behind an unassuming glass storefront along a quiet stretch of North La Brea, pale plywood shelves and tables display an alluring array of earthenware pots in shades of black, cream, ochre and brown.
The pots, called donabes, are an everyday kitchen essential in many parts of Japan — a one-and-done vessel in which you can cook and serve just about everything. (The word means "clay pot" in Japanese.) But until somewhat recently, Americans weren't particularly familiar with donabe cooking.
"People used to not be able to pronounce the name," said Naoko Takei Moore, who owns the store, Toiro. "But now people are looking for advice for specific types of donabes. People come to the shop with so much knowledge about Japanese cooking. It's spreading and evolving."
Toiro is one of several shops catering to L.A.'s growing market for high-end Japanese homeware. Tortoise General Store, a longtime Venice institution, has moved to a larger location in Mar Vista and expanded its operation. The Japanese tableware producer Kinto, after four decades in business, opened its first bricks-and-mortar store last year — at the Row DTLA. (It has since opened a store in the Nakemeguro section of Tokyo.) This is in addition to Muji's new flagship in Santa Monica and the recent launch of Vermicular (the Le Creuset of Japan) online in the United States.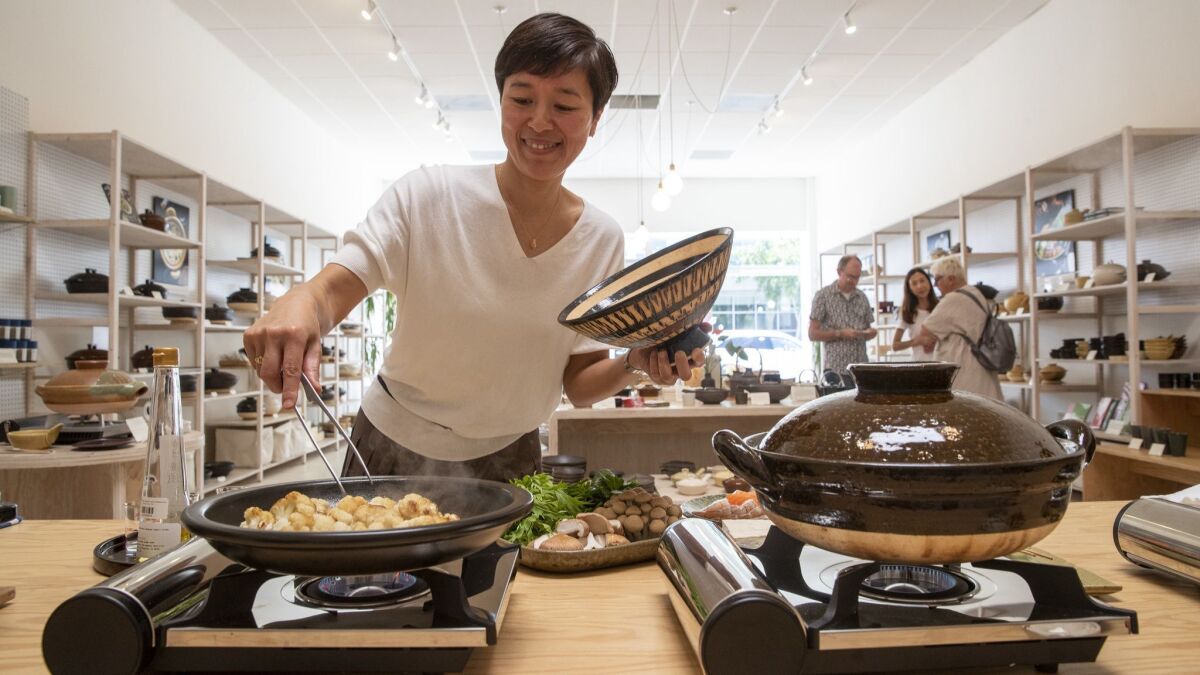 Moore opened Toiro's bricks-and-mortar space in 2017, after 11 years of selling donabes out of her home and online. A sommelier and Le Cordon Blue-trained chef, she is often credited with introducing the most exquisite donabes to the U.S. — and showing American customers how to use them.
"Every piece I choose not as a commodity to throw away, but something to enjoy for many years," Moore said.
For years, in private sessions held in her home kitchen, Moore taught Angelenos how to cook with donabes — how to steam shrimp and Japanese turnips, make savory curry stews and even smoke cheese. She is teaching countless more with her cookbook, "Donabe: Classic and Modern Japanese Clay Pot Cooking," published in 2015.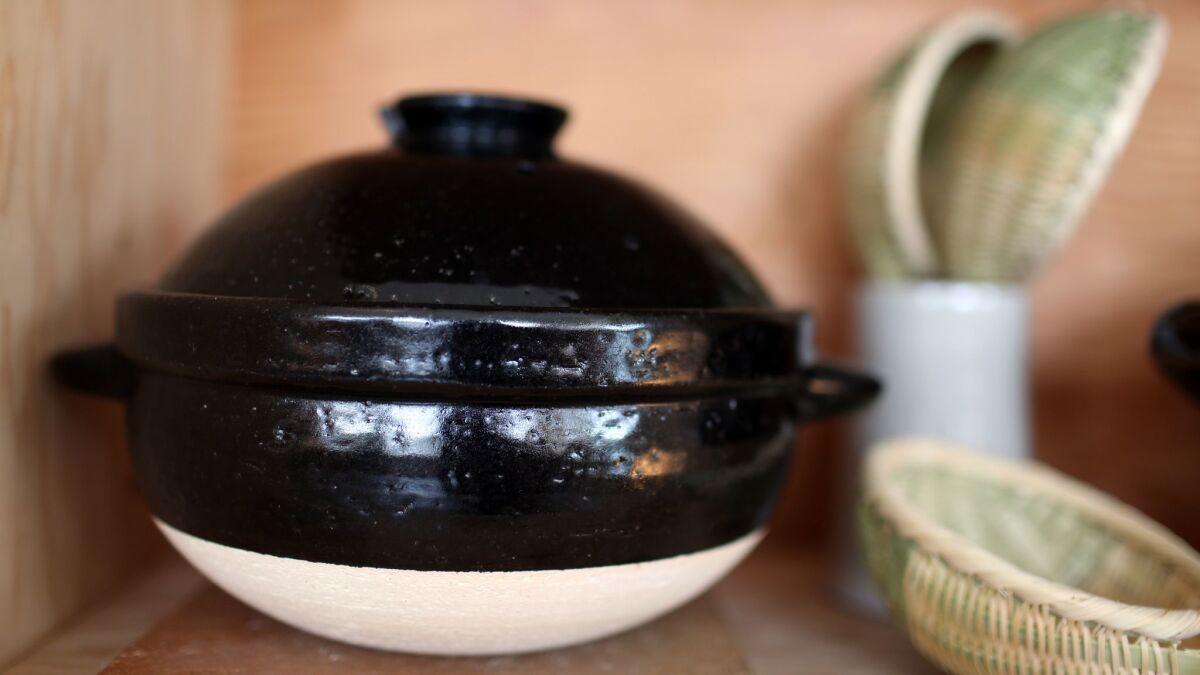 The donabe has now been featured on the cover of Bon Appetit; Goop sells them; and the consummate minimalist Marie Kondo named the donabe as one of five items "sparking joy" for her this spring.
After 15 years in Venice, Tortoise General Store moved to a sleepy corner of Mar Vista last year, in part because it had become overwhelmed by foot traffic on Abbot Kinney. The shop continues to stock timeless Japanese design — much of it for the kitchen, much of it the result of generations of fine-tuning.
In the new location, co-owners (and spouses) Keiko and Takuhiro Shinomoto can serve customers tea and get to know their tastes, rather than cater to Venice's flood of tourists seeking souvenirs. "The tortoise is a symbol of longevity," Keiko said. "Here, slow and steady wins the race."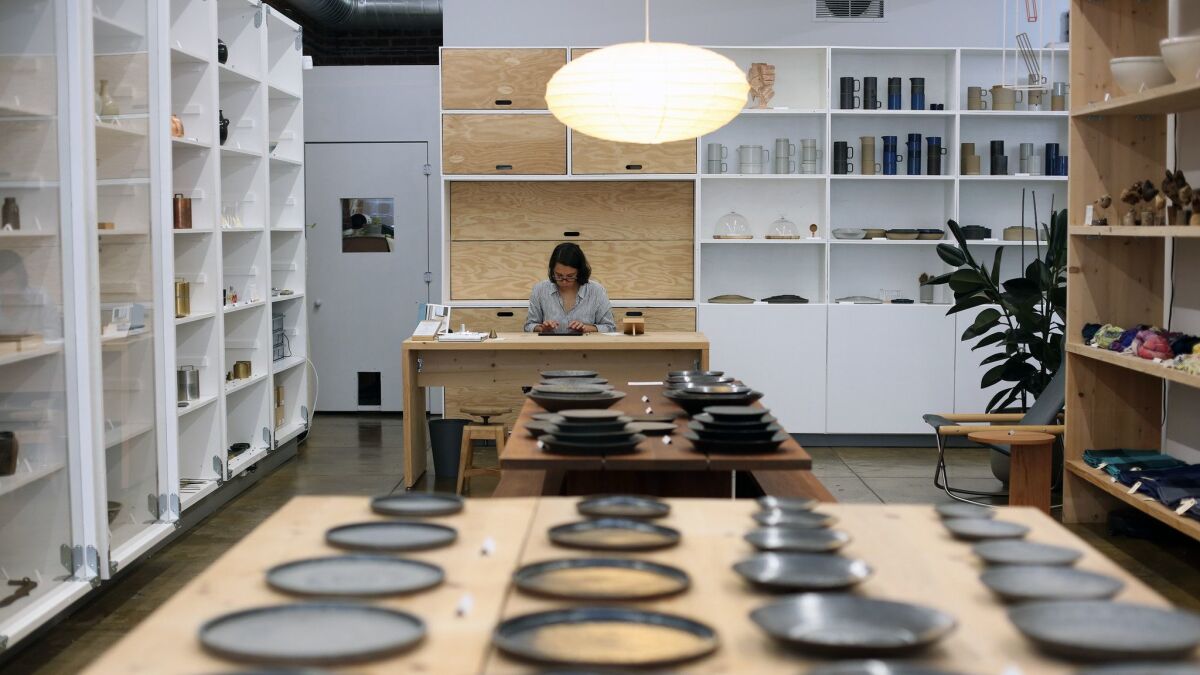 Their bestselling brass containers, called chazutsu, are sourced from a family in Kyoto that has been producing them since 1875. The technique requires more than 130 steps. Their hand-dyed tenugui — colorful, multipurpose tea towels that can be used as napkins or wrapping paper— continue to sell especially well.
"We thought that very authentic items to Japanese people were too authentic for the U.S. market, but surprisingly they have been very popular," Keiko said.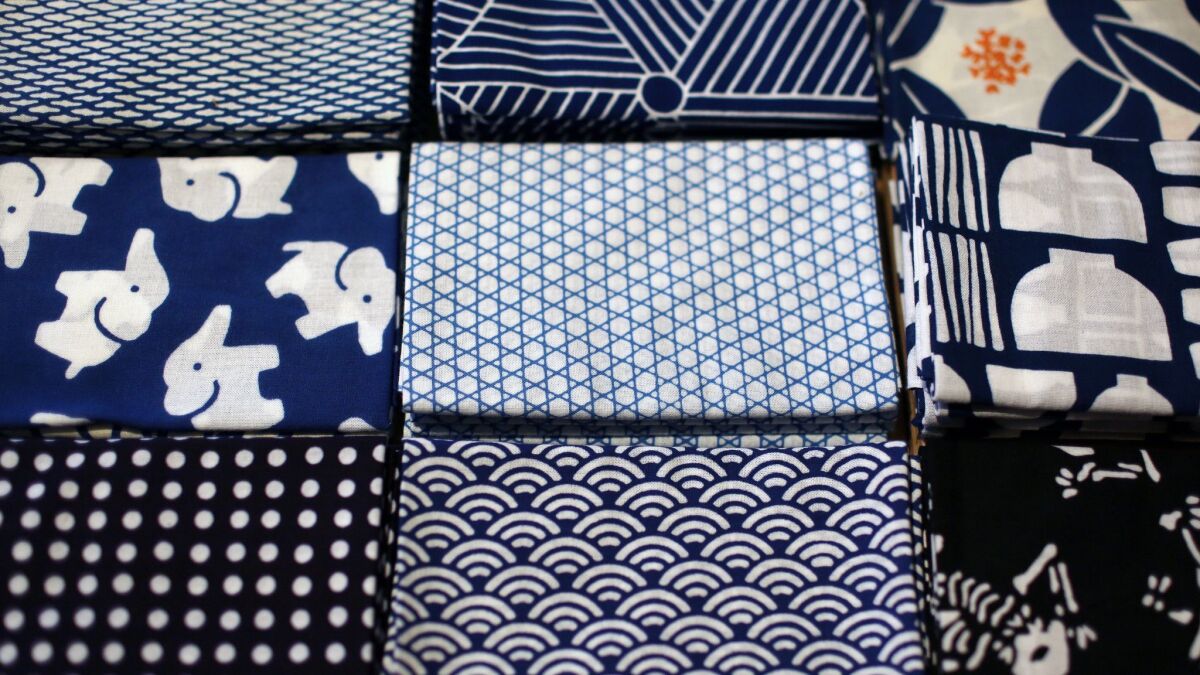 Kinto, which started as a tableware wholesaler in Shiga prefecture in 1972, watched the international taste for Japanese home goods increase in over the decades. In 2006, the company created its own line of tableware in punchy colors, establishing a loyal customer following through the Conran Shop in Tokyo, London's Margaret Howell and Merci in Paris, as well as at Barney's and Blue Bottle stores across the U.S.
Kinto's president, Miki Koide, says the company has been trying to reach out to its customer base more actively and to align its products "with the lifestyle and values we cherish as a brand." Those values are best reflected in L.A.'s laid-back ethos, says Adrian Yun, Kinto's national sales manager.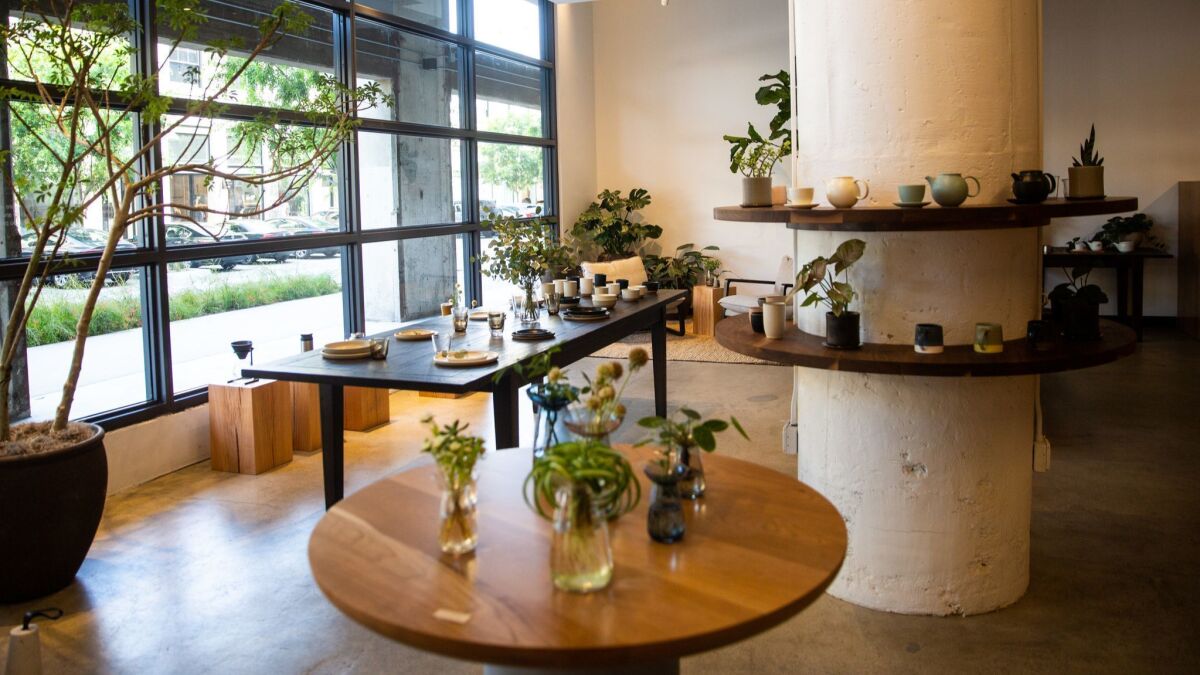 "We have a closer tie to nature, so being closer to the beach and the general demeanor of California was a better fit," Yun said. On offer at the Row DTLA store is a range of minimalist drinkware, tableware and other vessels made of light-as-air yet sturdy glass, stainless steel, porcelain or wood.
Although the L.A. location was a gamble, it appears to be paying off. "We weren't sure how we'd be received," Kiode said. "But so far at the Row, we've had a great reception. More than expected."
Toiro's Moore sees a new, globally savvy customer base emerging, and she credits Instagram with helping to create it. "Not too long ago, people didn't know about uni and octopus," she said. "Making something from scratch from another culture, you had to contact so many people. Now it's so easy for people to do research."
Moore still holds cooking classes, but these days there might be a 50-person waiting list. She also hosts pop-up sales of homeware and pantry items from specific regions of Japan, most recently Gifu prefecture. She procured rare heritage varietals of green tea, rice molds hewn from Japanese cypress and the region's trademark lacquer tableware. Next, she hopes to import traditional ceramics from Shiga and wood pieces produced by a storied family in Aomori.
"It's my mission to introduce something new to people outside of Japan," Moore said. "We get emails from customers saying that the donabe has changed their lives." She predicts more Americans will soon discover Japanese jelly noodles, called tokoroten. "I'm really grateful to people who open their minds to something so different from their own culture."
---