Slow Design: How Kalon Studios creates at its own pace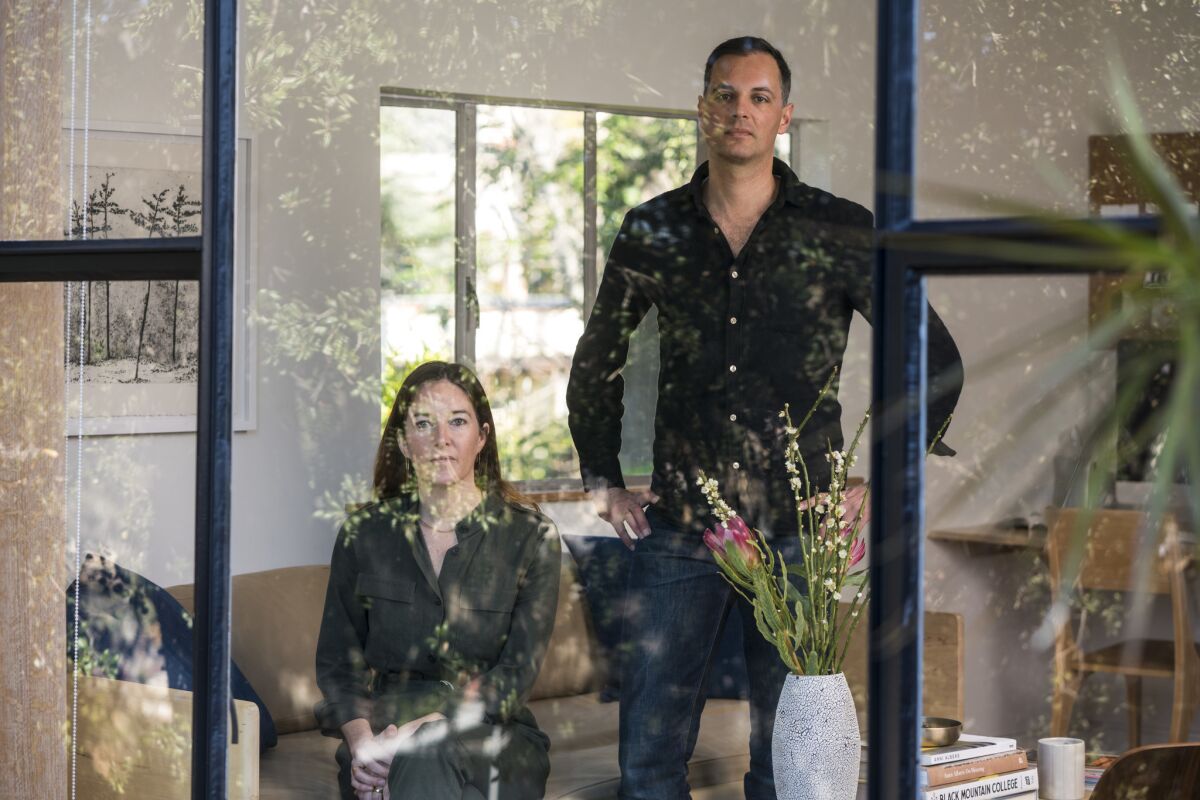 While bigger brands typically take their cues from the fashion industry by chasing trends and rushing collections to market, Los Angeles-based furniture and product designers Johannes Pauwen and Michaele Simmering of Kalon Studios take the opposite approach. Designing for how people live today means using their own Los Angeles home as a laboratory, even if the overall process — from the initial concept to producing all the pieces within the U.S. — slows everything down.
The couple, who live with their two daughters in a Highland Park house built in the 1920s and recently updated by local architect Thomas Michna, launched their furniture and home goods venture in 2007. At the time, Simmering was enrolled in a graduate program at CalArts in sculpture. Before coming to L.A., they were immersed in Berlin's creative culture during the early- to mid-aughts, picking up freelance jobs in various artistic disciplines. This stint — which happened during what Simmering describes as the city's experimental interim period between the "immediate post-Wall era" and ensuing gentrification — would also figure into their entrepreneurial move back in the U.S.
"We were making pieces for ourselves, and we realized we could sell them," Simmering said during a recent interview at the couple's home. So they decided to work together as a team and establish Kalon based on some furniture prototypes out of their then-home in Echo Park. "Because of the way our minds had been configured living in Berlin, we were like, 'Let's try that.'"
It did not go well at first as the 2008 recession hit, even as buyers seemed to embrace the designers' vision of materially honest, high-quality wares with a modern feel.
With the economy still struggling, the couple relocated to the Berkshires in Massachusetts. This move put Pauwen (who had studied industrial design at the Rhode Island School of Design) and Simmering closer to production resources in New England, creating a domestic supply chain for Kalon Studios' minimalist hardwood tables, benches, storage, chairs, beds and cribs, along with smaller goods and non-toxic, sustainable mattresses and bedding.
Most Kalon Studios items are made by Mennonite shops in Pennsylvania, where there's a middle ground of handcrafted tradition and judiciously used technology. Nothing is rushed, and simplicity belies complexity. "When we're designing a piece, stripping back more and more so when we get to the point when we're almost at an archetypal place" is one of the goals, Simmering said. Then they have to use it themselves to make sure it works.
Take the Caravan Crib, for example.
"We designed the cribs for our own kids," Simmering said. "We also wanted the piece to be useful for as long as possible." It converts to a toddler bed with a kit, and is then functional as seating or a daybed. Getting governmental safety approval for something that's outside the typical furniture company catalog offering was yet another hurdle that extended the initial timeline. But they wouldn't have it any other way. "The product integrity and quality is something that we don't compromise on," said Pauwen.
And while the couple loved being in Berlin and in Massachusetts, they value the many benefits of living in L.A. now. "We're in a creative community," said Simmering, "and there's a lot of input that you get."