Celebrating the elusive Lotusland, among the world's most beautiful gardens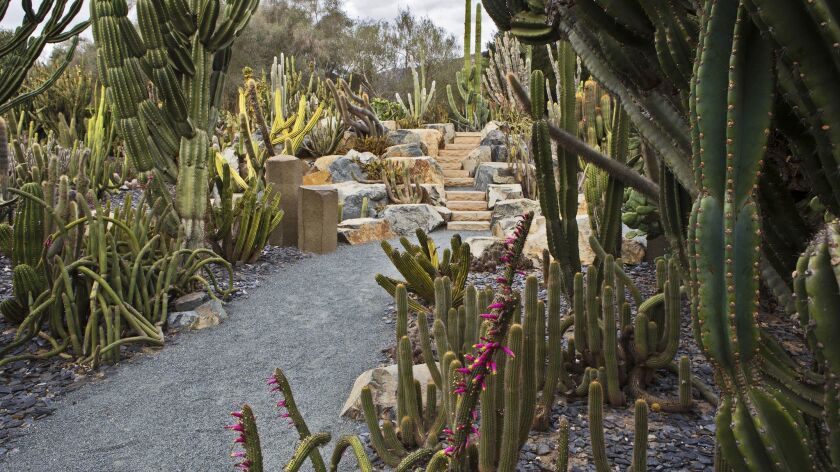 A new exhibit featuring dozens of vintage photographs and personal artifacts celebrates one of California's most exclusive landmarks: Lotusland, the legendary garden in Montecito that opened to the public 25 years ago and has been so popular ever since that tickets — for which reservations are essential — are snapped up almost as soon as they become available each spring.
"Building a Botanical Nirvana: The Lotusland Story," the anniversary show which runs through May 19, traces two intertwined timelines:
One covers the development of the 37-acre Montecito landmark, from its start in 1882 as a commercial nursery selling exotic flora to its evolution as a private estate and its current preservation as a living museum. Some say it ranks as one of the 10 most beautiful gardens in the world.
The other chronicles the tumultuous life of Ganna Walska, the Polish opera singer said to have inspired the opera singer in Orson Welles' "Citizen Kane." A passionate gardener, Walska purchased the property in 1941 and transformed it into a must-see destination.
During her lifetime, Walska was more famous for running through six husbands than for creating dramatic displays of aloes, bromeliads, cycads, cactuses, epiphyllums, succulents, ferns and more in themed landscapes. The Japanese garden is temporarily closed for renovation, but fortunately for garden enthusiasts, Walska's bold botanical vision remains intact and survived all of her marriages.
"Building a Botanical Nirvana: The Lotusland Story"
Where: Lotusland is located in a residential neighborhood in Montecito with strict parking regulations. Directions provided upon making reservations, which are required before visiting.
When: Through May 19.
Info: lotusland.org
ALSO:
---