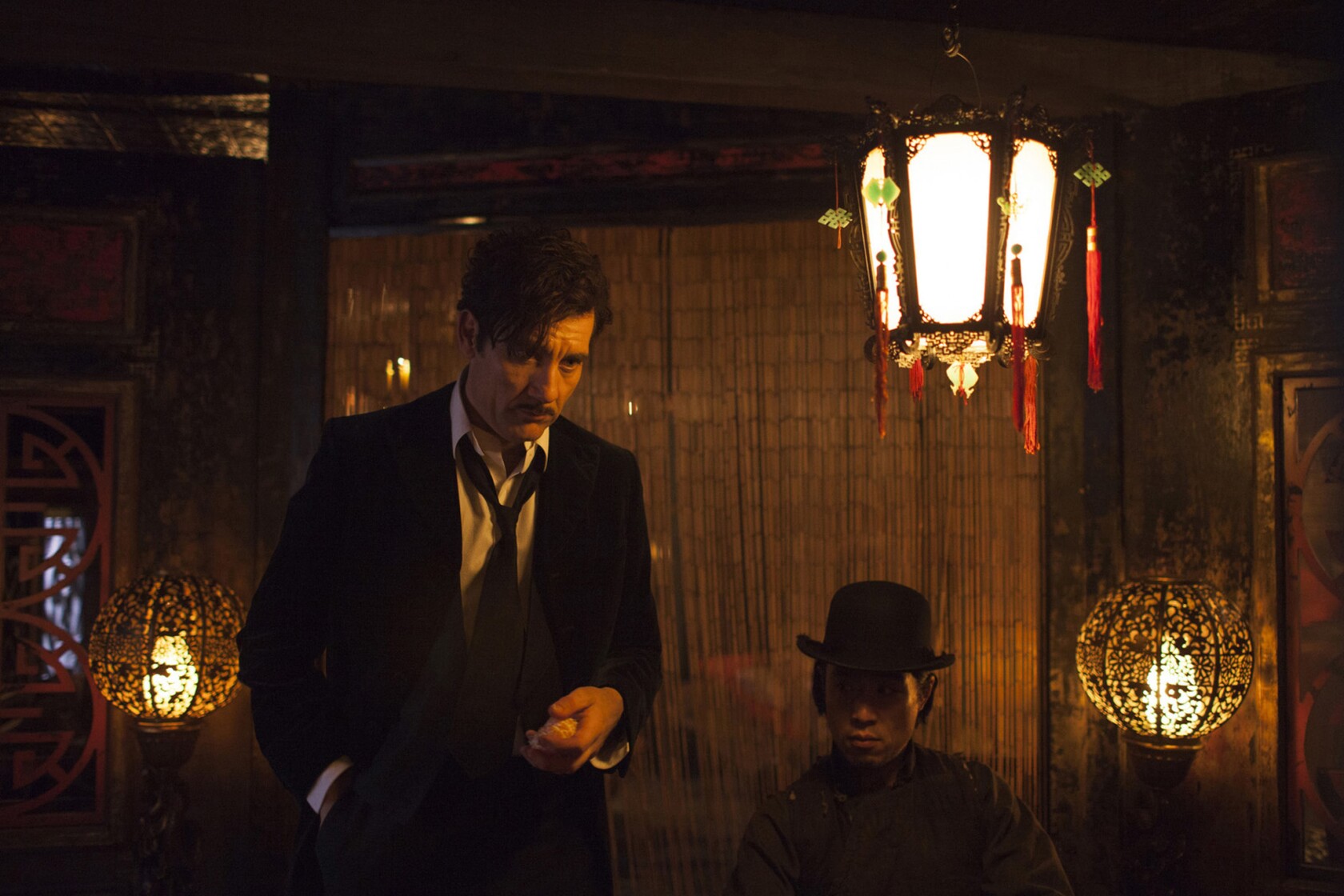 Clive Owen on "The Knick," which mixes the decadent with the elegant.
(Mary Cybulski / Cinemax)
Beautiful brownstones, an opium den in a bordello and heavy Victorian furnishings make for "very decadent interiors," says L.A. interior designer Schuyler Samperton. "Despite the elegance, there's always a bit of debauchery."
(Mary Cybulski / Cinemax)
Clive Owen on the set of "The Knick," which is set in Victorian times.
(Mary Cybulski / Cinemax)
"Take out the ladies in orange jumpsuits and it's basically Rick Owens," interior designer Oliver M Furth says of the fashion designer known for his stark clothing and furniture. "Cement plus stainless steel plus cinderblock equals chic."
(Jessica Miglio / Netflix)
Dr. William Masters (Michael Sheen) and Libby Masters (Caitlin Fitzgerald) in "Masters of Sex," which features a sleek, midcentury design.
(Michael Desmond Photography / Showtime)
"It has a different take on the 'Mad Men' era," says Jeff Andrews (Jeff Andrews Design) of the show about sex researchers Masters and Johnson. "Masters' home and office have a chic Dunbar furniture look."
(Michael Desmond Photography / Showtime)
The patina and shapes of the period furniture impress Katie Maine of Maine Design, but the textiles make her melt. "I've used some of the same velvet fabrics by Sabina Fay Braxton that they use for costumes," she says. "It is so unique and gorgeous."
(Helen Sloan / HBO)
"Wayne Manor feels like it could be one of those amazing mansions in Long Island or on the Hudson River," says "Mad Men" set decorator Claudette Didul. "And Barbara Kean's clock tower apartment is beautiful — an industrial loft with Art Deco-inspired sofas."
(Jessica Miglio / Fox)
The study of Wayne Manor on "Gotham" is full of tufted seating and rich leather.
(Jessica Miglio / Fox)
"It's exciting to see the luxury lifestyle that you're used to seeing on shows like 'Dynasty' interpreted for and directed to African American and Latino audiences," designer Darren Ransdell says of the mansions and boardrooms. "And it's a very hot show."
(Chuck Hodes / Fox)
Lucious (Terrence Howard, center) propses to Anika (Grace Gealey) as guest star Anthony Hamilton plays piano on an episode of "Empire," which features well-appointed interiors.
(Chuck Hodes / Fox)
Shot in Los Angeles, the crime series showcases a variety of real homes, says Joe Lucas of Lucas Studio. "There are modern boxes with infinity edge pools in the Hollywood Hills, and one of the villains had a hide-out cabin in Ojai that was so great I wanted to stay there."
(Neil Jacobs / CBS)
Designer Sarah Shetter says the series shows Los Angeles architecture — including a Buff and Hensman midcentury home — and interiors in a way "that is both realistic and inspiring." The modern Silver Lake house that the character Josh Pfefferman [Jay Duplass] lives in "exemplifies the idea of constant renewal that is, for better and for worse, ingrained into the Los Angeles ethos."
(Beth Dubber / Amazon Studios)
As "Mad Men" comes to an end, we asked several designers: What shows will you watch for inspiration in the future?
"The Knick" (Cinemax)
Beautiful brownstones, an opium den in a bordello and heavy Victorian furnishings make for "very decadent interiors," says Schuyler Samperton. "Despite the elegance, there's always a bit of debauchery."
"Orange Is the New Black" (Netflix)
"Take out the ladies in orange jumpsuits and it's basically Rick Owens," says Oliver M Furth of the fashion designer known for his stark clothing and furniture. "Cement plus stainless steel plus cinderblock equals chic."
"Masters of Sex" (Showtime)
"It has a different take on the 'Mad Men' era," says Jeff Andrews (Jeff Andrews Design) of the show about sex researchers Masters and Johnson. "Masters' home and office have a chic Dunbar furniture look."
"Suits" (USA)
"It's what people fantasize about New York," says Kristi Nelson of KM Nelson Design. "A Manhattan high-rise with crazy views, contemporary Italian furniture and a nickel and glass bar cart that is drool-worthy."
"Game of Thrones" (HBO)
The patina and shapes of the period furniture impress Katie Maine of Maine Design, but the textiles make her melt. "I've used some of the same velvet fabrics by Sabina Fay Braxton that they use for costumes," she says. "It is so unique and gorgeous."
"Peaky Blinders" (Netflix)
"The interiors are dark and grungy — a Victorian cozy corner for Jack the Ripper done up for an American sensibility," Louis Navarrete says of the British import crime series. "Villains always live better."
"Gotham" (Fox)
"Wayne Manor feels like it could be one of those amazing mansions in Long Island or on the Hudson River," says "Mad Men" set decorator Claudette Didul. "And Barbara Kean's clock tower apartment is beautiful — an industrial loft with Art Deco-inspired sofas."
"Hannibal" (NBC)
Season 2 of Bryan Fuller's Hannibal Lecter saga was "a masterpiece" of portraying many different periods of furniture and artwork and using blood red and electric indigo, according to Daelen Cory, co-owner of L'Esperance Design. "Now that Hannibal has fled the country, Season 3 is going to be a brand-new palette for ornate furnishings."
"Video Synchronicity" (HBO)
"David Fincher's new series will have some great — and terrible — retro '80s interiors," says Jason Martin of Martin & Brockett. "I want to see a lot of chrome and glass, Barcelona chairs and Tizio task lamps."
"Transparent" (Amazon)
Sarah Shetter says the series shows Los Angeles architecture — including a Buff and Hensman midcentury home — and interiors in a way "that is both realistic and inspiring." The modern Silver Lake house that the character Josh Pfefferman [Jay Duplass] lives in "exemplifies the idea of constant renewal that is, for better and for worse, ingrained into the Los Angeles ethos."
"Stalker" (CBS)
Shot in Los Angeles, the crime series showcases a variety of real homes, says Joe Lucas of Lucas Studio. "There are modern boxes with infinity edge pools in the Hollywood Hills, and one of the villains had a hide-out cabin in Ojai that was so great I wanted to stay there."
"Empire" (Fox)
"It's exciting to see the luxury lifestyle that you're used to seeing on shows like 'Dynasty' interpreted for and directed to African American and Latino audiences," says Darren Ransdell of the mansions and boardrooms. "And it's a very hot show."
"The Astronaut Wives Club" (ABC)
"It's probably not going to be as glamorous as 'Mad Men,'" says Kimba Hills, "but it's focused on that midcentury time period."
---