Finally, event planners get to call all the shots at Midland, their new boutique in Culver City
As sought-after event planners, Paige Appel and Kelly Harris know how to turn ephemeral experiences into lasting impressions. Now they're focusing on something more physically permanent: Midland, their Culver City boutique that opened in October.
In the eight years since founding Bash, Please, Appel and Harris have honed their styling skills. They've worked with clients on putting together the look and feel — as well as coordinating the nitty-gritty details — of weddings, product launches and other happenings. But their own vision hasn't always been the priority.
"For this project, we got to do us, which felt great," Harris said of the 1,300-square-foot space on Washington Boulevard. "Somehow everything we like comes together here."
Architect Alan Koch of Otto Design Group transformed and opened up the former hair salon they noticed was for rent this past summer. Spruce wood beams, tables and shelving, as well as Japanese stucco that incorporates troweled hay, sets a warm, earthy tone that contrasts with dark elements painted a color they've dubbed "Midland green." Other details lend a handmade touch, such as the macrame pendant light fixture located by the entrance from Cattywampus Crafts in Ojai.
Midland largely arose from practical needs. "As a full-service event planning business, we do a lot of gifting," and retail resources near their Culver City studio were sorely lacking, Appel said. She described the initial idea of opening a boutique as "a pipe dream," to which Harris added, "and suddenly it came together very quickly." (They often complete each other's thoughts.)
"We're going on our third career," Appel joked. She previously worked in the film industry; Harris was in advertising. This latest endeavor proved to be a natural segue, however.
"We've come across a lot of vendors and artisans," so building the inventory came easily. In addition, Hi-Lo, a wine, beer and spirits shop and gourmet market, is a nearby venture that Appel and Harris have taken on with their respective partners, Talmadge Lowe and Christopher Harris.
The duo is jazzed about items "that are personal to us," Appel said, such as Vicky Calabaza pottery from New Mexico and Zuni fetish carvings. They excitedly point out sunglasses packaged in hand-stitched leather cases and a unisex perfume, all by downtown-based Saint Rita Parlor. "We're really into scents now," Harris said.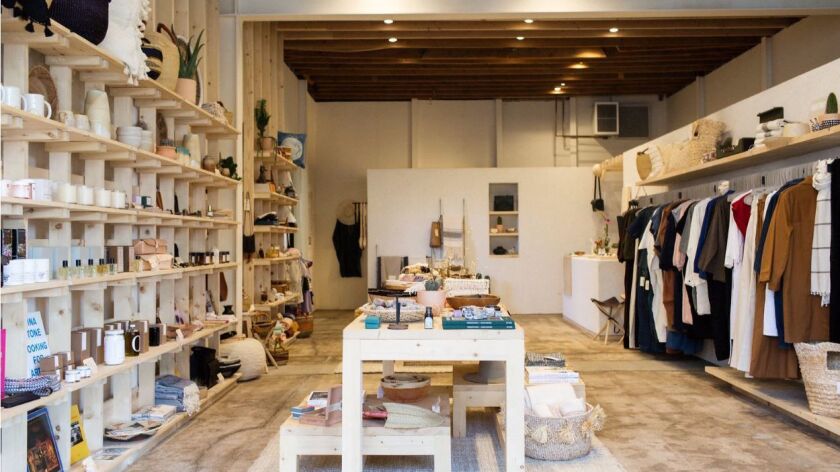 "We want to feel connected to everything" in the store, Harris said. Here, they get to pick and sell art and cookbooks that personally resonate. Collaborations include Midland-green-colored goods by leather designer Agnes Baddoo. There's also a dedicated kids' section. And much like the style of Bash, Please events, the selection of women's clothing and shoes is chic yet relaxed.
Midland reflects influences from the Southwestern U.S., Mexico and even Japan, "but with the ease of Southern California throughout," Appel said.
Just as Appel and Harris describe each of their personal tastes as complementing the other, the boutique and their event planning business are distinct yet compatible operations. "With events, there was a missing piece, since we'd come across things that [clients] couldn't use," she said.
"We want to share things we love. Everyone should be able to enjoy them," Harris added.
Info: Midland, 8634 Washington Blvd, Culver City
Twitter: @latimeshome
Follow our design and gardening boards on Pinterest
ALSO:
More Southern California home tours
Kimberly McDonald launches her first home collection at her flagship boutique on Sunset Boulevard
WestEdge trade show taps home trends from furnishings to grill gear
---