These gorgeous rugs looks like jewelry — naturally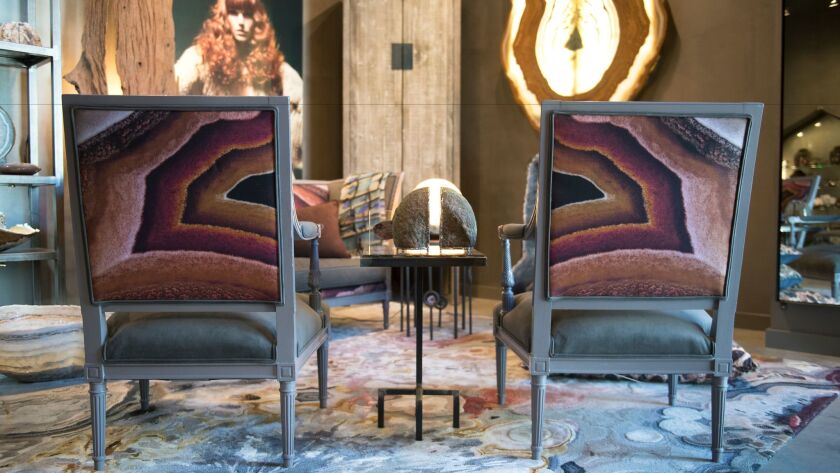 Though she's known for her stunning pieces of jewelry that have been worn by First Lady Michelle Obama and actress Taraji P. Henson, Kimberly McDonald has recently launched her first home collection, available at her flagship boutique on Sunset Boulevard.
"It organically grew from my jewelry collection and from my overall love of natural stones and materials," McDonald says.
The collection, which consists of bookends, wallpapers, fabric, gem-encrusted boxes and wine stoppers, neon crystal-shaped lights and cushions, among other things, is any jewelry-lover's dream.
Her hand-tufted wool and silk rugs, made in collaboration with Marc Phillips Rugs, are particularly mesmerizing. It's as if you're stepping on soft stones, as the same geodes and agates that are prevalent in McDonald's jewelry are reinvented into a plush floor covering.
"I love the whole process," McDonald says. "With these one-of-a-kind rugs, clients can really play with color and scale."
After an early-summer debut for the collection, McDonald is already working on a second line with more wallpaper and rug patterns for early next year.
"You have to surround yourself with things that you love, and there's a lot to be said about how calming nature-inspired decoration can be," she says.
Kimberly McDonald Los Angeles, 8590 W. Sunset Blvd., Los Angeles; (310) 854-0890, open 10 a.m. to 6 p.m. Monday through Friday. www.kimberlymcdonald.com
ALSO
On Trend: Timeless kilim rugs provide a pop of color amid all the minimalism
The holidays are coming: Shop small at one of these upcoming independent pop-ups
---