One-Step Makeover: Books, glorious books
The Roman philosopher Cicero famously compared a room devoid of books to a body without a soul, so maybe it is not surprising that creating bookshelves tends to be near the top of a new homeowner's list of nesting projects.
But Cicero lived more than 2,000 years before e-readers and audiobooks muddied our relationship with the printed page. Do people really still have enough books to warrant a customized space at home? Apparently, yes. A Pew Research Center survey completed last year found that physical books are still preferred by most of us. Americans read an average of 12 books per year, the majority of them in print.
"Books are one of the most important aspects in any home," says Nina Freudenberger, interior designer and author of the new book "Bibliostyle: How We Live at Home With Books." "They reflect our values, our personal histories and our aspirations, so of course they demand a place of honor."
The power of a bookshelf
Built-in shelving for displaying books or other collections can have as much or more impact on a room as paint, furniture or artwork. Katie Martinez, a San Francisco-based interior designer, says that is because a good built-in can accomplish all of those things simultaneously.
"Custom shelving activates a room," Martinez says. "It introduces color, personalizes the space, adds decor and gives architecture to flat walls." In her own living room, she says, adding simple, floor-to-ceiling painted bookshelves on either side of a fireplace was transformative. "They instantly created symmetry," she explains. "They look as if they've always been there and always will be, which makes a big statement." (Indeed, the real estate market considers built-ins a valuable asset for any home.)
Also, bookshelves can serve as lighting. "You always want to layer a room with several different light sources," Martinez advises. "If you integrate lighting within bookshelves, or have sconces or picture lights there, the books will glow in a beautiful way, providing warm, ambient lighting for the whole space."
Knowing your style
When considering what kind of shelving would function best in your home, first think about the books you have. For example, art books require deep shelves that can bear a lot of weight. Or, if your collection is varied, with frequent new acquisitions, opt for adjustable shelves.
If the bookcase will need to hold practical items such as a modem or seven years of tax records, then cabinets should be part of the design. Not into frequent dusting? Dark-colored shelves, whether wood or painted, show every speck and may not be practical.
Roman Alonso, a principal of the Los Angeles design firm Commune, says his two most important considerations for built-ins are the architecture of the home and how his client will read there. For a chic but budget renovation of a trailer home on the bluffs of Malibu, both questions came into play. He knew the design should be down-to-earth and integrated with cozy seating.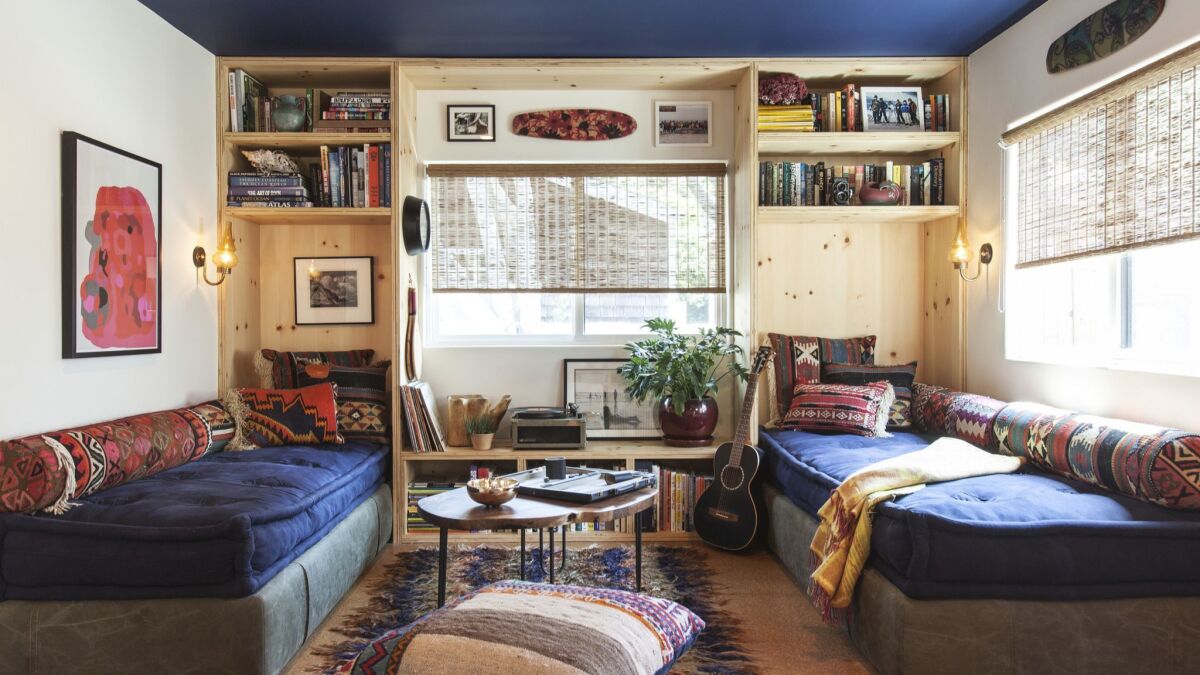 "Here was an opportunity to elevate the interior of a weekend surf pad without being heavy-handed," he explains. The final design provided critical storage for a small space and framed a pair of plush daybeds. "Sometimes beach weather doesn't cooperate and you have to wait it out," he says. "On a rainy day in Malibu, our client can curl up and read."
Commune used knotty pine plywood, one of the most inexpensive finishes available, at about $2.25 per square foot. Including fabrication and installation, the shelving unit cost around $2,500.
Alonso has noticed book nooks on all his clients' wish lists lately. These are not just places to store books but special perches for moments of pause. "The way people live today, this is critical," he says. "If you want to have your reading moment away from the activities of the house, you have to carve out a spot."
Creative design
Of course, sometimes a home does not have an obvious place for built-ins. While researching her book, Freudenberger found countless imaginative ways to sneak in bookshelves. "I saw stunning shelving in an apartment with a Murphy bed, a two-sided built-in that was anchored on the floor and the ceiling as a room divider, shelves behind a sofa that doubled as a console table," and, she adds, "endless amazing uses of IKEA's Billy bookcase hacked onto walls."
Alonso says the best built-ins he has ever seen are in a friend's San Francisco home, where the walls of a powder room are lined with books. "It is inspiring. There was no other option for a library, so they made the most of what they had and the result is magical."
How and where to start
Custom woodwork is always an investment, whether it's $2,000 or $20,000, so here are some tips to keep the budget in check and the project successful.
The cost of painting can be as high or even higher than the shelves and installation, so consider using inexpensive "paint grade" material such as veneered plywood or fiberboard. Or forgo painting and put the savings toward natural wood shelves.
James Gudat, whose design-build firm, Maple Key in Portland, Ore., specializes in custom cabinetry, says a beautiful result can be had at any price point, whether you bring your ideas directly to a carpenter or work with an interior designer. "Find a good local maker and you'll end up with great shelves that will never sag," he says.
Gudat's company does not have a website given the dominance of Instagram, and he suggests scouting there for a local carpenter. "Designers and architects will always tag woodworkers," he says. And when you find good candidates, make sure they are licensed as a general contractor. "You want your woodworker to be insured, bonded and unlimited in terms of what they are allowed to install."
Finally, Gudat urges homeowners not to be tempted by all the attractive wall shelving units available at big-box stores. "Having bookshelves custom-designed for your space is just a conversation away," he says. "A woodworker will bring things to the table that you would never have thought of."
When it comes time to get your new shelves ready for their shelfie, all three designers I spoke to advised restraint. "Bookshelves just need to be honest to be successful," Alonso explains. "You don't need to color-coordinate your books or clutter your shelves with objects."
That said, it is OK for your bookshelves to reflect the type of reader you want to be versus the reader you are. "We all fantasize about finishing 20 books a week," Freudenberger says. "That's not how life goes, but it's a dream and it feels so much closer when you are surrounded by books."
---