How to find a bargain: Shopping tips from L.A.'s queen of estate sales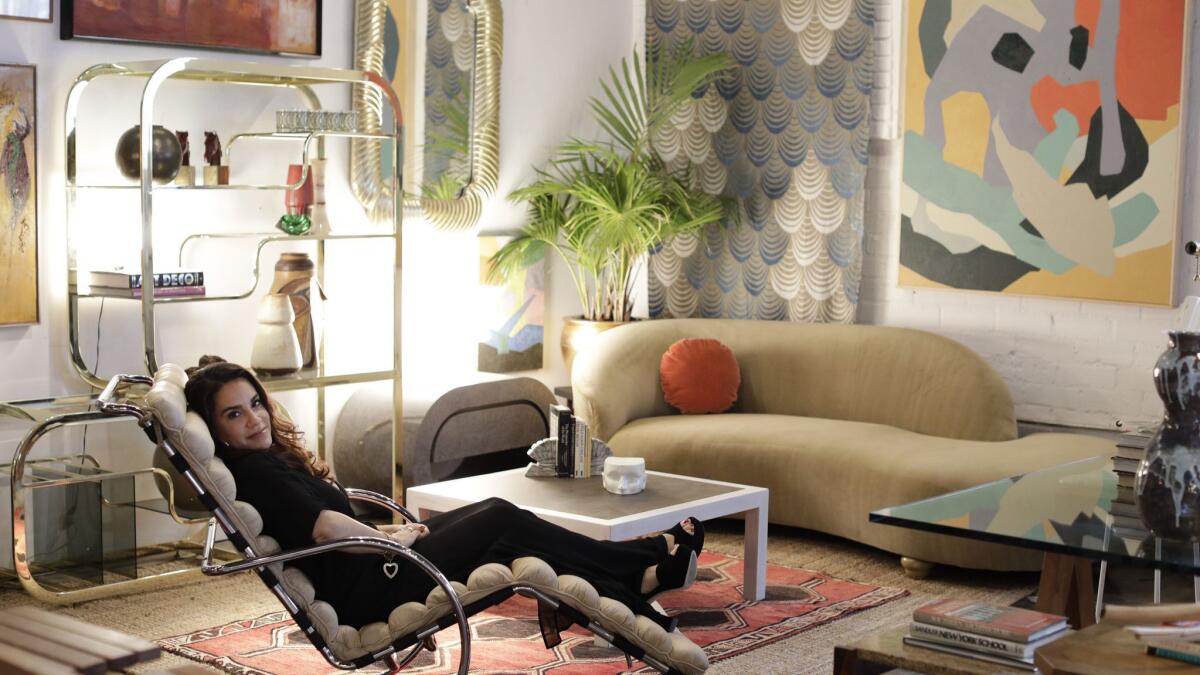 Tricia Beanum reclines on a vintage Mies van der Rohe MR lounge chair inside Pop Up Home and surveys her recent estate sale finds: vintage Persian rugs, midcentury pottery, a brass and glass Milo Baughman étagère.
Across the aisle of the warehouse-turned-showroom, Beanum has priced a Sergio Rodrigues Kilin lounge chair and a 1970s-era Barzilay wall unit far below similar listings on 1stdibs, the online antiques market.
"I found the wall unit deep in the Valley inside a home in Northridge," she says. "I'm a hunter. I'm inspired by what people collect."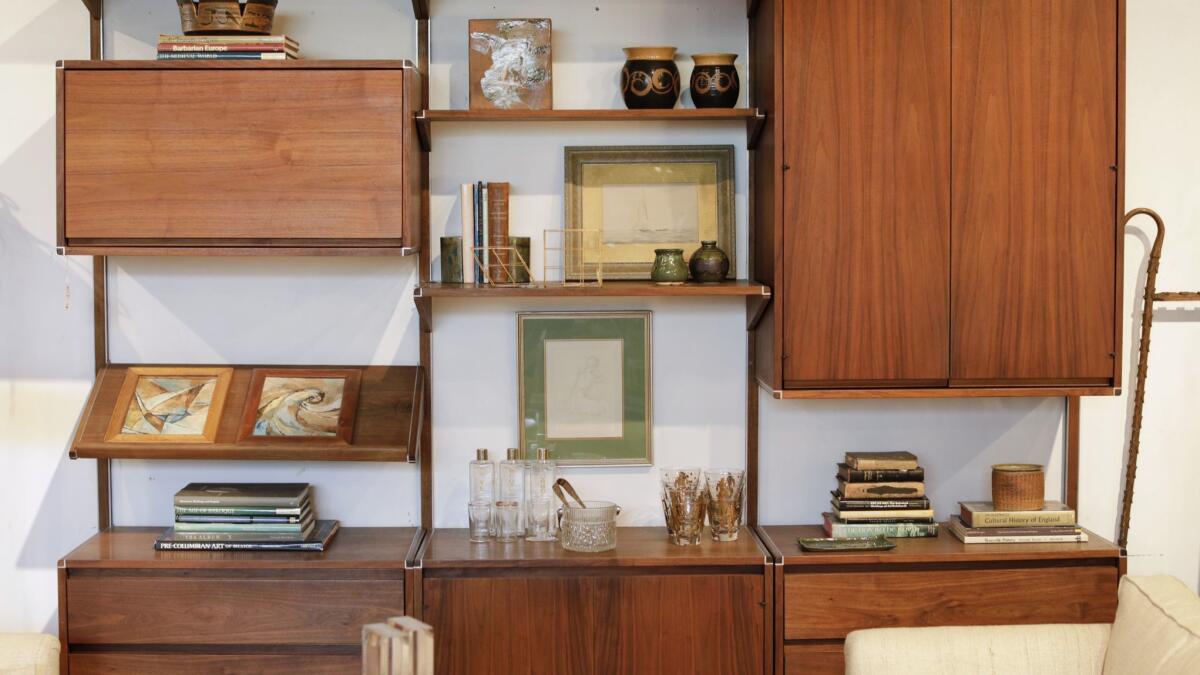 She started the Estate Sale Company Los Angeles in 2006 after hosting a few small liquidations. A shrewd and relentless hunter in a male-dominated business — she went into labor at the Rose Bowl Flea Market — she was soon cold-calling Lawson Fenning and Nickey Kehoe with her son and vintage picks in the back seat of her car.
Today she spends the majority of her time "digging through homes" and staging estate sales in homes throughout Los Angeles (she receives 40% of the profits). "I love the picking and finding," she says. "I have dug through moldy interiors to find things." She also hosts occasional pop-up sales, including a forthcoming sale of small goods at Gjusta in Venice on June 7-30.
Los Angeles residents are a discerning group when it comes to thrifting, so it's not surprising that Beanum's estate sales, combined with her penchant for deals, have earned her a following with set decorators, interior designers and celebrities including Joni Mitchell ("I cried when I met her," Beanum says), Paula Abdul and Pamela Anderson.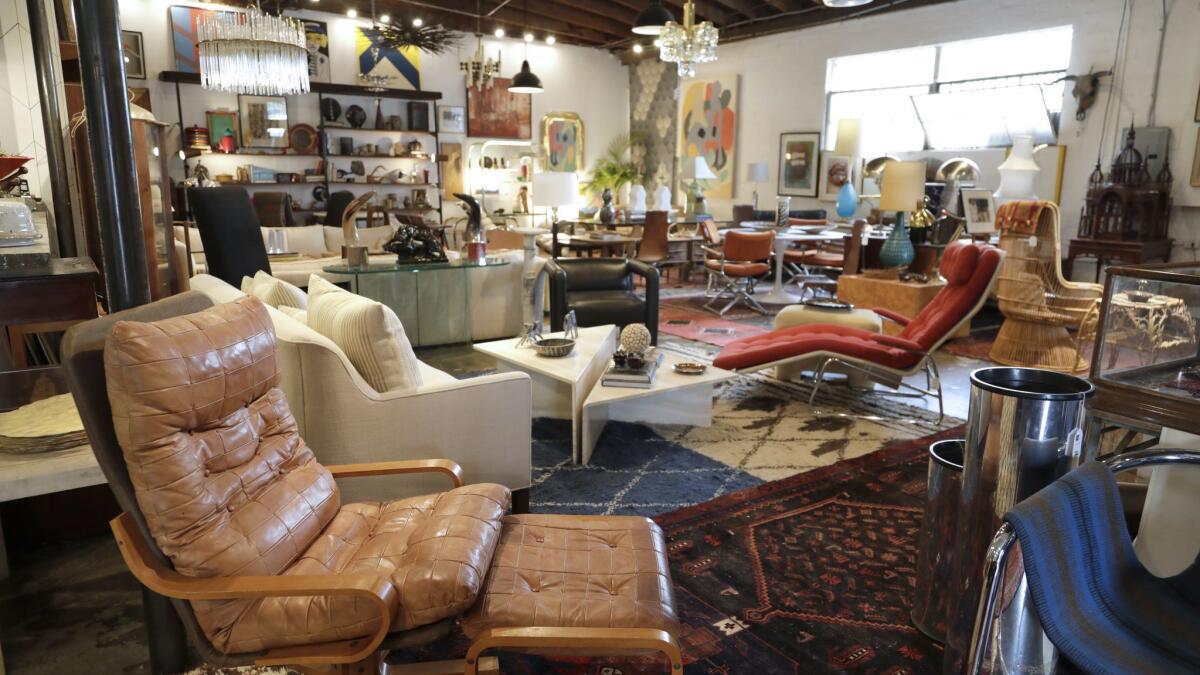 And in a world where environmentally conscious consumers often prefer vintage fashion and furnishings to brand-new goods, Beanum offers an opportunity to create distinctive interiors while following the "reuse, reduce, recycle" mantra.
"I never buy anything new, with the exception of clothing and mattresses," said Beanum, who is 43. "There's too much stuff in the world. I don't like waste. Don't buy retail. You don't have to."
As her estate sale business has taken off — a Gucci-filled one-bedroom apartment in Beverly Hills brought in more than $60,000 — so has her retail presence.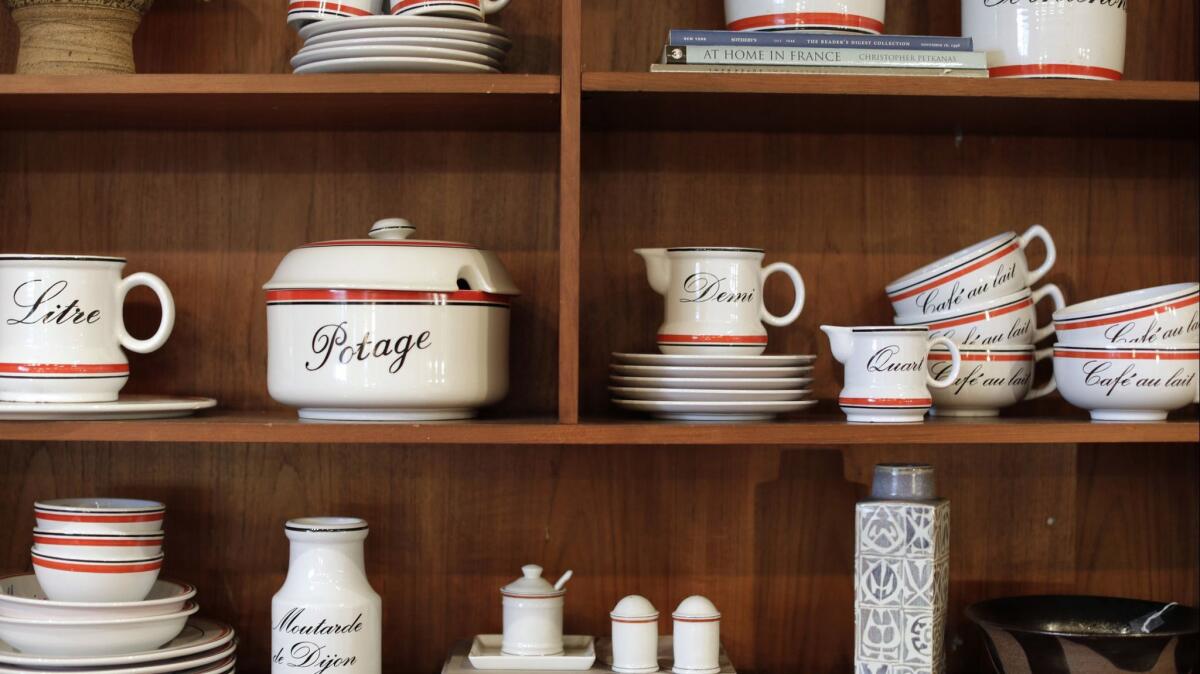 A few years ago, Beanum decided to open her West Adams storage warehouse to the public. Originally open once a month, it is now open year-round Wednesday through Sunday. "Pop Up Home is like my version of Dickens' Old Curiosity Shop," said interior designer Bryan Wark. "Tricia curates some of the most wonderful objects. Her warehouse is always full of incredible finds. Many of the city's very high-end dealers go to Tricia for things for their own shops."
Indeed, Beanum's eye for unique furnishings is evident from the moment you walk into the showroom, with its charismatic blend of designer furniture, found objects and works of art. At Pop Up Home, Pierre Cardin side tables mix with Murano glass mushroom lamps, Knoll classics and Playboy magazines from the 1970s that are priced to sell at $10 apiece. "You always find them in boxes," she said. "Always."
Everything, in fact, is priced to sell, which means the black leather Wasily chairs you spotted on a recent visit are gone the next week. Asked if she makes deals, Beanum doesn't hesitate: "All the time. Especially if you catch me on a good day." She accepts some items on consignment and receives tips from pickers and real estate agents. "I just want to turn stuff and make people feel like they got a good deal," she said. "It's so much fun for me to see people buying nice things for their first home."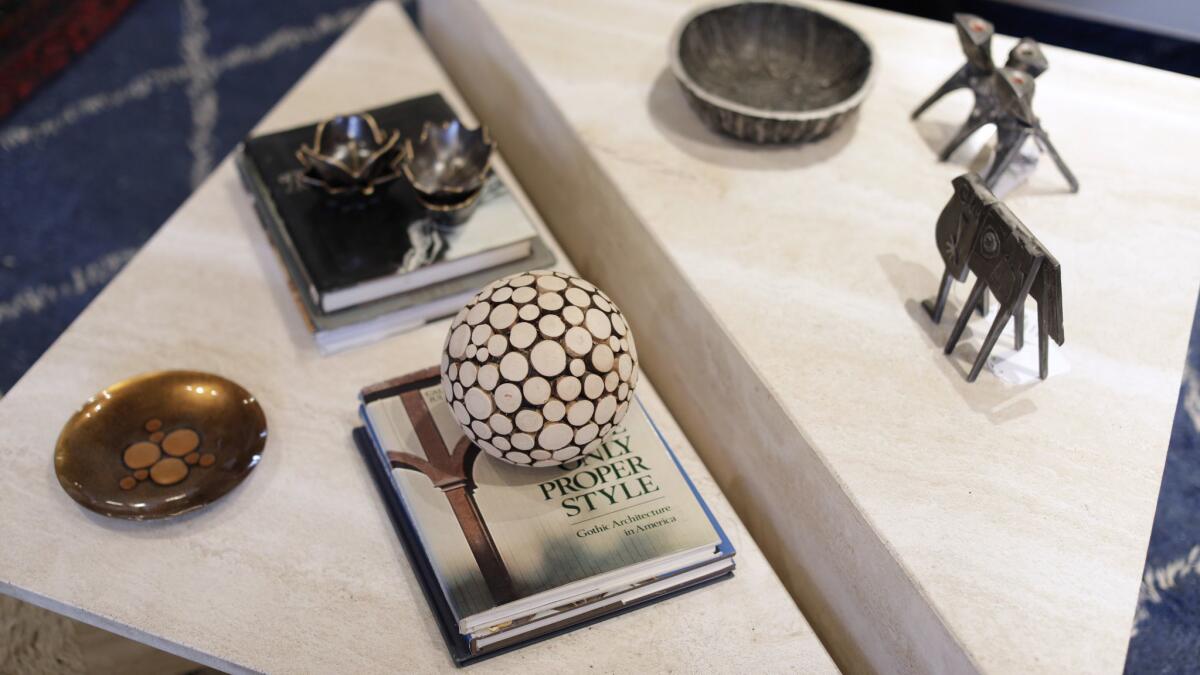 Beanum says she hopes to have a warehouse "three times the size" of her current showroom one day, but until then, she takes pride in the fact she has created her own niche, a hip Los Angeles phenomenon fueled by the "cool stuff" of others.
"It's about the collection of things," she explained. "I buy what I like — anything Italian, lamps, ceramics, barware, portraits of women — especially if I can tell a story with it."
It is the storytelling, she says, that people find so compelling. "It's always the first question people ask me when they buy something," she says of her return customers. "'Where did you find this?'"
Pop Up Home, 4505 W. Jefferson Blvd. #107, West Adams. Hours: noon to 6 p.m. Wednesday through Friday; 10 a.m. to 5 p.m. Saturday and Sunday. popuphome.com
Pop Up Home at Gjusta, featuring art, studio pottery, chairs, mirrors, vintage clothing and art glass, with new items every week. 320 Sunset Ave., Venice. June 7-30. Hours: 10 a.m. to 6 p.m. Wednesday through Friday; 9 a.m. to 5 p.m. Saturday and Sunday.
Tricia Beanum's thrifting tips:
1. Get out of the city. "Go to the middle of nowhere and look up every thrift store in the surrounding area. Get on the 10 Freeway and head east. Once you get 45 minutes out of the city, stop where you are and Google 'thrift stores.' It's like a treasure hunt: 80% nothing; 20% treasures."
2. Seek out retirement communities. "Go to places where people go to die. Arizona is just four to six hours away, and there are lots of vintage motels on Route 66 if you want to make a weekend of it. I found a Westnofa chair in Barstow for $3. The thrift stores in Naples, Fla., are intense, as is Pahrump, Nev., which is filled with antiques and thrift stores."
3. Have a plan. "When entering a thrift store, take three laps. First lap is an overview, on the second lap grab what catches your eye, the third lap is details. My best finds have come to me on the second and third lap of a store or estate."
4. Art is everything. "Ask where the art is because it is often stacked in bins. If you find good stuff, ask the store when their deliveries are. I often buy stuff right off the truck on delivery days. Another great resource is estatesales.net, which lists all of the estate sales in the country every week."
5. Buy vintage couches for their frames. "Everything is so highly manufactured now. Vintage sofas are heavy, sturdy furniture. You can tell by the weight of a sofa that it was made well. Buy a beautiful frame at a thrift store for $50 to $200, fabric for $200, and have it upholstered for around $600. The end result is a custom piece with cool vintage lines that is made to your taste. And it's environmentally friendly, as you are using what is already available."