King's Roost offers DIY products for urban homesteaders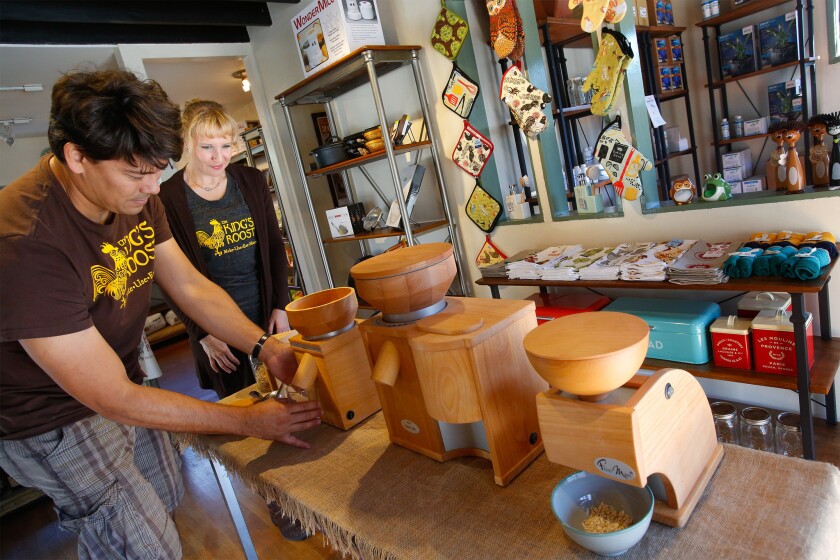 If necessity is the mother of invention, it's also a great reason to open a retail business.
Having raised chickens, built elaborate aquaponics systems and made foods using freshly milled grains at home, Roe and Trish Sie know these activities aren't exactly mainstream.
And yet as the success of ventures such as the Institute of Domestic Technology demonstrates, they aren't alone. A growing number of city-dwellers are embarking on ambitious do-it-yourself undertakings that are typically associated with rural lifestyles and bygone eras. Shopping to support these pursuits, however, is still complicated.
Enter the Sies, who spent years sourcing obscure raw materials, and perhaps more importantly, how to use them. They then set their sights on starting a brick-and-mortar business where they could improve access to specific products while nurturing a community of makers, growers and crafters that's equally welcoming to novices and experts. They opened the King's Roost on Fountain Avenue in Los Feliz last week. "I wanted a place to support all my weird hobbies," Roe (pronounced "Roo") joked.
Roe's immersion in DIY culture began with bread baking, and from there, other niches appealed. Not many L.A. families can claim that the kale and the tilapia fillets on the dinner table come from the aquaponics setup in the backyard greenhouse.
The King's Roost is the only local retailer of German-made, beech wood-clad KoMo grain mills, as well as items from the Aquaponics Source. The Sies are eager to offer advice on these product lines, plus other goods they personally vouch for, such as Renew brand chick starter and organic whole grains from Central Milling.
On the shelves are soap making tools, beer brewing gear, alfalfa- and grass-growing kits, and a wide selection of instructional and children's books. Trish, a choreographer and director who directed many of the band OK Go's wildly popular music videos, can't resist stocking chicken-themed items among the wares, including a tongue-in-cheek "Hot Chicks" 2015 wall calendar. The King's Roost has ample outdoor space to host workshops and to accommodate a large aquaponics arrangement, too. (Smaller indoor fountain models make for ideal multi-purpose décor accessories.)
And exasperated holiday shoppers take note: Chances are the person who has everything doesn't own a grow-your-own mushroom set.
"We want to be the gateway for urban homesteading" while being open to customer suggestions, Roe said. Given that he and his wife are inveterate autodidacts, look for, say, coffee roasting equipment showing up in the near future.
King's Roost, 4281 Fountain Ave., Los Feliz. Hours: Tuesdays-Fridays, 11 a.m.-6 p.m.; Saturdays and Sundays, 10 a.m.-5 p.m. (323) 741-8144.
---