Art Center's new provost Karen Hofmann talks about the Pasadena school's 'creative activism'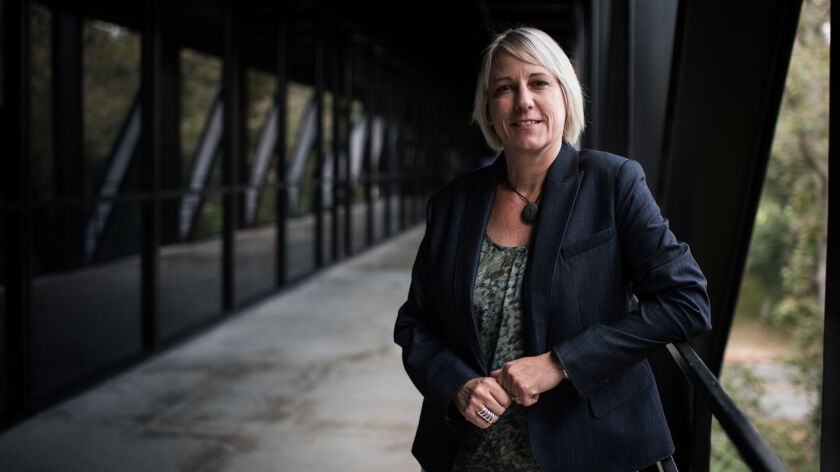 Karen Hofmann has a long history with Art Center College of Design in Pasadena, as a student, teacher and administrator. So it seems apt that now she's making history there as the first woman provost — the highest academic position at the school — in the Art Center's 88-year history.
Along the way she's created innovative programs including the Color, Materials and Trends Exploration Laboratory (CMTEL) and DesignStorms, a three-day intensive project in which students collaborate with leading industry companies. Shortly after her new position was announced, Hoffman sat down with The Times to discuss what's on the horizon for her and the school of "creative activists."
This interview has been edited for space and clarity.
Q: What are you most looking forward to doing in your new job?
A: One of the things I'm most excited to start doing — the reason I went after this position — is to continue to ignite the creativity I see in this generation of students who are here. During my chairmanship of the product design program, we formed a strategy on how we want [students] to come into the department. We're going to teach you all the skills you need to know in order to be successful in your career. We're going to teach you how to draw, how to research, how to make models — all those creative and technical skills that create the portfolio you need so you can go out in the industry and get a great job.
However, on top of that, we have layered in what I call the experience portfolio, which is how you develop as a creative citizen. Being involved with the campus — whether it's student government, clubs, learning how to network, mentor other students, internships — they're gaining a perspective here to then go out into the world and change it for the better. It's like creative activism in a way.
Q: You've been here a long time, how do you think your previous Art Center experience has prepared you to be provost?
A: I think being a student here in the mid-'90s was a time when we had a very international community with really a deep foundation of design that dealt with industry-specific design. You get hands-on, cutting-edge industry professors and tools and knowledge that prepare you for a job, and that's certainly what happened. Coming back to teach, I fell in love with Art Center for the second time. And knowing what that student experience was like really influenced how I taught.
As I moved into an administrative role over time, being both a faculty and a student informed me on how I could lead this institution. I'm also very keen on taking outside experience too and not being too insular with my thinking.
Q: Was there a mentor you had while you were here or someone who inspired you to pursue a career in design?
A: I had some interest in architecture for a long time, especially as a kid, and my dad was an engineer at JPL, so I had these very interesting and innovative thinkers around me and my family. Otto Kilian is my uncle and he was an architect, so I had a little internship with him while I was in high school and that really got me thinking of that side of a career. I thought it was architecture and it ended up not being that.
I think what really inspired me to go toward industrial design and product design was when I stepped into the gallery at Art Center and I understood that it wasn't necessarily about the spaces I was in but the products inside and how they can really speak to a user or consumer and how innovative a product can be or how beautifully shaped and formed an object can be — how an object can become emotional.
There weren't too many women in product design when I was going through school, but Ayse Birsel is one of them. She's a really well known industrial designer with the furniture industry, and she had done a Herman Miller project that really transformed what office furniture looked like, and I thought what she did and how she approached design to be very inspiring.
Q: A lot of women are interested in art and design and pursue a career in it, but it's still the men who are at the forefront. In your new role are you excited to influence and inspire the next group of women?
A: Yes, and I want to clarify: Some of my greatest mentors were actually men here and my instructors. Norman Schureman, Martin Smith who used to run the product design department. They were very influential not just on me but on everyone's careers — women, men alike. I think it was at the time where it could have been the boys' club — there was a lot of boys' club in the late '90s and through the decades — but they were really critical in making sure what we were doing here prepared all the students, no matter gender or background. I really appreciated that approach.
It's not just me directly inspiring the next generation of women. Half of our product design department at Art Center and a lot of our design departments here are about 50% women. That's a big shift. When I was in school we had about 10 or 15% women in product design. I think it's really inspiring to have a culture that nurtures everyone with equity and inclusion. It's not just about women supporting women, it's about men inspiring women and supporting them as well. But we also want to acknowledge women leaders who carved their way through.
Q: How important is it to you that the students know your stories and struggles and know that it's a normal thing?
A: It is such an important part of what we do here. The idea of mentorship is something that we absolutely embrace. We are a very tight community, and we take great pride in that. A lot of what we do in our current professional development is we have this thing called Career Chats. It's stories from the front line. Alumni come back, creative directors, gallery directors, you name it — people who are doing really great work — and they share these real stories with our students. We have an entire office dedicated toward connecting students with internships and with mentors so they can network early and can understand the reality of the industry that they're going into. Honestly, we believe failure is a big part of growing.
Q: What role do students have in shaping the future of Art Center?
A: The student's voice is not just important, it is imperative here. In product design we had a lot of students that thought the sequencing of our classes didn't build upon each other very well. So we had conversations with students and within weeks we had reshaped what the curriculum looked like. If the students didn't come to me and told me that one class was out of touch with another class, we wouldn't have made that change. Now their skills are stronger, and I attribute that to the students.
Twitter: @ebenmoche
---