Getting to know them: Backstage with the smallest cast members of the 'The King and I'
Graham Montgomery and other child actors perform with Laura Michelle Kelly in "The King and I" at the Pantages Theatre.
(Gary Coronado / Los Angeles Times)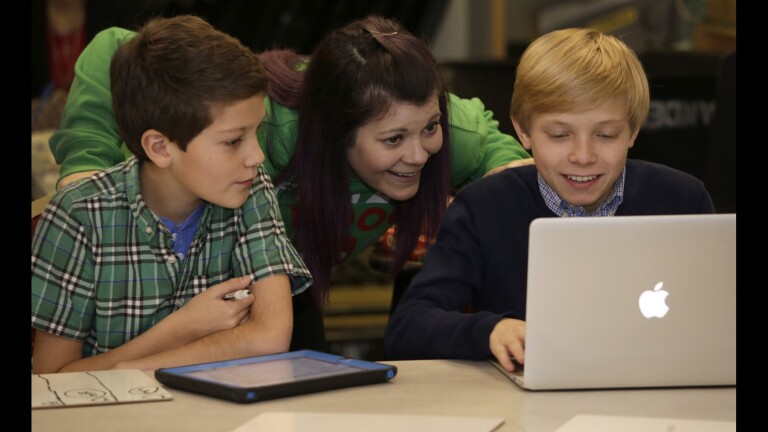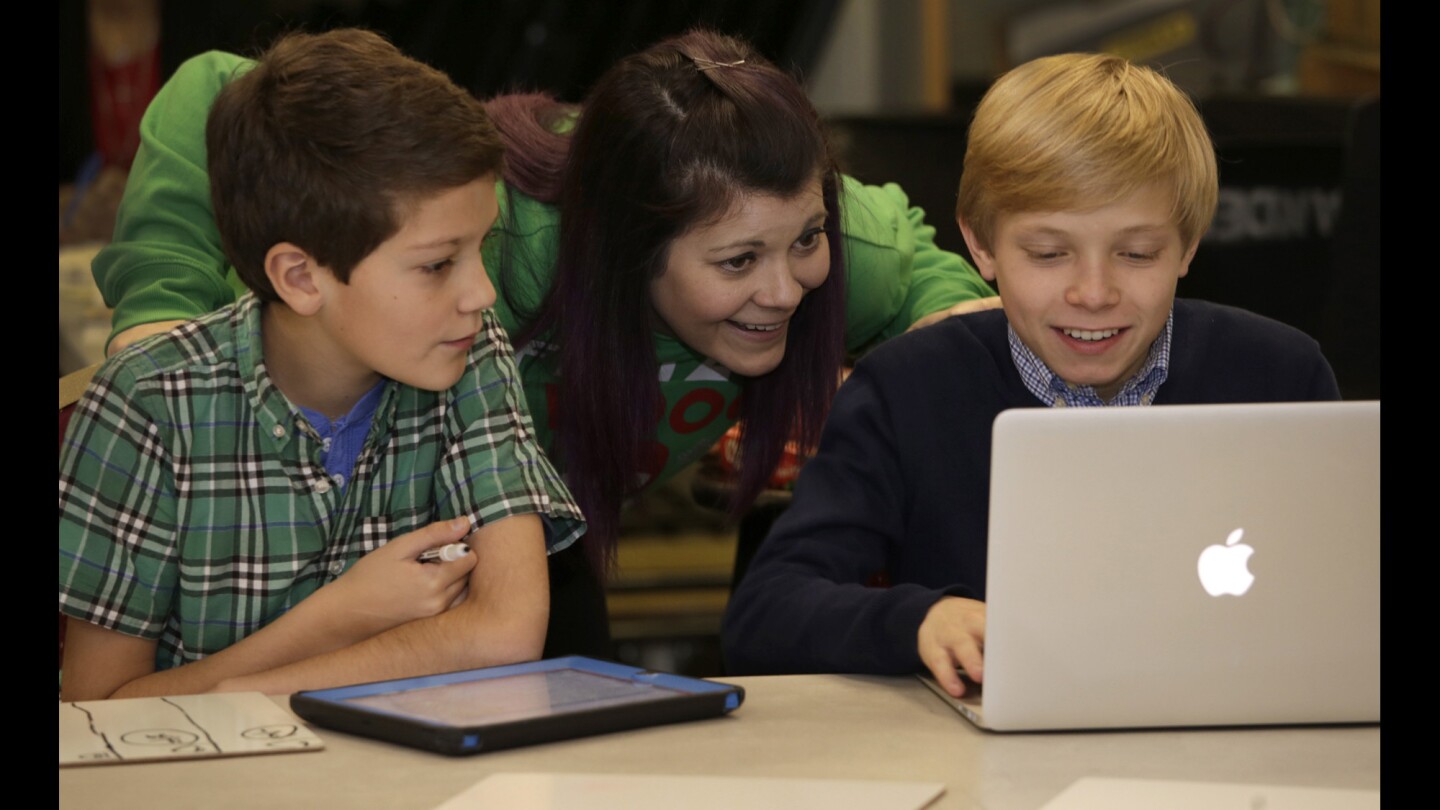 Studio teacher Jessica Phelps works with Rhyees Stump, left, and Graham Montgomery during a school session for the children in the cast of the musical "The King and I" at the Pantages Theatre.
(Glenn Koenig / Los Angeles Times)
Amaya Braganza, center, talks to Graham Montgomery, during a school session for the children in the cast of the musical "The King and I."
(Glenn Koenig / Los Angeles Times)
Tony Marin does his schoolwork.
(Glenn Koenig / Los Angeles Times)
The Docks of Bangkok in Scene 1 of "The King and I" at the Pantages Theatre.
(Gary Coronado / Los Angeles Times)
The child actors in the touring production of "The King and I" are about to consume way too much sugar. They bounce like pinballs shouting, "Cocoa, cocoa, cocoa!" beside a buffet table decorated with crepe paper and Christmas lights, stocked with sugar cookies and paper cups brimming with frosting and sprinkles.
It's just past noon in a windowless room in the labyrinthine basement of the Hollywood Pantages theater, which serves as both their school and their place of employment. At the moment, their school is celebrating its holiday party. In the evening, the kids will appear onstage in director Bartlett Sher's lavish three-hour revival of the classic Rodgers & Hammerstein musical starring Laura Michelle Kelly and Jose Llana.
The 10 children range in age from 7 to 14 and are under six-month contracts to tour with the show through such cities as Boston, Seattle and Pittsburgh. The experience is considered significant enough that their parents are willing to accompany them on the journey, uprooting their lives and daily routines.
After studies are complete, it's showtime at The Pantages for 'The King and I' kid cast (Glenn Koenig/Los Angeles Times)
I love working with adults.
— Graham Montgomery, 13
The majority of the kids are making their national tour debuts, though a few, like Graham Montgomery, a precocious golden-haired 13-year-old, have other professional credits to their name. Montgomery was cast as Young Charlie in the musical "Kinky Boots" on Broadway.
In "The King and I," Montgomery plays Louis Leonowens, the son of school mistress Anna Leonowens (Kelly), and has the biggest role of the group. Anna is hired to educate the children of the polygamous king of Siam (now Thailand) in the 1860s.
The musical premiered in 1951, and older productions have been criticized for presenting a xenophobic view of life in Southeast Asia. This revival seeks to address that with a staging that pays close attention to the twin perils of racism and sexism that play so prominently in the plot. All this while still presenting faithful renditions of famous songs including "I Whistle a Happy Tune," "Hello, Young Lovers" and perhaps the most beloved ditty from the show, as well as the kids' biggest number, "Getting to Know You."
The adult themes aren't a topic of discussion among the small cast members, who are shielded from all manner of unpleasantness by virtue of the cadre of cast, crew and staff members tasked with looking out for their general well being. Strict child labor laws dictate the number of hours they can work (between eight and nine, depending on their age), the amount of time they spend in school (3½ or four hours), what time they must leave the theater (10 p.m. if they are under 8) and how many tutors, child wranglers and studio teachers must be with them at all times (in this case, three).
The particulars of the situation are complicated and unusual, but on this sunny afternoon it's clear that the kids, as they say, are all right. They are exactly where they want to be, and they are quick to tell you so.
"I love working with adults," says Montgomery, a dapper dresser who expressed a Christmas desire for a black leather Michael Kors backpack. "Working with Laura Michelle Kelly is just a dream. She's hilarious. When something bad happens, we go into the wings and just die laughing together."
Kelly is making a guest appearance at the party. Her effect on the children is similar to that of sugar. The kids eat her up, basking in the glow of her attention and clamoring to frost cookies for her.
"These children handle so much and take it all in stride. So you have to be careful to remember that they're just children," Kelly says after performing a particularly dramatic reading of the book "Santa's Sleigh Is on Its Way to California."
"Who wants to read a story?" she asked before opening the book and settling on a chair beside a small Christmas tree. The children piled themselves around her on a rug and bench. "Are the older ones really ready for this book?"
This question is a joke since the book is definitely too young for the teens in the group. Such are the perils of a "one-room schoolhouse," as tutor and child wrangler Leah Osborn-Schulte describes the situation.
On the upside, though, says tutor and studio teacher Jessica Phelps, the children receive personalized educations that often leave them ahead of their peers when they return to their regular schools.
Indeed, when the party is over, the children dutifully sit down at the tables that serve as their desks and immediately get to work. Their lessons are crafted by the teachers based on the curriculum requirements provided by their schools as dictated by the states they hail from. The four oldest children work on computers, while the others use pencil and paper.
Phelps and Osborn-Schulte roam from child to child, answering questions, explaining formulas and making sure everyone is on task.
"A ratio is just like a fraction. What's 18 divided by 9? And what's 9 divided by 9? So 2 over 1," Phelps explains to one student using a white board before moving on.
"This has a compound predicate," she says to 13-year-old Jaden D. Amistad.
"Is health and P.E. one class?" she asks Amaya Braganza, who at 14 is the oldest student in the group.
Osborn-Schulte is busy with the four youngest children.
"Do you remember when we talked about idioms?" she asks 7-year-old Rylie Sickles, who is working on a writing exercise.
A sign over their heads reads, "The Royal Bangkok Academy is in session." It's a telling detail that shines light on just how closely intertwined the kids' school is with the show itself.
The children tour and live together. In L.A., the cast is staying in Burbank. They go home for a short break after school, then return with their parents or guardians at call time and spend the rest of the evening together. Their teachers are also present. They are responsible for the kids' welfare and entertainment backstage, and the children follow them around like dutiful ducklings in the quiet dark of the wings during the show.
Child wrangler Lindsay Schmidt even stands beside the stage miming physical cues to the youngest cast members. When the kids are not onstage they sit with Schmidt and the other teachers in their dressing rooms. Schmidt is known as the "game monster" and organizes bouts of Zombie Dice, Connect Four, cards and more.
The teachers have decorated the children's dressing rooms for the holidays with twinkling lights and stockings hung on each little mirror.
The show runs late, so the children are encouraged to sleep in, says actress Joan Almedilla, who plays the king's chief wife, Lady Thiang. Almedilla's 7-year-old son, CJ Uy, is also in the show, so the pair have the good fortune of touring together.
"He'll miss his friends in L.A.," says Almedilla, who lives in Burbank. "But he's having a great time with his new touring friends. He can't wait to go to work. He doesn't think it's work."
Until now, Almedilla has homeschooled Uy, so it's strange to suddenly have her days free. She says that seeing the different cities on tour will be like a "great American history education." Her husband is already booking his tickets to visit, and the family will stay in touch in between via FaceTime.
Another parent, Dexter Amistad, also uses FaceTime to connect his son and daughter, Jaden and Kayla (both of whom are on this tour), with their mother, who is working in New Jersey.
He says his children are passionate about the stage and have chosen this path in life for themselves. He considers himself lucky to be able to take time off as a sales director to tour with them. They get paid well enough that he says they can save money for college.
"My job as a parent is to make sure their lives have balance," he says. "Every day is a new day despite the repetition of tour. If the previous day was a great day, we take it along with us. If something bothered them, I'm here to help."
'Rodgers & Hammerstein's The King and I'
Where: Hollywood Pantages Theatre, 6233 Hollywood Blvd., Los Angeles
When: 8 p.m. Tuesdays-Fridays, 2 and 8 p.m. Saturdays, 1 and 6:30 p.m. Sundays, through Jan. 21. Check the website for holiday hours.
Tickets: $35 and up (subject to change)
Info: (800) 982-2787, www.hollywoodpantages.com
ALSO:
Misty Copeland delivers a dazzling 'Nutcracker' in Costa Mesa
'Amélie' musical's creators bring to the stage a 'love letter to imagination'
'Hamilton' star Phillipa Soo makes magic as Amelie onstage
From 'Beasts of the Southern Wild' to 'Burnpile': Lucy Alibar finds her voice
A young playwright's quest to ask difficult questions about race, class and gender
---